Vegan chocolate ice cream that's also paleo, nut-free and no-churn! Made with coconut cream but does not taste at all coconutty and the result is insanely rich and decadent. With a video.
I'm not usually a fan of dairy-free ice creams. They're always too icy for my liking.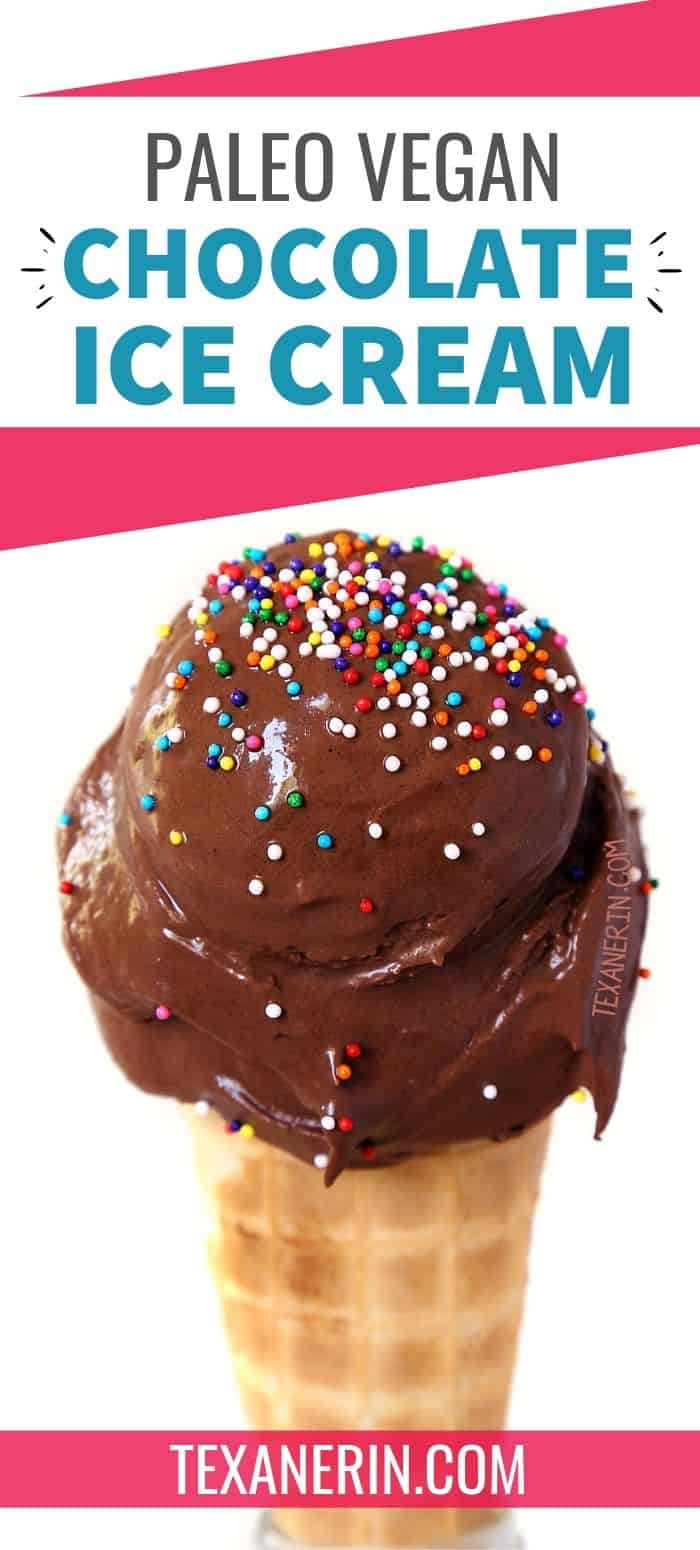 I tried out a few different paleo ice cream recipes before realizing that I already had the perfect one. When I made this vegan chocolate cream pie, I froze some of the leftovers and remember the filling being ice cream-like.
This ice cream? Definitely not icy. I used coconut cream (which is the top layer of cream you get when you refrigerate cans of coconut milk) instead of coconut milk or other dairy-free alternatives, like almond or soy milks, that make for icy ice cream.
I really think one small scoop (not the huge one in the pictures!) is enough. And this is coming from someone who can easily eat a huge bowl of regular ice cream.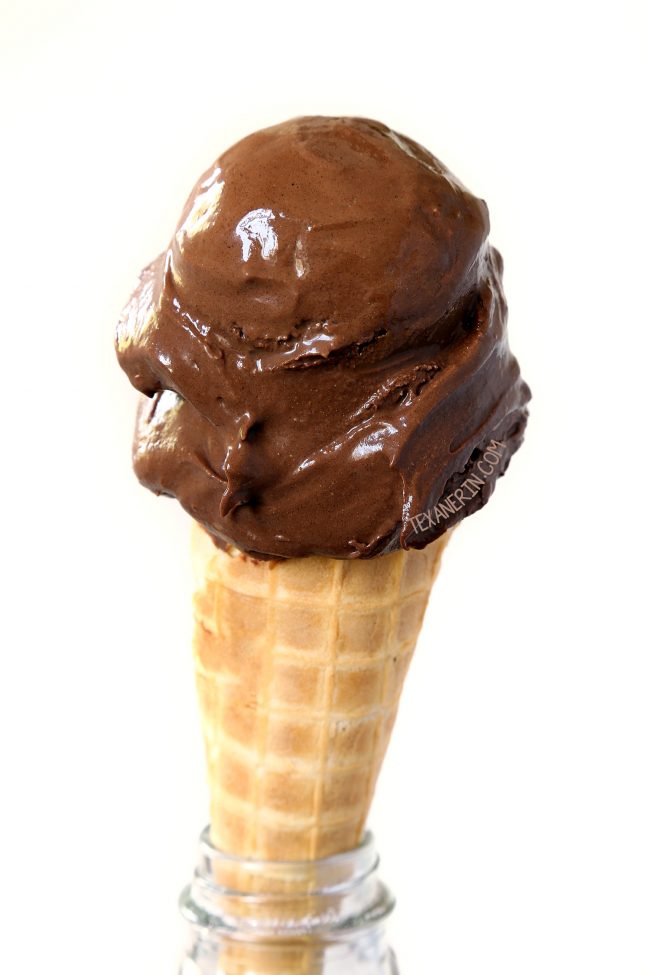 The first two times I made this, I was so enthusiastic about it I might've eaten 2/3 of the batch in one day. Then I felt terrible for the next two days.
Coincidence? Maybe. But I still recommend not going overboard with this ice cream!
If you want to lighten it up (and make it slightly icy), you can add some of the coconut water that's left after you extract the coconut cream, or you can add some almond milk or whatever liquid you'd like. The more liquid you add, the less rich and icier it'll be.
I do love my rich chocolaty desserts! If you do, too, try my paleo chocolate fudge. It's also vegan and so easy to make!
And if you want to make ice cream cookie sandwiches, my vegan paleo double chocolate cookies would be awesome with this ice cream!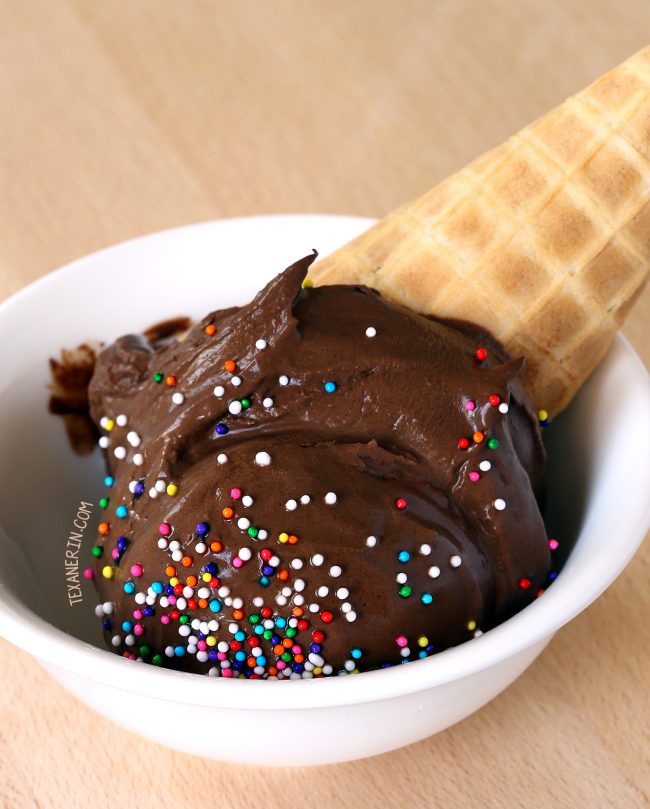 After freezing overnight, this vegan chocolate ice cream is pretty hard straight from the freezer but still scoopable (or okay, I actually stabbed at it with a fork and extracted what I wanted) when I used a plastic container.
When I used the metal loaf pan you see in the video, it needed to defrost for about 15 minutes before I could scoop it.
But no matter what you store it in, it's best to defrost a bit first because when it's a bit soft, it's really like gelato. Super creamy and decadent gelato. Check out the very end of the video below to see what I mean!
I used raw cacao powder in this vegan chocolate ice cream. If you use Dutch-process or another type of cocoa powder, you may find that you need more or less sugar.
I used 2/3 cup but with that amount, it's about as sweet as regular ice cream. If you're used to eating very little sugar, go with 1/2 cup and add more after tasting.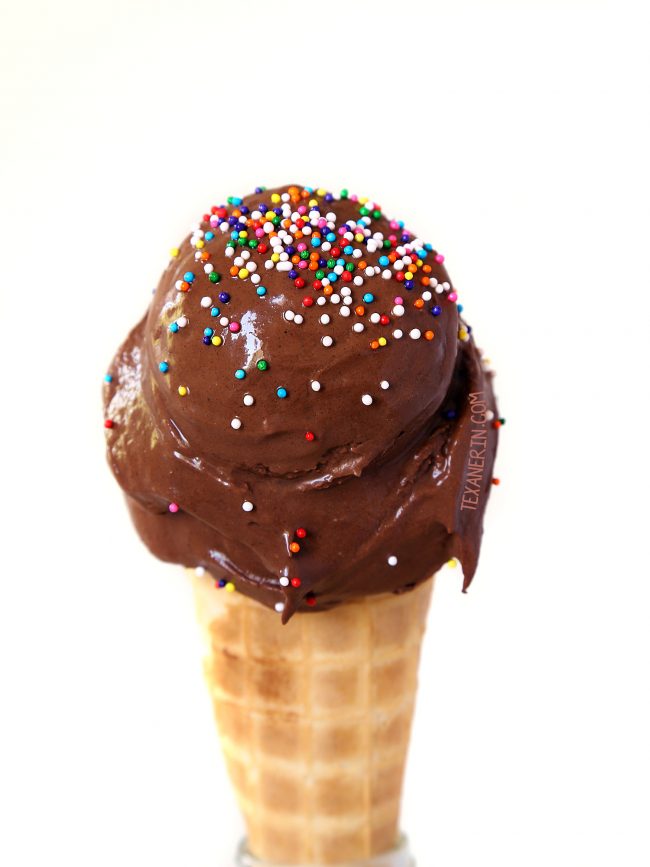 This is one of those paleo desserts that non-paleo and non-vegan folks will love, too. It honestly tastes like regular SUPER decadent chocolate ice cream.
There was no coconut taste, at least with the brand I used.
By the way, the yield is just a guess. This recipe doesn't yield much, but like I said, you're not going to sit down and polish off a bowl in a sitting.
One scoop + lots of berries is the way to go! The sprinkles are definitely not paleo but gosh they look nice. :) I just had to use them in my paleo cupcakes recipe, too!
For something a little lighter, try this chocolate frozen yogurt or this 4-ingredient healthy strawberry yogurt!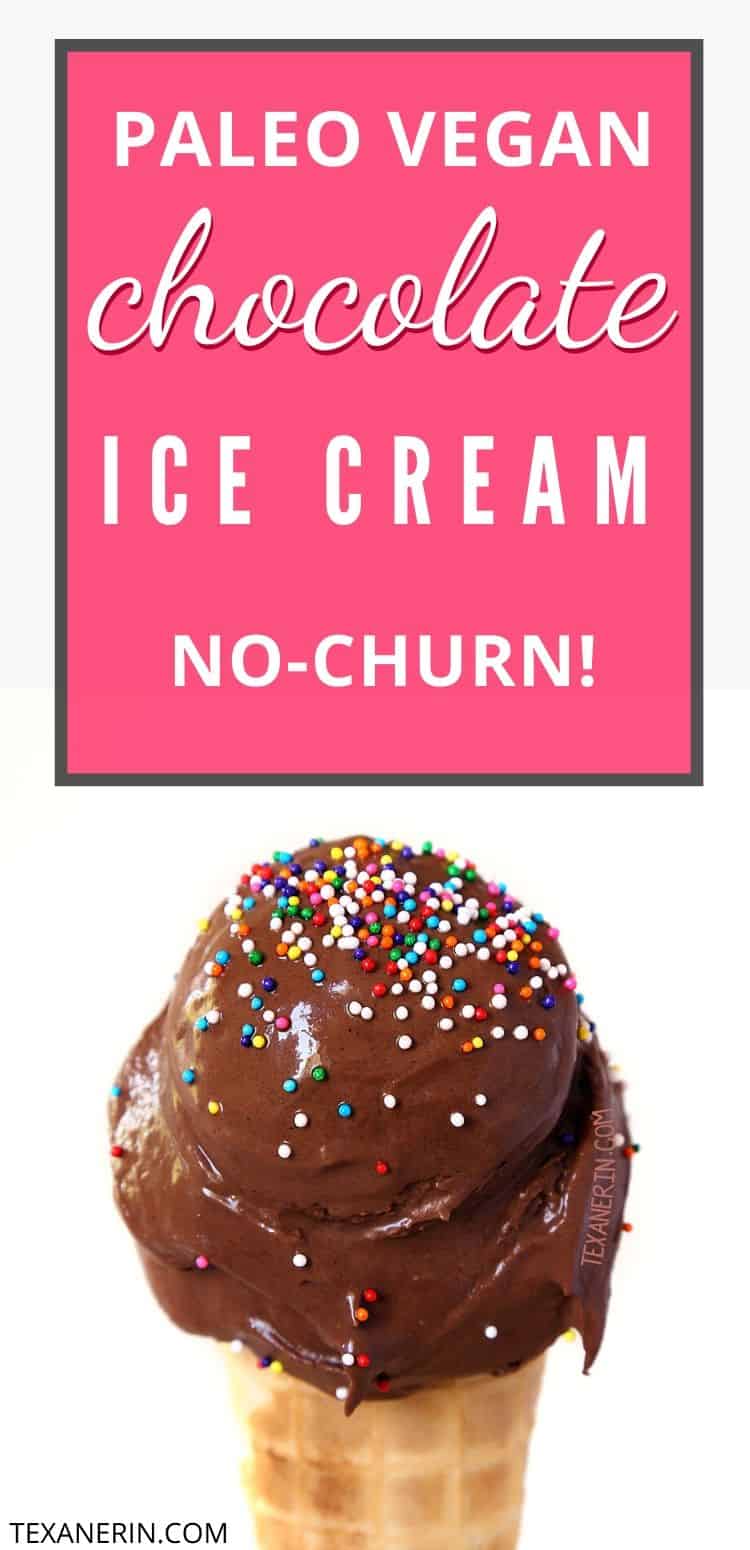 ❀
Vegan Chocolate Ice Cream (paleo, dairy-free, nut-free)
Prep Time:
Cook Time:
Ready in:
Yield:

8 scoops
Ingredients
1 1/2 cups (360 grams) warmed coconut cream from 1 1/2 14-ounce (400-gram) cans full-fat canned coconut milk, chilled overnight
1/2 cup (105 grams) pitted dates
1/2-2/3 cup (100-133 grams) coconut sugar (I have a sweet-tooth and use 2/3 cup sugar)
3/4 cup + 1 1/2 tablespoons (98 grams) cocoa powder (I used raw cacao powder)
2 1/2 teaspoons vanilla extract
1/2 teaspoon salt
Directions
In the bowl of a food processor or a high-speed blender, add all the filling ingredients (starting off with 1/2 cup coconut sugar and adding more to taste), in the order listed, and blend for about 30-60 seconds (or a few minutes in a food processor) or until totally smooth and no lumps of dates remain. If you use a food processor, it could be that there are some little bits of dates left.
Pour into a freezer-safe container and freeze for 4-8 hours, depending on how hard you want the ice cream.