These vegan no-bake peanut butter pies are made a little healthier with the help of bananas, coconut milk and maple syrup. With a paleo option.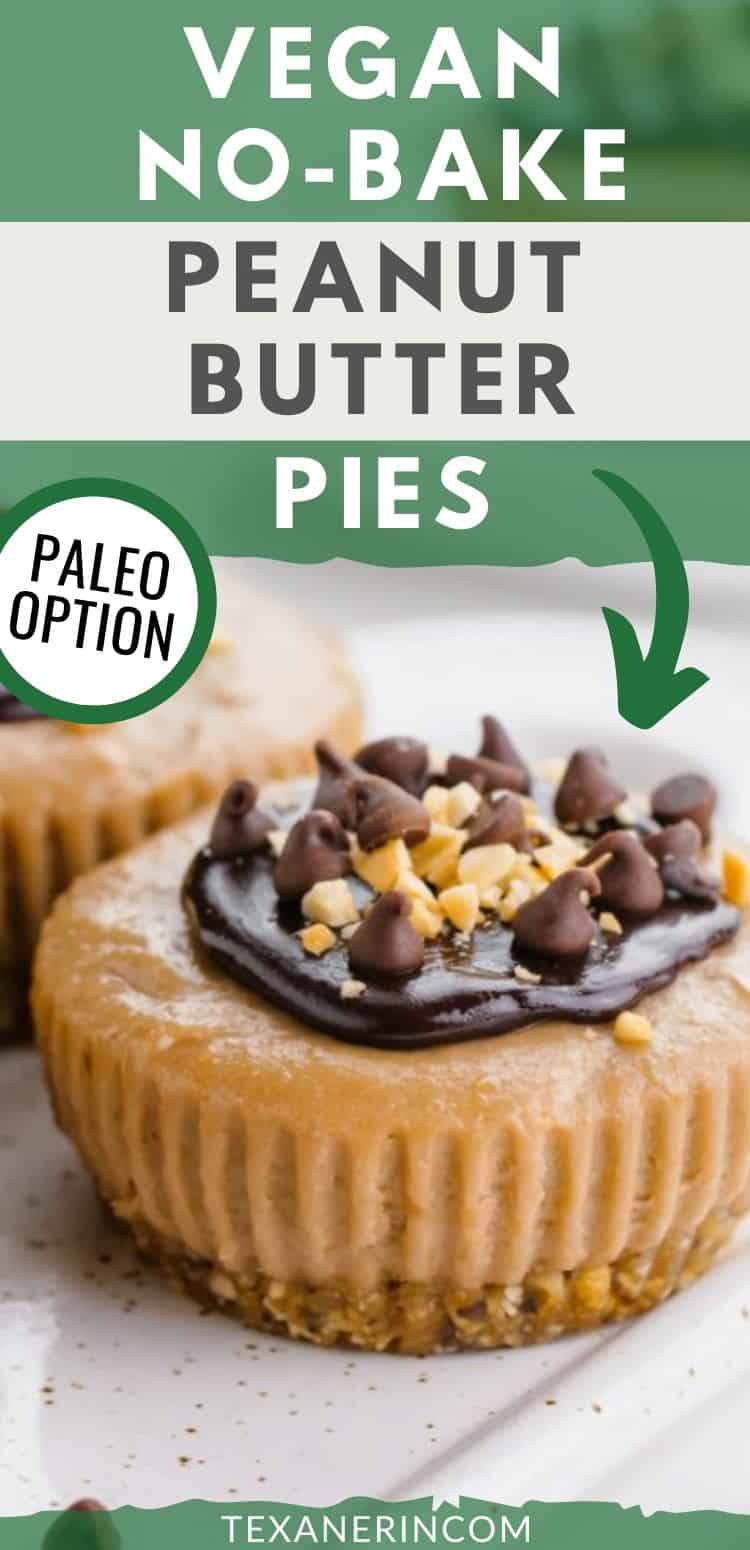 I sure love my mini pies. My favorite are these key lime pies and these raspberry cream pies are also pretty amazing (and both are paleo + vegan!)
Before I got started working on this recipe, I thought peanut butter pie without cream cheese just wasn't possible. I had tried the kind with tofu but it was just a little too unusual for me.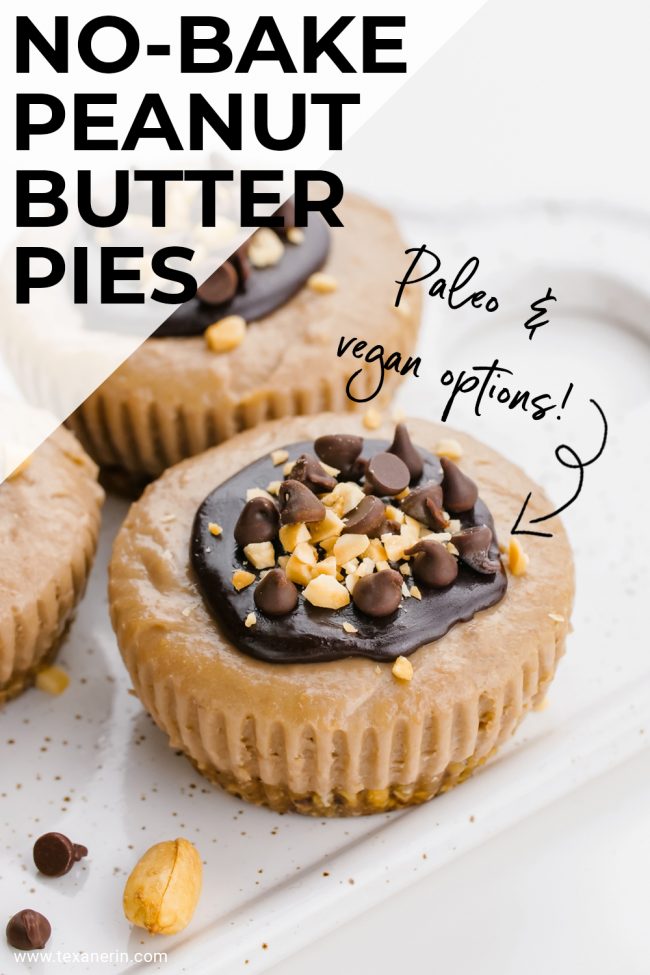 So I found a new base – bananas! It may sound a little odd but once frozen and slightly defrosted, these peanut butter pies have a great texture! And they taste pretty close to regular peanut butter pie.
The only less-than-awesome thing about them is that they need to be kept frozen and then defrosted a bit before serving.
Surprisingly (at least to me), the bananas don't overpower the peanut butter flavor. It's a nice balance! My bananas weren't overly ripe so if yours are very spotted or almost blackened, like what you'd use for banana bread, the pies will probably have a much stronger banana taste.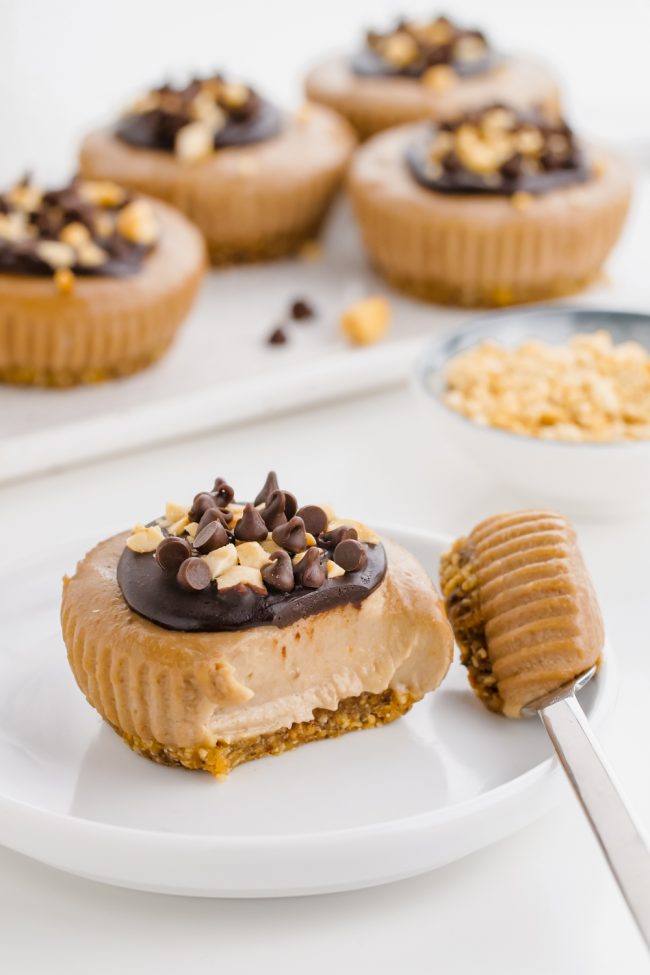 I'm thinking that you actually shouldn't use overly ripe bananas in these! You're risking messing with the balance of flavors.
The coconut taste is also pretty subtle, though if you dislike coconut, you may want to use whipping cream (for a non-vegan version) in place of the coconut milk.
And if you need these pies to be paleo, just use cashews or sunflower seeds in place of the peanuts and cashew or sunflower seed butter instead of peanut butter. I've tried it and it's delicious that way!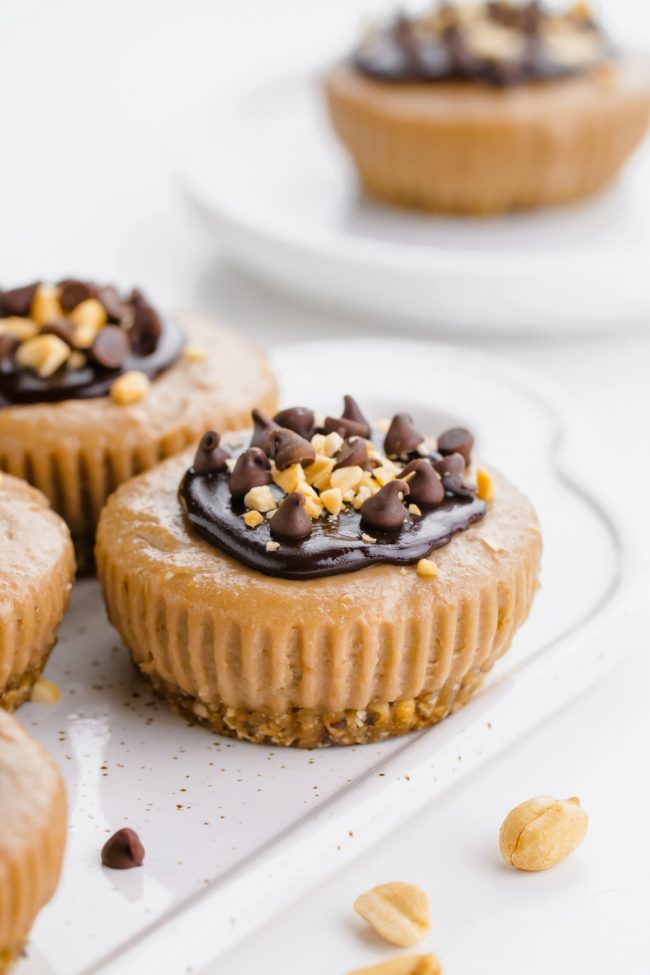 The first time I made these pies, I used a high-powered blender to make the filling. I definitely don't recommend that! It resulted in an unusual gluey texture. Use a food processor, which you'll also need for the crust.
For the topping, I used my healthy peanut butter fudge recipe, which specifically calls for refined coconut oil. You can use unrefined if you prefer, but it results in quite a strong coconut flavor and I don't like anything messing with my peanut butter flavor, so… refined it is for me. :)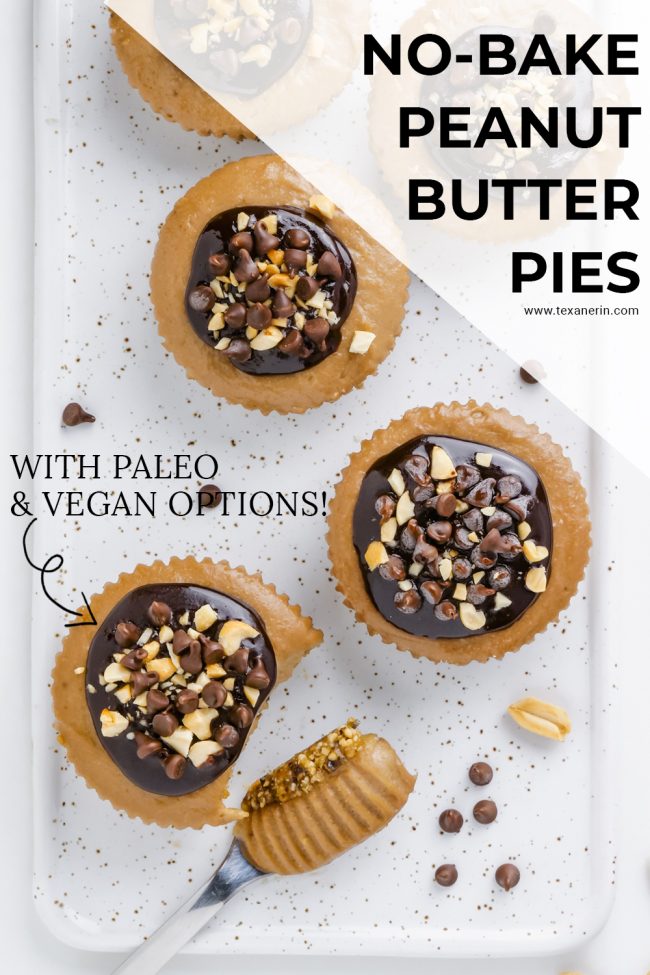 Just make sure to pour the fudge over the pies right before serving! It tends to firm up quite quickly. If you pour the fudge over the pies straight from the freezer, you're going to end up with a layer of practically frozen fudge, making the pies a bit difficult and messy to eat.
If you're looking for some more yummy vegan peanut butter treats, try these vegan peanut butter cookies (one of my very favorite recipes!) or this peanut butter fudge!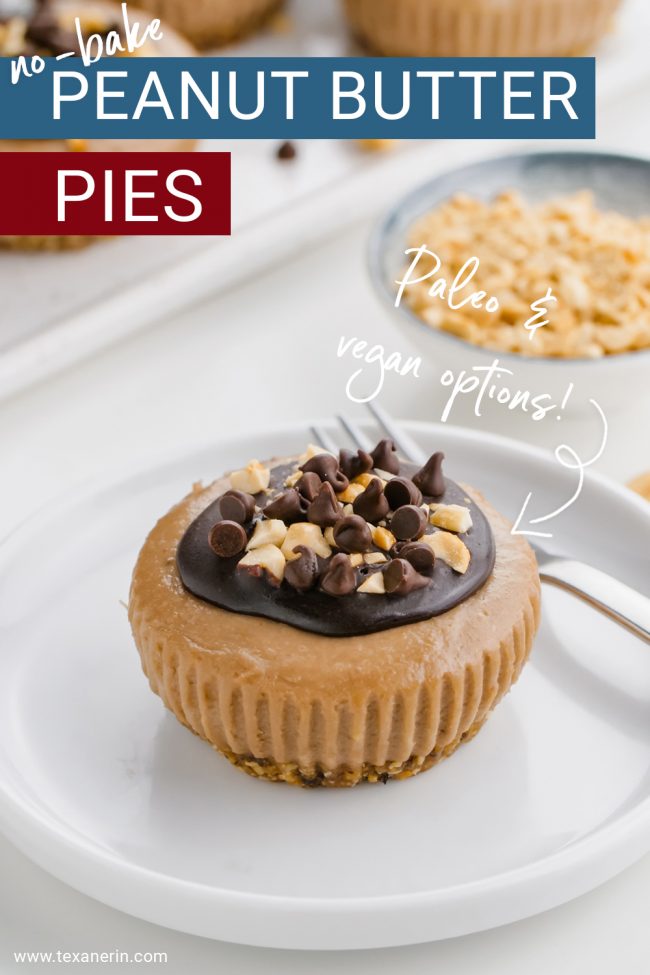 ❀
Vegan No-bake Peanut Butter Pies (paleo option)
Prep Time:
Cook Time:
Ready in:
Yield:

12 mini pies
For paleo, sub the peanuts with cashews and peanut butter with cashew butter.
Ingredients
For the crust:

1 cup (160 grams) salted roasted peanuts
1/2 cup (100 grams) pitted dates (about 16 regular-sized dates)
1/2 teaspoon vanilla extract

For the filling:

1 1/2 cups (384 grams) natural peanut butter (the kind with just peanuts and salt)
3 ripe medium bananas (320 grams peeled bananas)
1/2 cup (120 milliliters) full-fat canned coconut milk
1 1/2 teaspoons vanilla extract
1/4 cup (60 milliliters) maple syrup
salt to taste

For the topping:

1/4 cup (56 grams) refined coconut oil
1/4 cup (64 grams) natural peanut butter (the kind with just nuts and salt)
5 tablespoons (34 grams) cocoa powder
1/2 teaspoon vanilla extract
salt to taste
3 tablespoons maple syrup
1/3 cup (53 grams) chopped peanuts
1/3 cup (60 grams) mini chocolate chips (use vegan / paleo-friendly chocolate chips, if desired)
Directions
Line a muffin pan with 12 muffin liners.
Using a food processor fitted with an S-blade, process the peanuts and dates until finely ground. Add the vanilla and pulse a few times. The mixture should clump together when pinched. If it doesn't, add in a little more vanilla or water until the mixture holds together well.
Divide the crust mixture between the liners, using about 1 tablespoon + 1 teaspoon (20 grams) per liner. Use the bottom a shot glass to firmly press the crust down over the bottom of the liners. Use your fingers to compact the areas around the edges.
Use a paper towel to wipe out the food processor and then add all the filling ingredients. Process until uniform.
Divide the mixture between the crusts, using about 1/4 cup of filling per muffin liner. Place the pan in the freezer.
Freeze for at least 4 hours or until frozen.
Remove from the freezer and take off the liners. If they're too difficult to remove now, remove them after defrosting. Defrost the pies at room temperature for 10-20 minutes or until they're about as soft as ice cream. If you let them defrost too long, they'll be too soft to serve. Remove any pies from the pan that you're not eating straight away and freeze in an airtight container.
While the pies are defrosting, prepare the topping. Melt the coconut oil in a small pot or pan over low heat. Add the peanut butter, cocoa powder, vanilla extract and salt and stir until combined. Take the pan off the heat and stir in the maple syrup until well combined.
Let the fudge sit for about 5 minutes and then pour 1 tablespoon of fudge over each mini pie right before serving. Top with chopped peanuts and mini chocolate chips.
Refrigerate in an airtight container for up to 2 days. They freeze great and can be frozen for up to 3 months.
Source: My post on Gluten-free on a Shoestring – No-bake Peanut Butter Pie