These apple brownies are super thick, flavorful and have an easy caramel frosting that puts them over the top! Can be made with gluten-free, whole wheat or all-purpose flours.
I feel kind of guilty about all the super sugary and less-healthy-than-usual treats around here lately. Hopefully y'all don't mind too much. :) If you want something a little healthier, try my gluten-free apple crisp or gluten-free Swedish apple pie (which are also 100% whole grain!).
I'm taking a break from the pumpkin today to bring you these caramel apple brownies (or really… they're apple blondies but nobody searches for apple blondies so I'm calling them apple brownies :))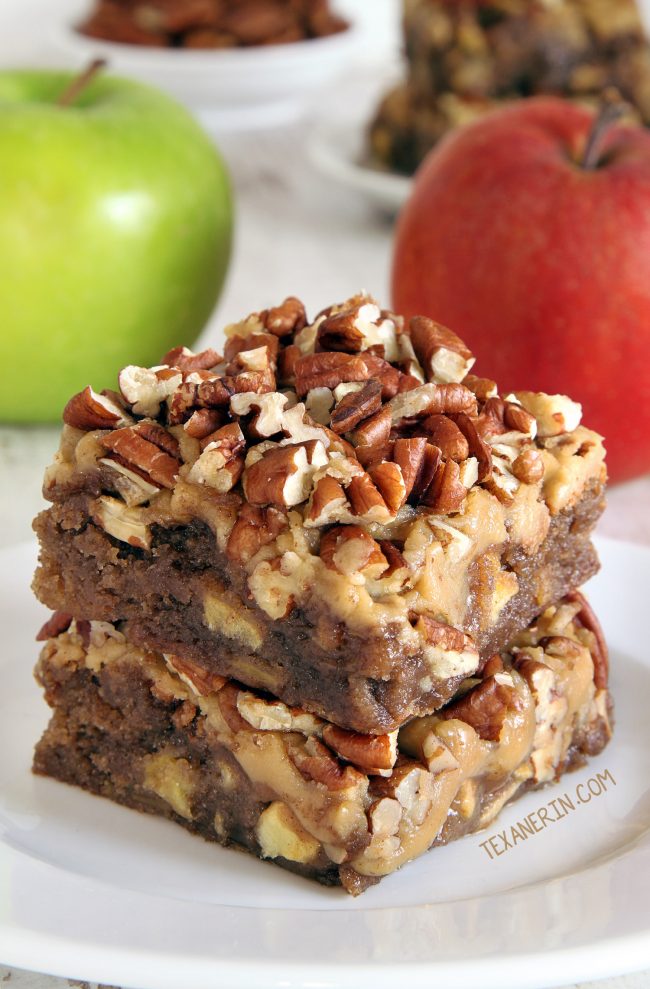 If you're having a bad day, just make these brownies. They'll make you feel better. I know you're not supposed to stress eat but…
These apple brownies are thick. Much thicker than most other blondie recipes I've tried. And they're way more cinnamon-y than the other apple brownies I've had. I think this has double or even quadruple what some other recipes call for.
They're not exactly fudgy but not cakey, either. They're a nice compromise and make the perfect base for the caramel frosting. I've used this same frosting in a few recipes, like this apple cake, and love how easy it is.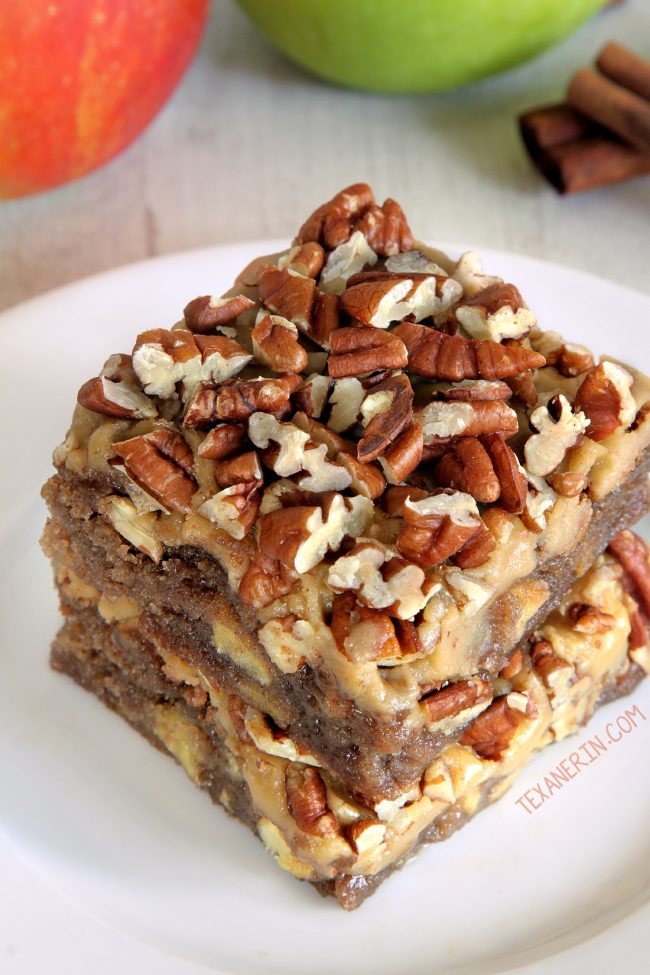 You just mix all the frosting ingredients together, boil for 1 minute and then add powdered sugar. So simple! You get all the delicious caramel taste without any of the scary (at least to me!) caramel making.
I've tried a few different types of apples in these brownies and Granny Smith were the best. When I used sweeter apple types, they just blended in and hardly stood out. All you could taste was cinnamon. The Granny Smith's tart flavor makes the apple taste pop a bit more, just like in these paleo apple muffins.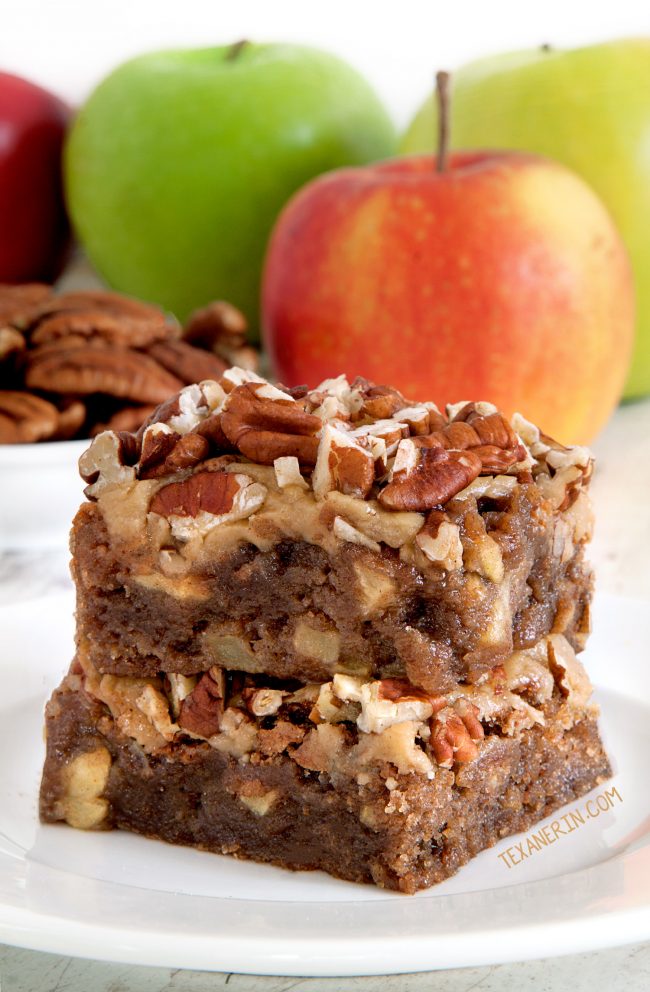 If making the gluten-free version, you'll probably want to chill the brownies before cutting them as they're a bit more delicate than the all-purpose flour and whole wheat versions.
And if you make the all-purpose version, you may want to refrigerate them, anyway, as chilling makes them a bit firmer, fudgier and easier to eat. So. Just refrigerate them. :)
For another caramel treat, try this amazing looking Caramel Macchiato! Enjoy. :)
❀
Apple Blondies with Caramel Frosting (gluten-free, whole grain, all-purpose options)
Prep Time:
Cook Time:
Ready in:
Yield:

12-16 blondies
Ingredients
For the blondies:

1 1/2 cups (188 grams) whole wheat flour, white whole wheat flour, whole spelt flour, or all-purpose flour or the below gluten-free flour mix for a gluten-free version1
1 tablespoon + 1/2 teaspoon ground cinnamon, divided
1/8 teaspoon ground nutmeg
1/2 teaspoon baking powder
1/8 teaspoon baking soda
1/2 teaspoon salt
1/2 cup (113 grams) unsalted butter, melted
1 1/2 cups (300 grams) light brown sugar, packed
1 teaspoon vanilla extract
2 large eggs (50 grams each, out of shell), room temperature
1 1/2 cups (180 grams) peeled Granny Smith apple chunks (about 1/4" in size)

For the topping:

1 cup (110 grams) chopped pecans
6 tablespoons (75 grams) light brown sugar, packed
3 tablespoons (42 grams) unsalted butter
2 tablespoons + 3/4 teaspoons milk
pinch of salt
3/4 teaspoon vanilla extract
2/3 - 1 cup (80-120 grams) powdered sugar, sifted if lumpy
Directions
Preheat the oven to 350 °F (176 °C) and line an 8"x8" pan with a sheet of parchment paper.
In a medium mixing bowl, stir together the flour, 1 tablespoon cinnamon, nutmeg, baking powder, baking soda and salt. Set aside.
In a large mixing bowl, stir together the melted butter, brown sugar, and vanilla extract.
Beat in the eggs, one by one, and stir just until combined.
Fold in the dry mixture, stirring just until no streaks of flour remain.
Mix the peeled apple chunks with the remaining 1/2 teaspoon of cinnamon and fold the cinnamon apples into the batter, making sure not to overmix.
Pour the batter into the prepared pan and bake for 25-32 minutes or until the edges have lightly browned and the middle jiggles just slightly.
Place the pecans on a rimmed cookie sheet and bake them for 4-7 minutes, stirring them halfway through, or until they smell roasted. Remove from the oven and let cool completely.
When the blondies have cooled, prepare the frosting.
In a small saucepan over medium heat, mix together the brown sugar, butter, milk and salt.
Whisking continuously, bring the mixture to a boil and boil for 1 minute, while continuing to whisk continuously. Remove the pan from the heat and stir in the salt and vanilla (it will bubble).
Gradually whisk in 2/3 cup powdered sugar and mix until smooth and no lumps of sugar remain. Taste and add up to another 1/3 cup powdered sugar, if desired.
Stir occasionally for about 3 minutes or until the frosting has slightly thickened. Immediately pour over the cooled blondies. If it's thickened too much, place back on the heat for a few moments.
Spread the frosting over the cooled blondies and top with the chopped pecans.
Refrigerate in an airtight container for up to 4 days. Can be stored at room temperature for 1 day.
Notes
For the gluten-free version, use:

1 1/2 cups white rice flour
1/3 cup potato starch
2 tablespoons + 2 teaspoons tapioca flour / starch
1⁄2 teaspoon xanthan gum
Source: My post on My Baking Addiction – Caramel Apple Blondies