These apple juice cocktails are incredibly easy to make with just five very basic ingredients you probably already have at home! They can be made ahead of time, making them especially great for Thanksgiving.
Who knew that apple juice and vodka would be so delicious?! And when you add lemon juice, maple syrup and cinnamon, they're even better.
They take just 3 minutes to make and will be sure to please everyone. They have just one teaspoon of maple syrup per cocktail, which adds the perfect sweetness, making this a truly enjoyable fall cocktail.
Ingredients
When looking at cocktail recipes, I almost always find them calling for at least one specialty ingredient that I don't have. I'm not interested in buying something that I'll likely just use once and have it sit around for a decade (seriously) until I decide it's time to get rid of it.
This recipe uses simple ingredients, so there's no need to run out to buy that one item you'll rarely use again.
Apple juice – I used 100% apple juice with no added sugar or any other sweetener. If you use sweetened apple juice, you'll probably want to omit the maple syrup, unless you want your cocktail especially sweet.


Vodka – I can't even tell you what brand I used, and the result was still incredibly delicious. You definitely don't need to splurge with this cocktail!

So much flavor comes from the cinnamon, apple juice and maple syrup.

That said, you probably don't want to use the absolute cheapest option. Just because you probably don't want to use that for anything. ;)


Lemon juice – This brightens things up. The cocktails aren't terrible without it, but a bit flat. I highly recommend using it.


Maple syrup – I used the standard, lighter pure maple syrup. If you want more of a pronounced maple flavor, be sure to use what was previously called Grade B!

Maple syrup classifications changed a few years ago and now Grade B is called "Dark Color, Robust Flavor."


Ice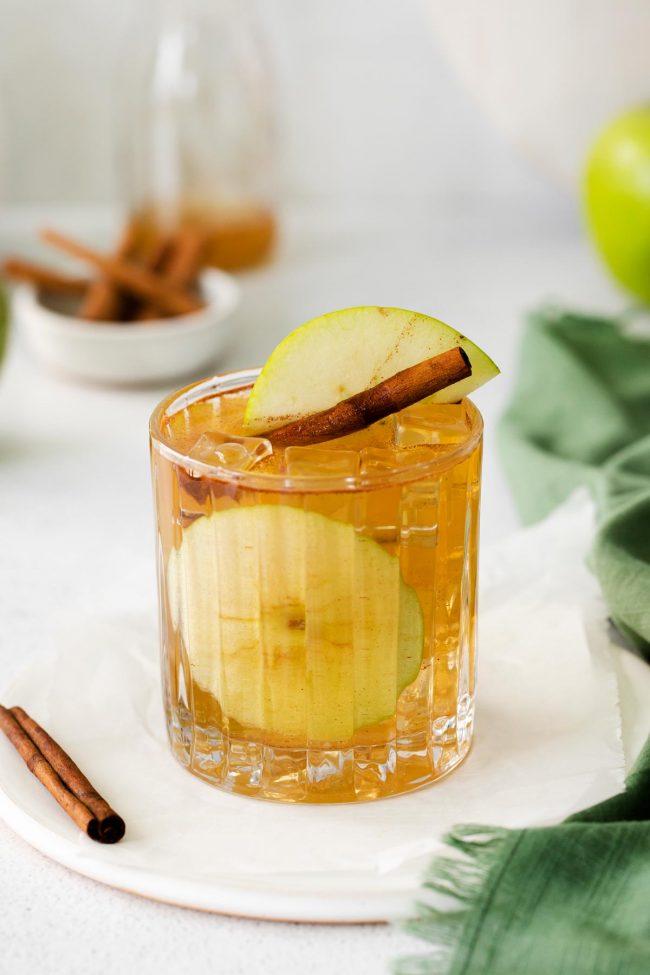 How to make it
Put everything in a cocktail shaker (or jar) and shake!


Enjoy the easiest cocktail ever. :D
How to garnish an apple cocktail
The most obvious answer is to garnish with thin apple slices. But if you want to get a little fancy with an apple garnish, check out this video.
Lemon garnishes are also great with this drink. You can do the standard half-moon on the rim of the glass or a simple lemon twist. But if you really want to wow the crowd, you can make these fancy lemon garnishes in advance.
If you like an aromatic garnish, you can use fresh herbs. A sprig of thyme or rosemary would look and smell great. It also goes well with the season.
If you use fresh herbs just clap them between your hands a couple of times to slightly bruise the leaves, so you get a rich aroma.
Herbs won't flavor the drink too much if you're just adding it as a garnish, but it does visually perk the drink up a bit. You'll smell the herbs as you sip, and it makes for a great way to engage the senses.
If you love the idea of blending fresh herbs in this drink, you can muddle the herbs with the vodka then pour in the apple juice mixture for a more pungent herbal taste. I haven't tried this, but I think it could be an interesting twist.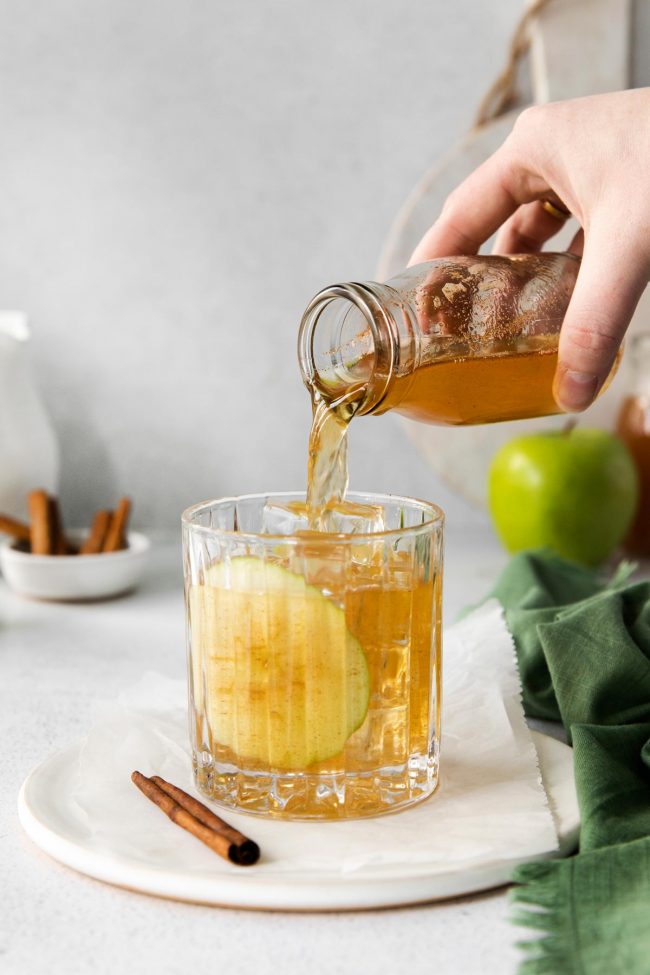 Difference between apple juice and apple cider
The basic difference is filtration and pasteurization. Apple juice is clearer than apple cider because it has been filtered to remove coarse particles, sediments and pulp.
Apple cider is basically raw apple juice that is unfiltered and thus will have more sediment and pulp, making it look cloudier compared to apple juice.
Apple cider also needs to be refrigerated, whereas an unopened bottle of apple juice can remain in the pantry for months because it has been pasteurized with a vacuum seal.
To make Homemade Apple Cider, the apples are cut and ground up like applesauce. Then the mash is wrapped in a cloth and pressed to get juice.
You can find pasteurized apple cider that will have a shelf-life, but if you can grab the refrigerated apple cider when it's freshest and in season, it's always best.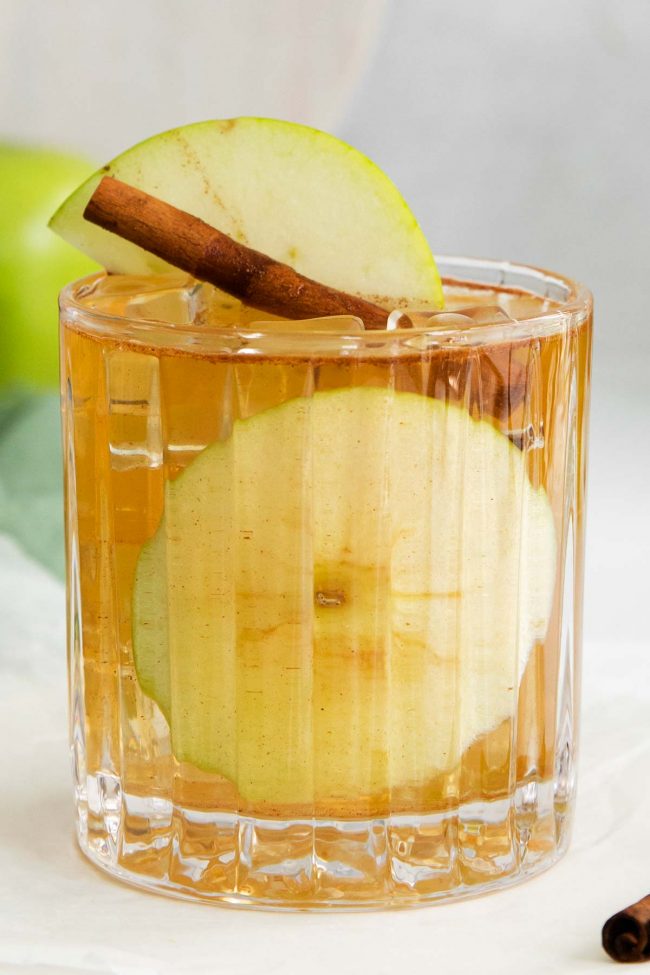 Can I use apple cider?
If you mean the kind that's 100% juice, then yes! You'd have yourself an awesome apple cider cocktail.
If you mean hard apple cider, then no. I wouldn't recommend that.
And if you mean the Scandinavian kind that tastes like a soda with alcohol, then that's also a big fat nope.
Make-ahead cocktails
This is one great drink to prepare in advance. You could make it the night (or actually, several nights) before Thanksgiving (or whenever you want to serve them), omit the lemon juice, and then add the lemon juice shortly before serving.
You don't have to do it that way, but I think freshly squeezed lemon juice is always the best.
You could even freeze the prepared cocktails if that helps. If freezing, then you can go ahead and add the lemon juice before freezing.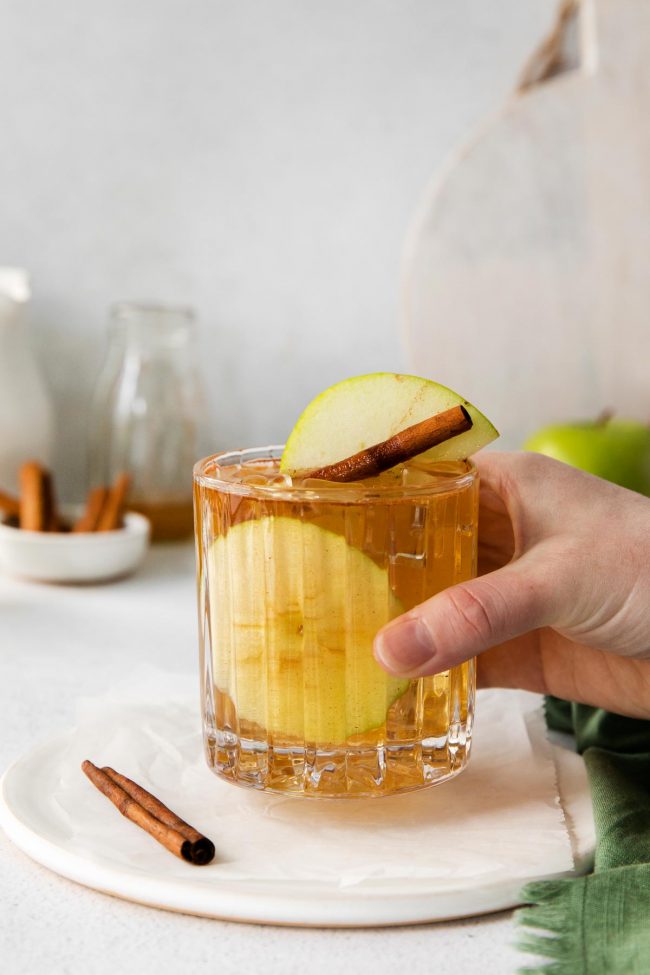 Can I use bottled lemon juice?
I would probably omit the lemon juice before using bottled. Unless you have some really good bottled lemon juice, that is.
I previously tried to use bottled lemon juice whenever I could because I'd so often buy lemons, only to have them go bad before I actually used them. Plus using bottled saves a lot of time when making something like these Vegan Lemon Bars or Honey Lemonade.
But I rarely had a good result with bottled. There's so little lemon juice in this recipe, though, so maybe it doesn't make a big difference. If you try it, please let me know how it comes out!
Naturally sweetened
A lot of apple juice cocktails call for granulated sugar, and I have no idea why. Maple syrup goes so well with apple juice and cinnamon, and there aren't any issues with it dissolving.
You don't need to shake the cocktails very long when using maple. Actually, you wouldn't really need to shake them at all, if it weren't for the cinnamon.
Can I just mix them in a glass?
That's what I originally did, but it's not so easy to dissolve cinnamon like that. So I poured the mixture into a cocktail shaker, gave it a few shakes and that was all it needed.
But shaking cocktails has more benefits than just dissolving ingredients.
By using a shaker to mix cocktails, you can quickly and thoroughly mix ingredients while also chilling them if you add an ice cube or two.
This recipe doesn't call for adding ice to the shaker, but if you want to chill it a bit more, you can add an ice cube, shake it and strain the liquid into the sugar-rimmed glass.
Don't have a cocktail shaker?
That's ok. I find it fascinating that the cocktail shaker dates back to 7000 BCE. They found fragments of gourds with traces of alcohol in South America. So, you've got options.
Use any jar or bottle that has a lid and give it a couple of shakes. Plastic works, too – just make sure the lid is tight.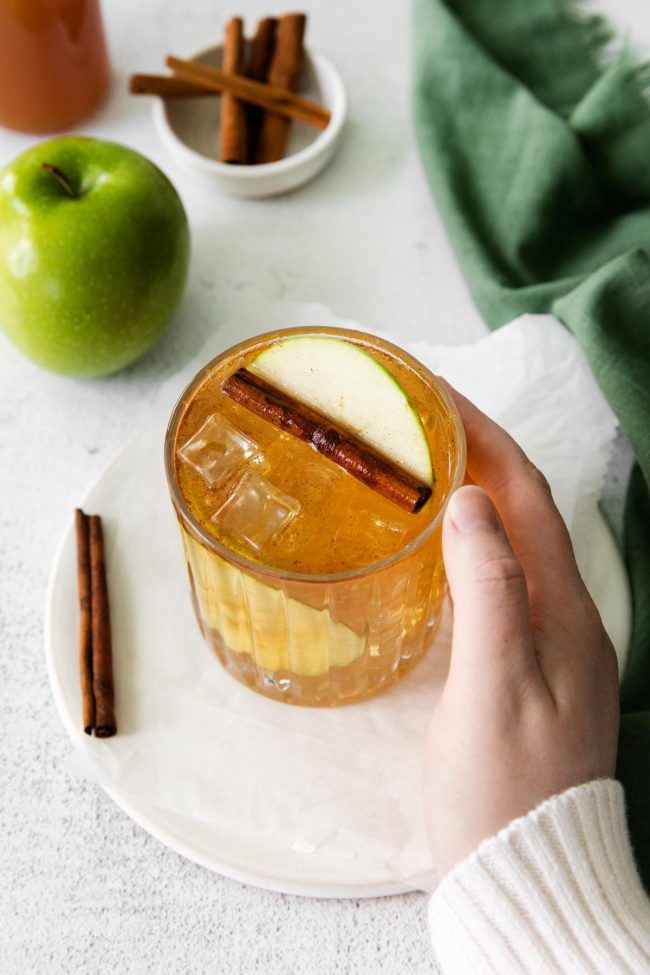 Big batch cocktails
Making a bigger batch of these apple cocktails is easy. This is what you need to make 8 cocktails.
4 cups (946ml) 100% apple juice
1 1/2 cups (355ml) vodka
2 tablespoons + 2 teaspoons freshly squeezed lemon juice
2 tablespoons + 2 teaspoons pure maple syrup
1 teaspoon ground cinnamon
If you have a big wine jug with a lid, just dump all the ingredients in the jug, tighten the lid, shake and pour.
You can also make pitcher cocktails by putting the ingredients in a large pitcher and stirring the concoction until the cinnamon is dissolved. Throw in some extra apple slices or lemon rounds for garnish, pour and serve.
Or add it all to a punch bowl. Whatever you have will work just fine for bigger batch cocktails.
Other seasonal cocktails:
That's it! If you give this Apple Juice Cocktail a try, I would love to hear about it. Leave a comment below or take a photo and tag #texanerin on social media so I can be sure to find it easily. Cheers!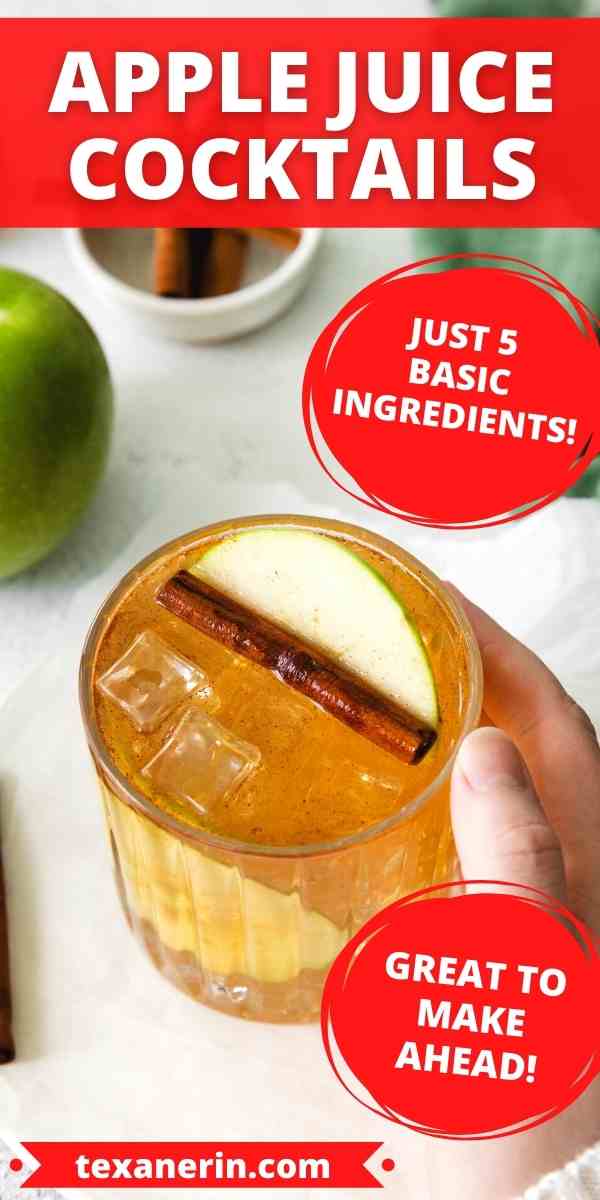 ❀
Apple Juice Cocktails
Prep Time:
Cook Time:
Ready in:
Yield:

two 2/3 cup cocktails
Ingredients
1 cup (236ml) 100% apple juice or apple cider
6 tablespoons vodka
2 teaspoons freshly squeezed lemon juice
2-3 teaspoons pure maple syrup
1/4 teaspoon ground cinnamon
ice
garnish: apple slices + cinnamon sticks
Directions
Mix everything together (using 2 teaspoons of maple syrup) in a cocktail shaker. Shake vigorously until the cinnamon has been thoroughly incorporated.
Taste and add more maple, if desired.
Fill a glass with ice and apple slices.
Pour into the glasses.
Garnish with apple slices and/or cinnamon sticks, if desired.