This dairy-free chocolate cake is ultra-rich, moist and chocolaty! It doesn't use any specialty ingredients and can be made with all-purpose, gluten-free or whole wheat flours. It's also easy to make vegan!
If you don't need your cake to be dairy-free, don't worry – this cake doesn't have any unusual ingredients. Just use regular milk instead of dairy-free milk! That is the only thing needed to make this cake dairy-free.
This is the same cake as my Halloween cake with eyeballs, but because it's not Halloween season, and it seems as if most people were disgusted by it according to a poll I did on Instagram, I made a pretty design this time without any gross decorations.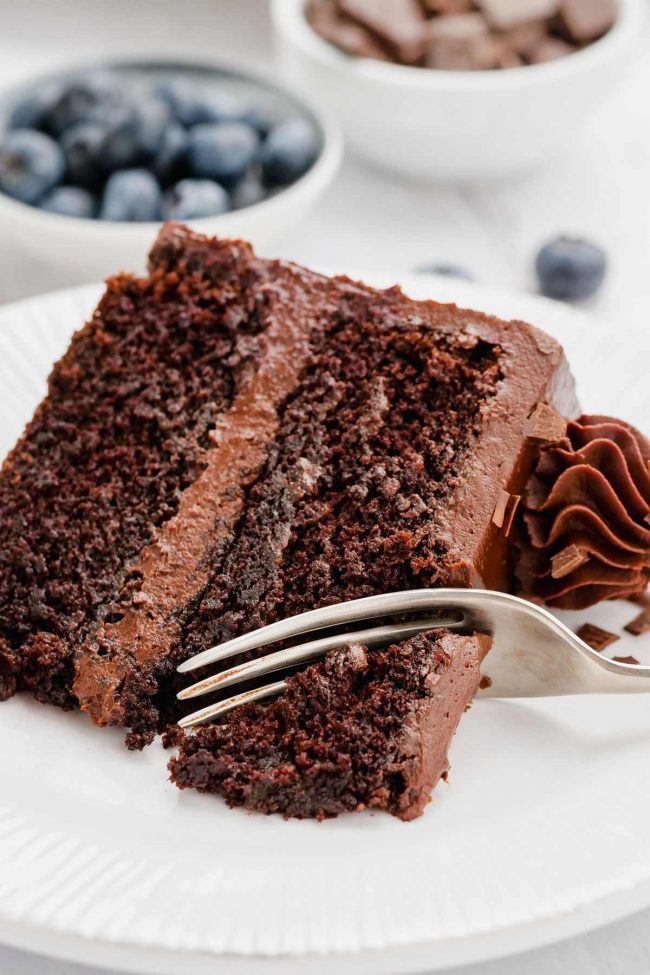 This cake is too delicious to just have it seen around Halloween. It has the perfect chocolate flavor and is so insanely moist.
Plus, I thought it'd be perfect for Valentine's Day!
This has been my go-to chocolate cake for 15 years. I've tried top-ranking chocolate cake recipes, just because I was curious if there's one better than this, but this one always comes out the winner.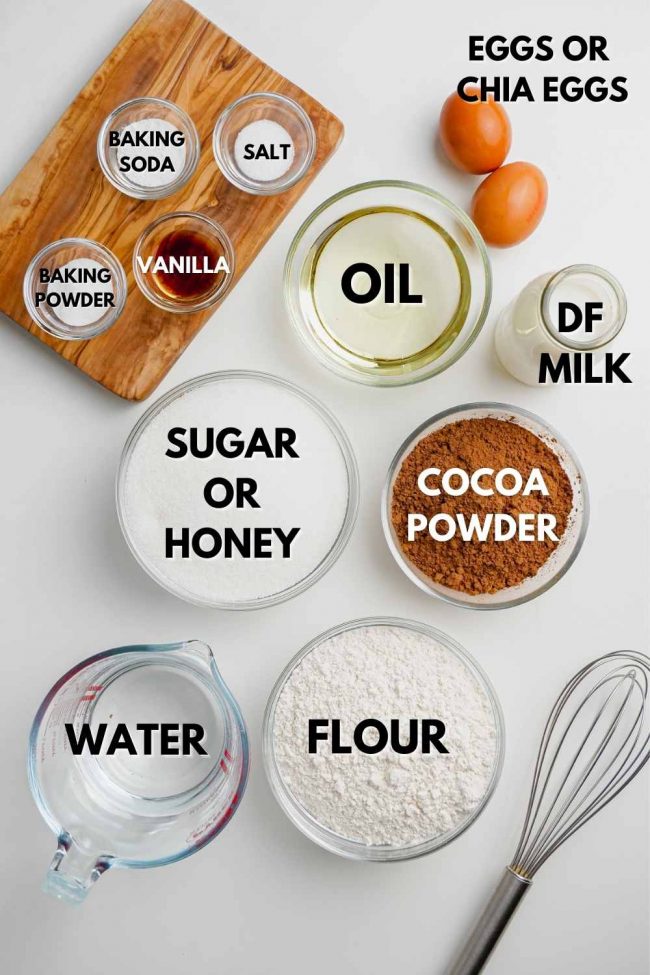 The yield
If you're telling yourself that you don't need a whole 8″ cake for just the two of you, I'd recommend making the whole thing, anyway, and freezing what you don't want to eat within a few days. It freezes great, even with the frosting on it.
And it's not actually that big of a big cake. I know it looks like it, though.
The amount of frosting is indeed a lot. In everyday life (so when I'm not posting a recipe on the internet), when making this cake, I never frost the sides. The cake doesn't really need it, and it's sweet enough without.
If you don't want to frost the sides, then just make 2/3 of the frosting recipe. You'll have about 1/4 cup leftover.
You could probably even make just 1/2 of the frosting recipe, and use a little less on the top.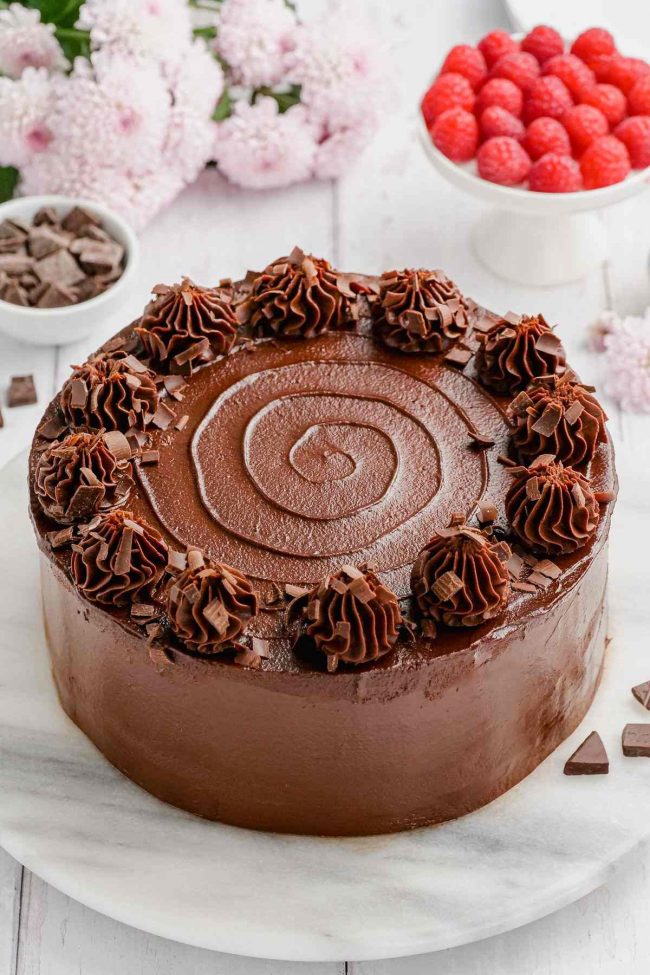 Traditional or a healthy version
You've got some options here. You can make a classic non-healthy cake or a healthier cake (which tastes like the regular version!).
You can use:
Regular flour, whole wheat, or gluten-free flour
Regular eggs or chia eggs
Regular sugar, coconut sugar, or honey
Whatever neutral-tasting oil you'd like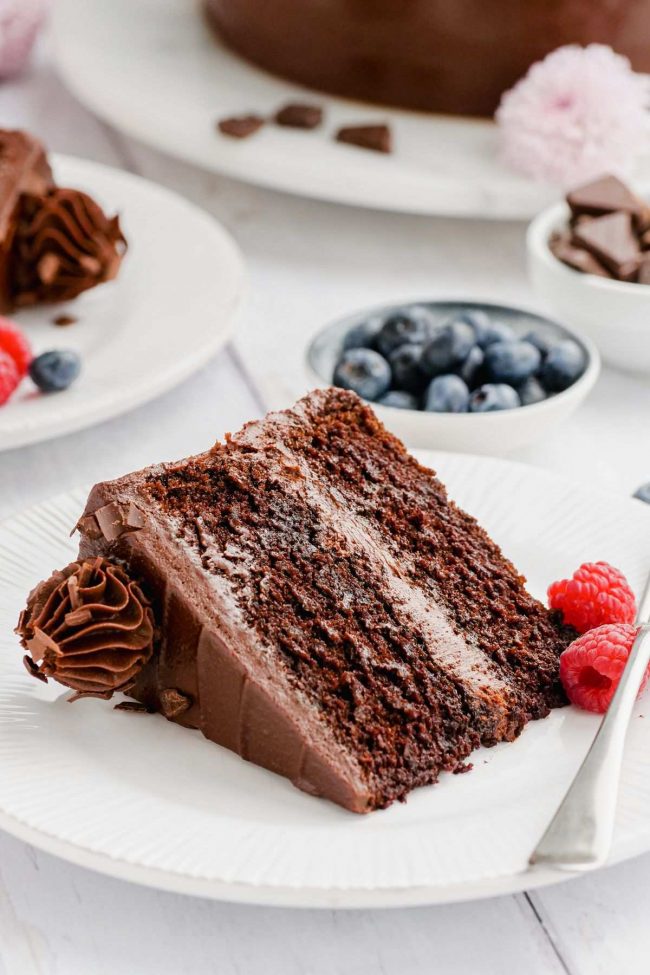 The milk
Cashew milk is my favorite. It's more neutral than almond milk.
Oat milk would probably also be great. I haven't tried soy as I can't have it but imagine that'd work, too.
If you want to use canned coconut milk, I recommend using 1/2 cup of that + 1/2 cup of water. That'll thin it down so that it's like regular milk.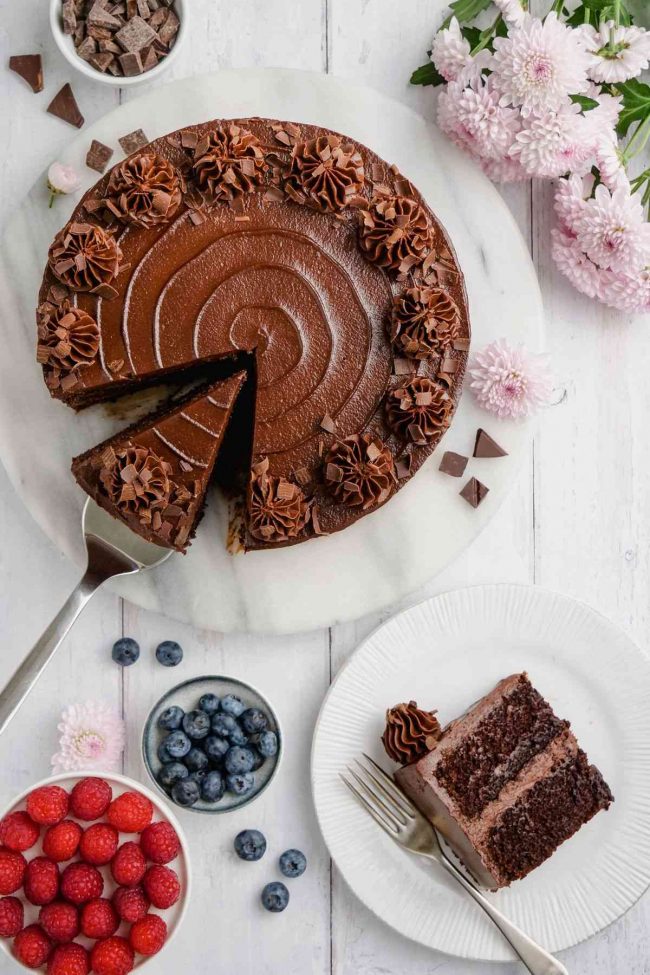 The frosting recipe
I used my chocolate fudge frosting for this. It's my favorite frosting recipe for good reason! It's super easy, not overly sweet, and easy to pipe.
And just like when using canned coconut milk for the cake, I'd recommend you use half coconut milk and half water to thin it down.
Like I said above, just make 2/3 of the recipe if you don't want to frost the sides!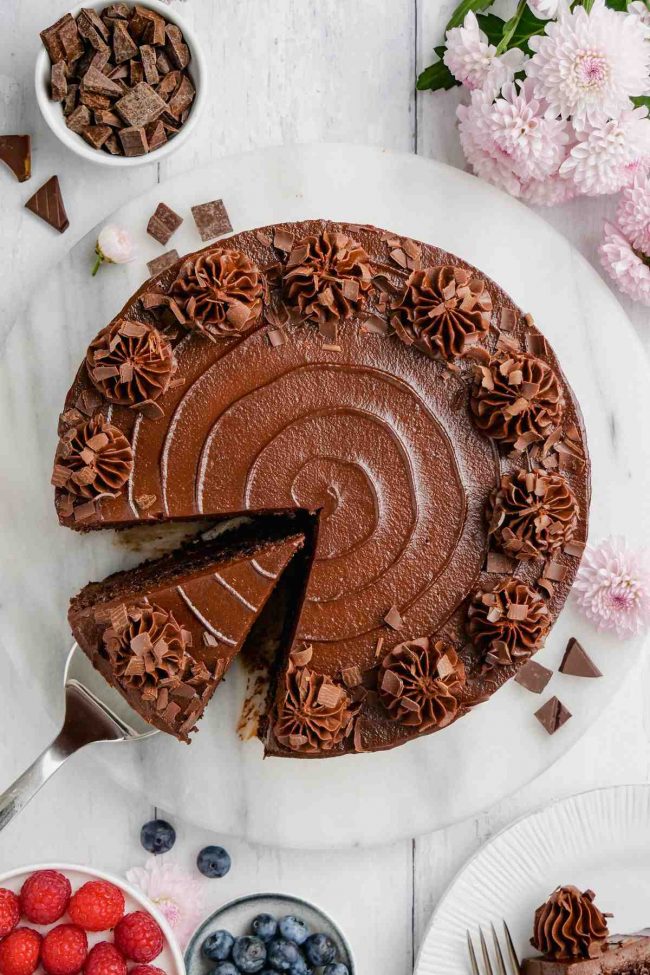 The piping
If you want to make the same designs I did, you'll need about 1.5x the frosting. The amounts for that are in the notes section below the recipe. You won't use all of it but can freeze it without issue.
You might be able to get away with makingg 1.3x the recipe, but running out of frosting when you're almost done decorating a cake is hugely annoying. So I recommend just making more and then freezing.
I used Wilton tip 6B. To see how the swirl was made, check out the video!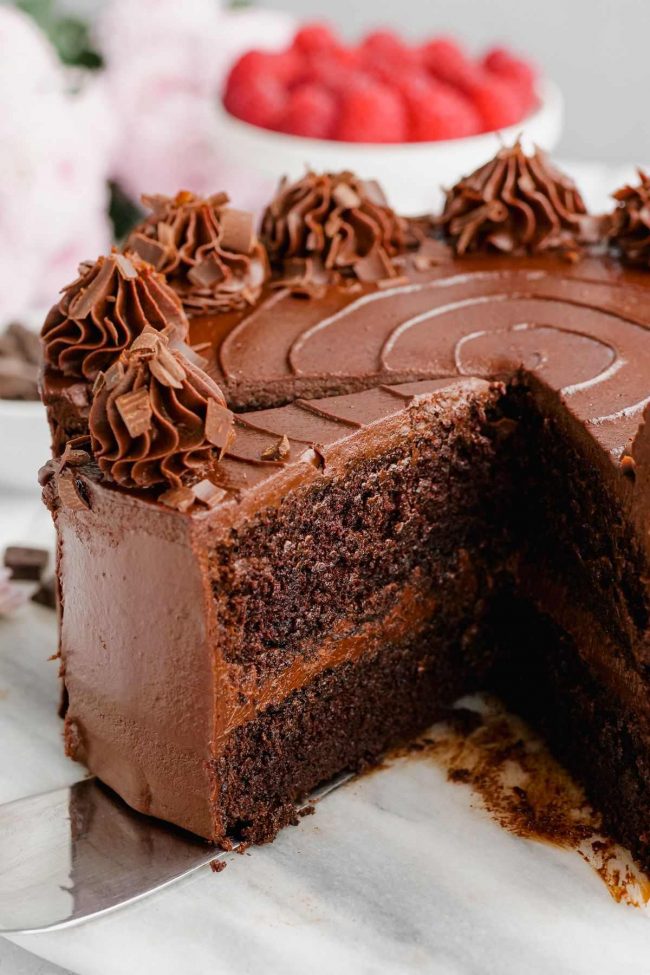 Topping ideas
For everyday life, I would've just covered this thing with raspberries or strawberries.
I don't normally fuss with any decorations beyond that but wanted something fancy-looking for Valentine's Day. I mentioned this in the post about me on The Zestfull, but I'm really enjoying planning little holiday parties for our little family of three.
It gives me something to look forward to, which is especially needed these days when we don't have much hope of things getting back to normal any time soon.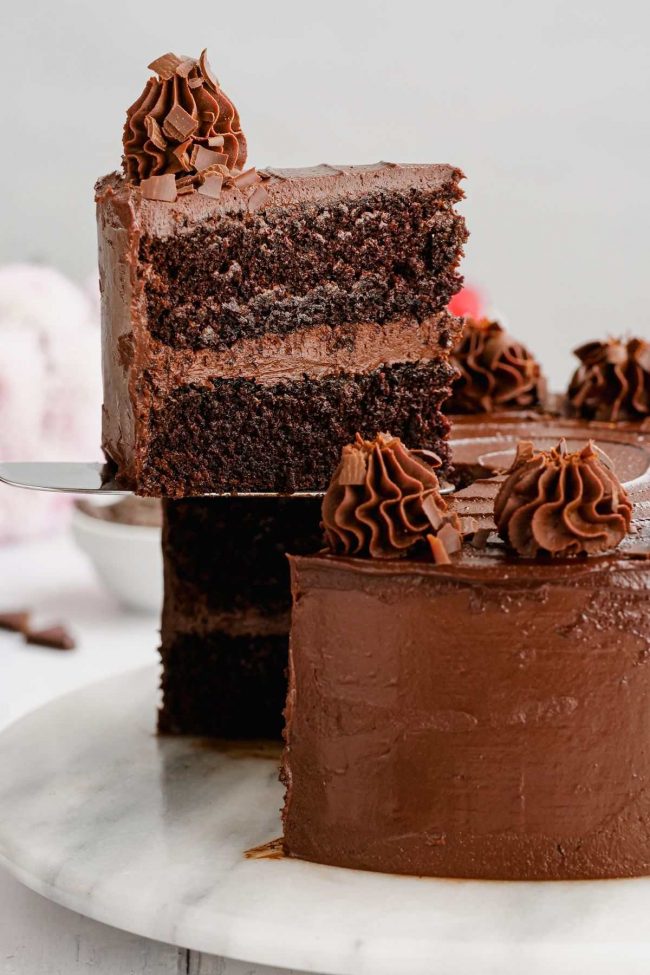 Healthier Valentine's Day desserts
So this isn't the healthiest treat. Even if you use honey for the cake, the frosting is sweetened with chocolate, so it's got a lot of sugar.
For a healthier chocolate treat, try my date-sweetened paleo vegan chocolate mousse or my maple-sweetened paleo fudge.
For a sugar-free treat, I can offer you this delicious keto pudding. Plop some raspberries on top, and you've got yourself a super quick Valentine's Day dessert! You can also use maple syrup if you prefer.
Let me know if you try the cake! I love getting feedback. :)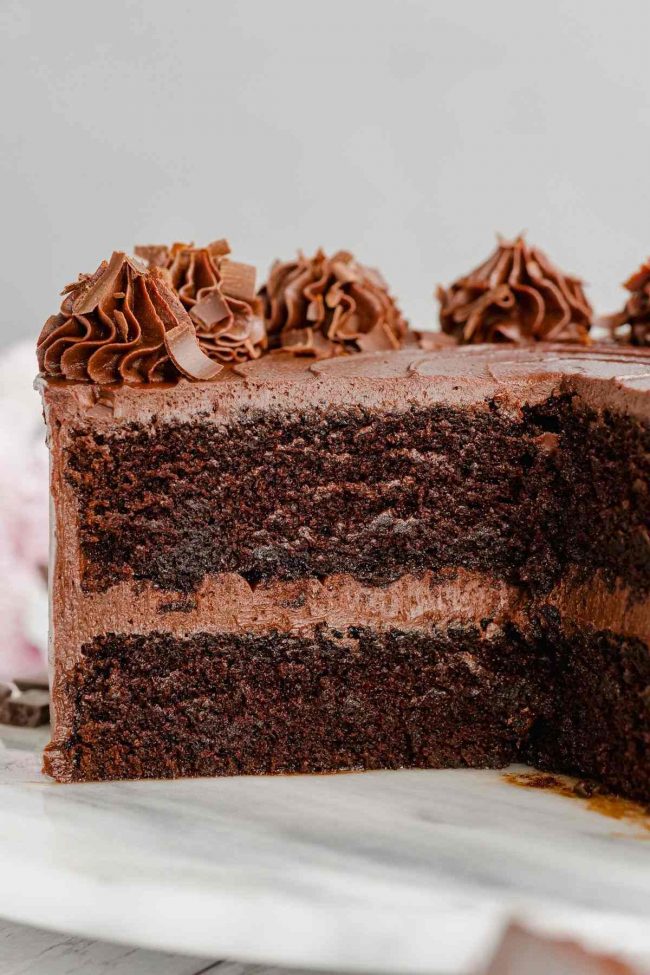 Questions about this dairy-free cake?
Can I use a different egg replacer?

I've only tried chia eggs in this cake and I was quite surprised that it worked. I often have problems with egg subs in cakes.

I'm guessing that other egg replacers, that you've used in other cake recipes with good results, would work here as well, but I'm not positive.

Can I really use any type of oil for the cake?

You can use any neutral-tasting oil like light olive oil, canola oil, vegetable oil, or grapeseed oil, etc.

If you use unrefined coconut oil, you'll likely taste some coconut in your cake. If you use refined, you won't taste the coconut. So I recommend refined coconut oil (and you should melt it).

If you use olive oil, can you taste it in the cake?

I used extra-virgin olive oil, which you can taste in the batter and when the cake is hot out the oven. But once it cools, you won't taste it at all.

I should say that I used Aldi or Lidl extra-virgin olive oil. It wasn't a super expensive and strong one. If you're worried about it, use light olive oil (the light refers to the taste and not calories).

Can I use butter?

You probably could but the cake won't be as moist because butter is 80-82% fat and oil is 100% fat.

If I make the GF version, can I use a different gluten-free flour mix?

I used Bob's Red Mill Gluten-Free 1-to-1 Baking Flour and the cake was fabulous. If you have found a different brand that works as a sub for all-purpose flour, then it might work here.

But I can't guarantee that it'd be as perfect, both texturally and taste-wise, like the Bob's version is.

There is no way to use almond flour, coconut flour, or any other grain-free flours. And it's just totally ridiculous that I haven't got a paleo chocolate cake recipe. But I'm working on it!

Does the GF version taste gluten-free?

Not at all! This cake tastes just like it was made with regular all-purpose flour. At least with the gluten-free flour mix I used and after the cake has cooled off.

Does the whole wheat version taste like cardboard?

Definitely not! It tastes like it was made with regular all-purpose flour. The cocoa powder, oil and sugar cover up the wheaty taste.

Can I reduce the sugar?

Reducing sugar also reduces the moisture so unless you prefer a dry cake, don't go overboard. Don't try reducing the sugar to 1/2 cup or some small amount.

I think using 1 1/2 cups of sugar would be fine. The honey version is already a reduced amount (1 cup of honey instead of 2 cups of sugar) so I don't recommend reducing it more than that!

Can I use something other than the listed sweeteners?

I've only made this cake with the listed sweeteners and nothing else. So those are the only ones that I know will work 100%.

I'm guessing that any liquid sweetener that you'd usually use in place of honey would probably work in place of the honey. And any granulated sweetener that you'd usually use in place of granulated sugar would probably also work.

Can I freeze the cake layers or the whole cake?

Yes, you can freeze the unfrosted layers or even the whole cake! Let them thaw in the fridge overnight.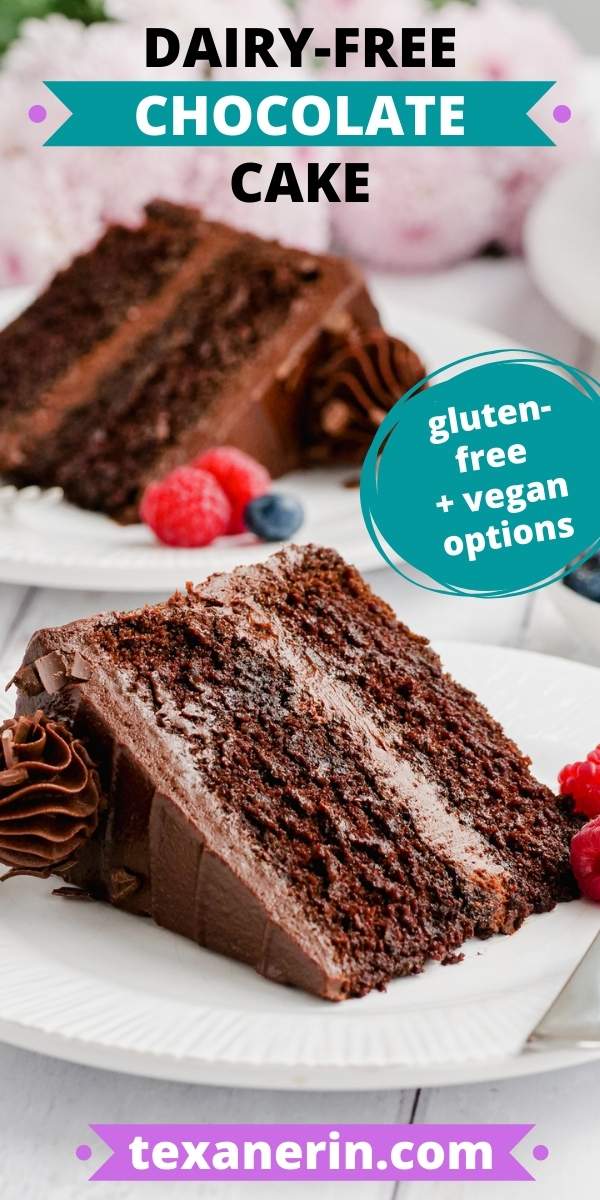 ❀
Dairy-free Chocolate Cake (gluten-free option)
Prep Time:
Cook Time:
Ready in:
Yield:

8 slices
Ingredients
Cake:

2 cups (400 grams) granulated sugar or coconut sugar or 1 cup (320 grams) honey
1 3/4 cups (218 grams) all-purpose flour, whole wheat flour or for gluten-free, use 1 3/4 cups (242 grams) Bob's Red Mill 1:1 Gluten-free Baking Flour
3/4 cup (85 grams) cocoa powder
1 1/2 teaspoons baking powder
1 1/2 teaspoons baking soda
1 teaspoon salt
2 large (50 grams each, out of shell) eggs or 2 chia eggs for vegan1
1 cup (240ml) dairy-free milk of choice2
1/2 cup (120ml) oil3
2 teaspoons vanilla extract
1 cup (240ml) boiling water

For the frosting (see notes if you want to have enough to pipe):4

3 cups (510 grams) chopped dairy-free semi-sweet chocolate
3/4 cup (180 milliliters) dairy-free milk of choice
3/4 cup (168 grams) refined coconut oil
1 tablespoon vanilla extract
1/4 teaspoon salt
Directions
For the cake:

Preheat your oven to 350 °F (175 °C). Line 2 round 8" cake pans with parchment paper on the bottom and then grease the sides of the pans.
In a large bowl, stir together the sugar, flour, cocoa, baking powder, baking soda and salt. Add eggs, milk, oil and vanilla.
Mix until combined and then stir in the boiling water. The batter will be almost as thin as water.
Divide the batter between the two pans.
Bake for 25 minutes or until a toothpick comes out with maybe some moist crumbs, but no uncooked liquid.
Let cool for 5 minutes in the pans, and then turn out onto a rack to cool. Let cool completely before frosting.

To make the frosting:

In a large saucepan over medium-low heat, mix together the chocolate chips, milk, coconut oil, vanilla extract and salt. Stir until melted and completely smooth.
Let the pan cool for about 15 minutes (or until cool enough to place in the refrigerator) and then place the pan in the refrigerator for about 1-2 hours, stirring after every 15-20 minutes, or until firm enough to spread on the cake. I need about 1 hour. If you forget about it and leave it in the refrigerator too long, it'll be too firm to spread, so be sure to keep checking on it. If it gets too hard, very lightly reheat it on low heat, stirring constantly, until it's soft enough.
Once the cake has cooled, spread about 3/4 cup of frosting on the first layer, about 1 cup on top of the cake, and the rest on the sides.
Cover and refrigerate leftovers for up to 4 days. You can also freeze the frosted cake or unfrosted layers for up to 3 months.
Notes
To make the chia eggs for this recipe, mix together 2 tablespoons of ground chia seed with 6 tablespoons of water until well combined. Let sit for about 1-2 minutes or until goopy like regular eggs.
If you want to use canned coconut milk, I recommend using 1/2 cup of that + 1/2 cup of water. That'll thin it down so that it's like regular milk. For the frosting, use 6 tbsp coconut milk + 6 tbsp water.
I recommend something neutral like refined coconut oil, light olive oil, grapeseed oil, vegetable oil or canola oil.
These are the amounts for the frosting if you want to have enough to make the same piped decorations (with a Wilton 6B tip). You'll have some leftover but can freeze leftovers for a few months.
– 4 1/2 cups (765 grams) chopped semi-sweet chocolate
– 1 cup + 2 tablespoons (266 milliliters) milk of choice
– 1 cup + 2 tablespoons (252 grams) refined coconut oil
– 1 1/2 tablespoons vanilla extract
– 3/8 teaspoon salt
Adapted from Hershey's One Bowl Chocolate Cake