These gluten-free mummy hand pies are super simple to make, don't require any special ingredients, and are fun to make with the kids! They have a vegan option, and if you're not gluten-free, you can use any pie crust you'd like.
This is admittedly not much of a recipe (it's pie crust + jam + a powdered sugar glaze), but I'm always so excited to share non-processed Halloween treats. It's hard to come up with recipes that don't use food coloring, edible candy eyes, candy, etc.
You might be thinking – but it's too early for Halloween recipes!
I agree! However, the choice was to post these Halloween mummies, nothing or another drink. So I went with the mummies.
I'll have loads of Halloween recipes this year. I neglected Halloween last year because I spent a month planning and preparing for a Halloween party that never happened because my kid was sick two weeks in a row.
So this year, I'll be sharing the recipes that I made (and then froze and still sometimes come across in the freezer 😂).
These mummy hand pies are not something you want to freeze! Unfortunately, they're best on the day of preparation. Luckily, they're very easy to make!
So let's get to it!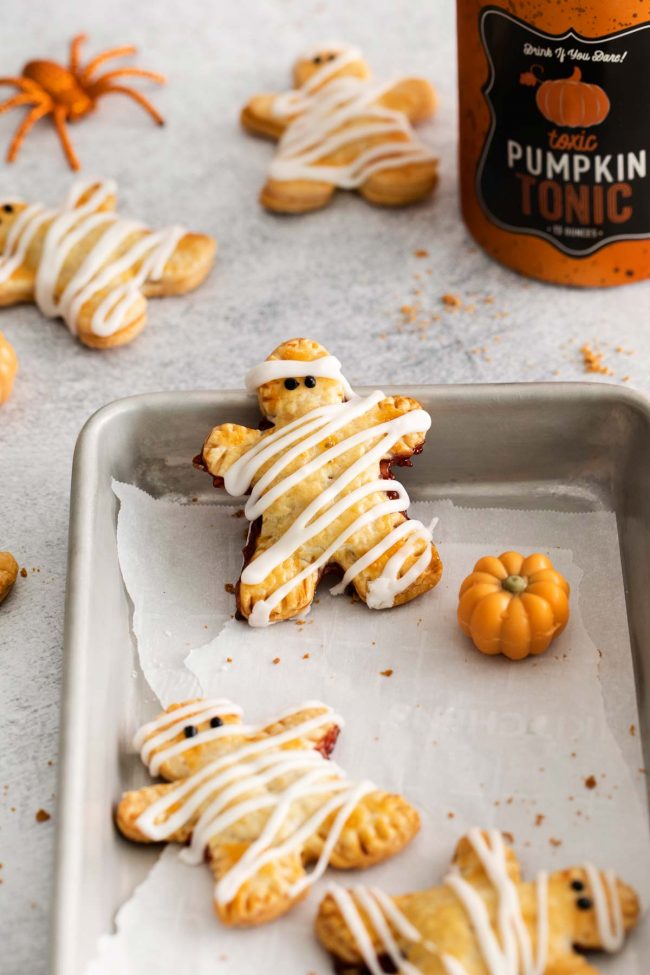 Pie crust
You can use any gluten-free pie crust dough that you'd like that is easy to work with. If you have a homemade crust that you love, but it's finicky and easily breakable, I definitely wouldn't use that one.
You should be able to roll it out and easily use cookie cutters to make shapes.
I used this easy Gluten-free Pie Crust recipe from Gluten-free Palate, and it worked perfectly.
The recipe yields two 10″ pie crusts, which yields enough for 20 mummies.
I used Bob's Red Mill 1-to-1 Gluten-free Baking Flour, and the dough was very easy to work with. I have no idea if other brands would work just as well.
I would recommend using that product or the homemade gluten-free flour blend that Gluten-free Palate recommends for her pie crust recipe.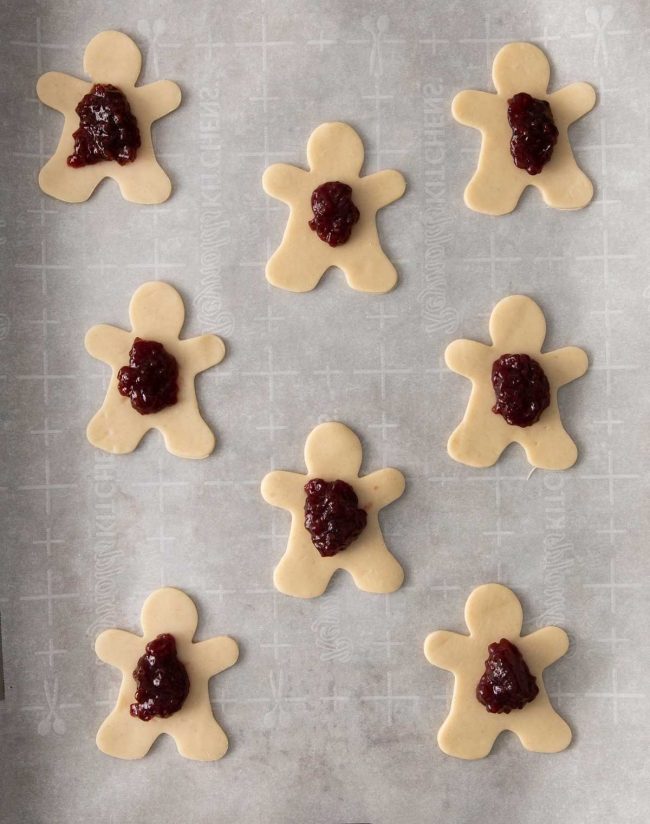 Vegan version
The pie crust recipe calls for butter or shortening. You see the butter version in the photos.
To make a vegan version of these pies, I used Spectrum shortening, and omitted the egg wash.
I used cashew milk instead of egg wash around the edges of the mummies to seal them together, and it worked fine.
Without the egg wash, and also due to the lack of butter, the mummies don't brown as nicely.
But under the icing, I didn't find it that big of a deal. I will say that the taste is better with butter versus shortening, but in my opinion, that's always true.
Vegan butter would likely work in place of normal butter, but without having tried it, I can't make any guarantees.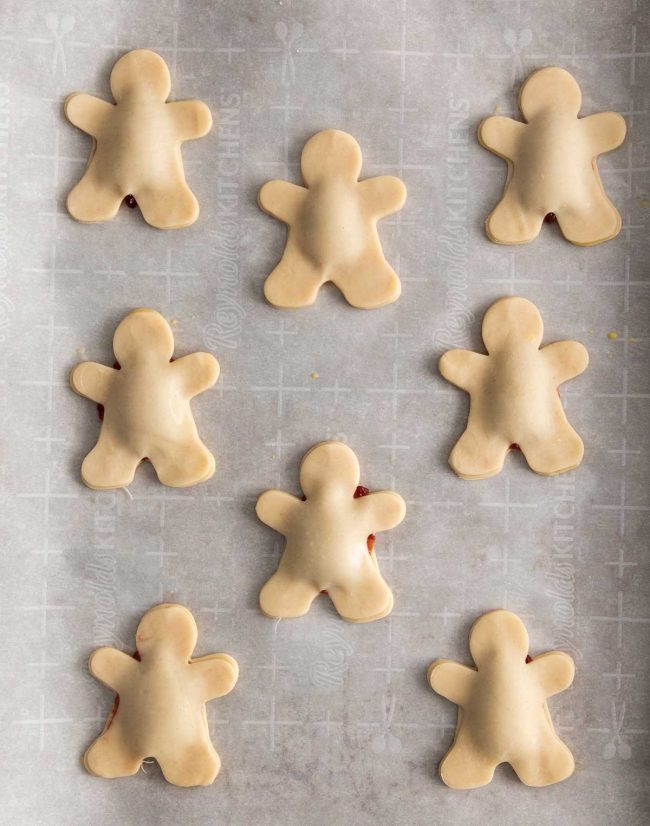 The filling
Strawberry jam is what you see in the photos, but raspberry is also fantastic! I think any type of jam would be great.
If you want to make your own, check out this post on How to Make Strawberry Jam. It's a super simple recipe that is pectin-free, naturally sweetened, and it's paleo and vegan.
Be careful not to overload the mummies with jam or they'll be hard to close up properly.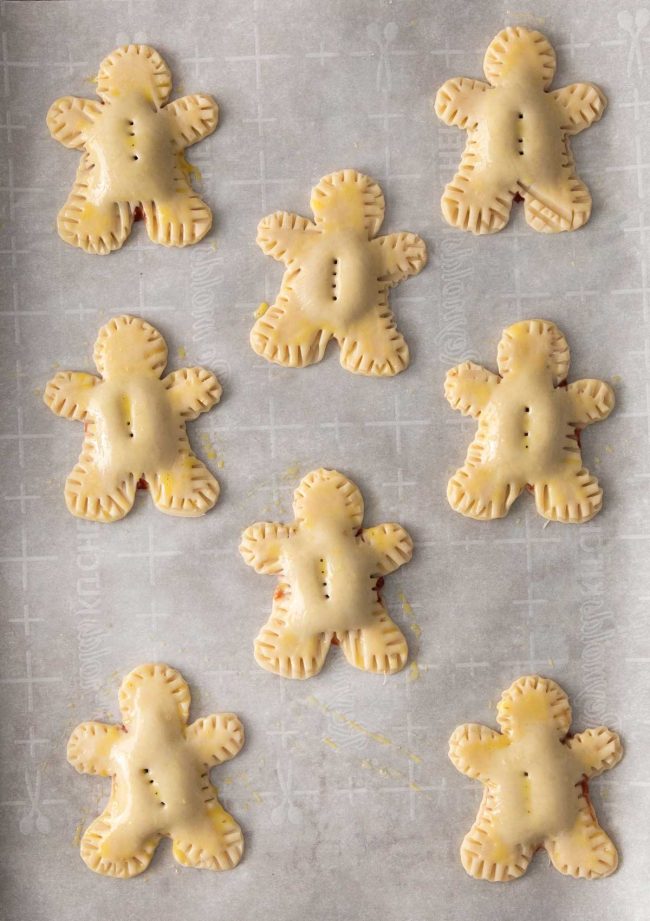 The icing
I avoid using powdered sugar when I can, but I haven't found a good white icing recipe that doesn't use powdered sugar.
I've tried some with melted coconut butter and maple syrup, but I don't love the flavor or the texture.
Because you can't stuff the mummies with loads of jam to add flavor, and pie crust isn't all that flavorful, the icing is necessary. And to add more flavor, I recommend using almond extract!
As long as it pairs well with your jam. If you're using jalapeno lime jam, you're not going to want to use almond extract.
But any kind of berry or stone fruit jam pairs perfectly with almond extract!
I also think white chocolate would be great on top instead of the powdered sugar icing.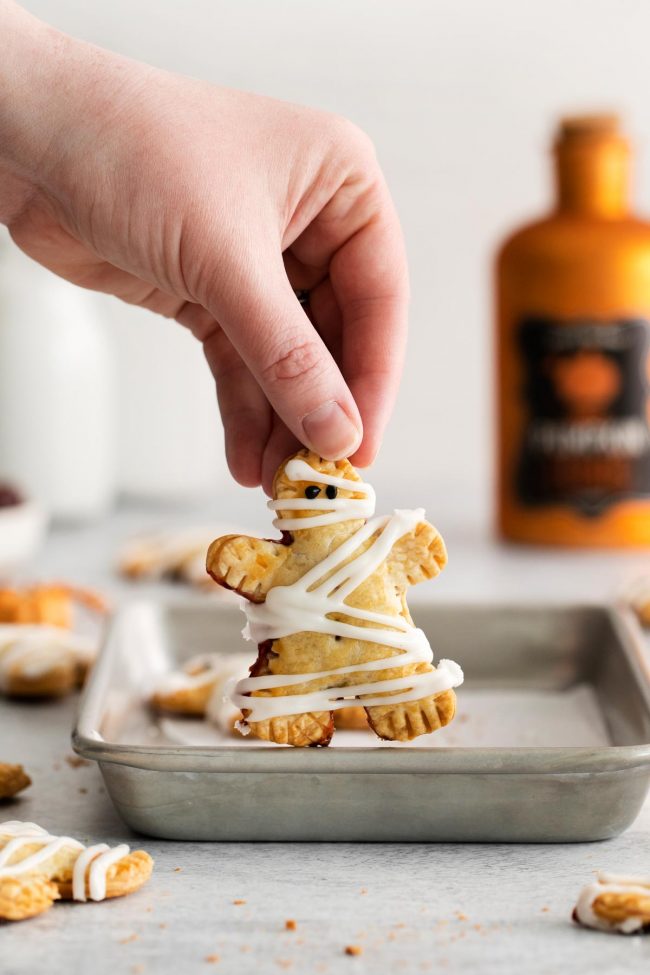 Cookie dough instead of pie crust?
I'm not a big fan of pie crust that's not a cookie pie crust, so I had the idea that cookie dough might be tastier.
You can use this Almond Flour Sugar Cookies recipe, cut out single gingerbread men, bake and then drizzle with the icing.
I don't recommend putting on the jam and then another mummy piece on top. It's too sweet, and it might crack.
I also tried using the cookie dough crust in my Blueberry Cream Cheese Pie recipe.
I made it gluten-free by using King Arthur Flour Measure for Measure Flour and adding an extra 3 tablespoons of flour. It worked, but it was like a weird cross between a cookie and crust.
And it was too sweet. I preferred the traditional pie crust mummies, so here they are!
If you're not gluten-free, you could try using this homemade rough puff pastry! It looks wonderful.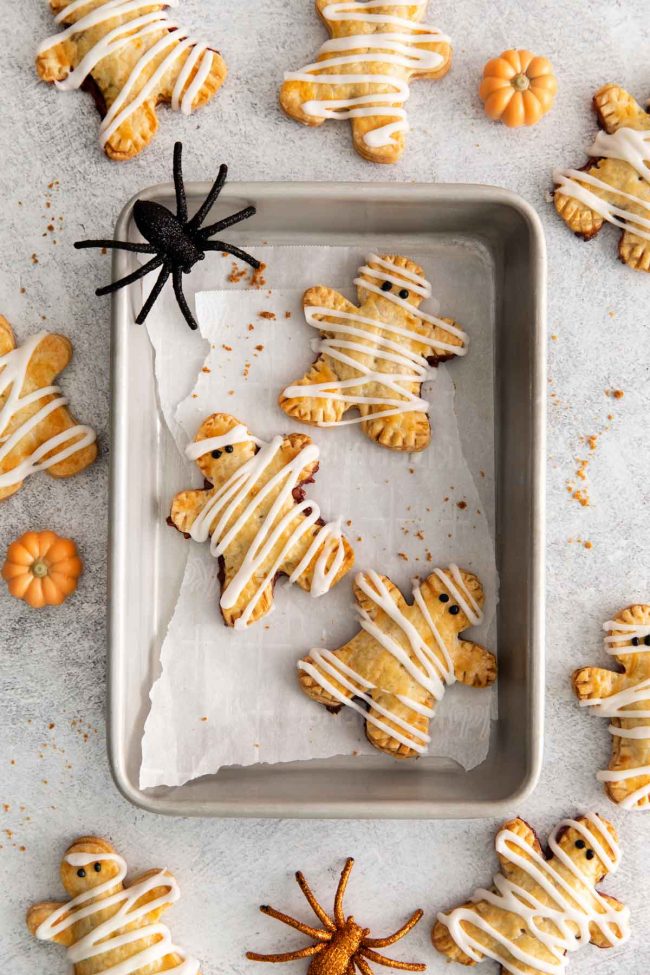 The eyes
You can melt some semi-sweet chocolate, put it in a piping bag and pipe on the eyes. Or you can stick mini chocolate chips where the eyes go.
If you like candy eyes, you can attach them after baking once they're cooled. You can use the icing or melted chocolate to attach them.
Can I use X type of pie crust?
I already said this, but someone will still ask, so this question gets its own section. ;)
As long as the pie crust is easy to work with and you can easily use cookie cutters on the dough, it should work fine! Store-bought pie dough or homemade gluten-free pie crusts or non-gluten-free pie crusts should all work.
Other Halloween treats
These Halloween recipes all have tested gluten-free options.
If you try out these mummies, I'd love to hear what you think! And if you use a different pie crust, whether homemade or store-bought, please let us know in the comments, and I'll update the post with your recommendations!
❀
Gluten-free Mummy Hand Pies
Prep Time:
Cook Time:
Ready in:
Yield:

twenty 4" hand pies
Note that theses should ideally be made on the day of serving!
Ingredients
For the mummies:

one batch gluten-free pie crust or 2 store-bought gluten-free pie crusts
7 tablespoons (125 grams) strawberry jam
1 large (50 grams, out of shell) egg, beaten with 1 tablespoon water (omit for vegan)

For the icing:

3/4 cup (80 grams) powdered sugar
2 to 4 teaspoons milk, as needed (cashew milk for vegan)
1/8 to 1/4 teaspoon almond extract
Directions
Preheat the oven to 375 °F (190 °C).
Line a baking sheet with parchment paper.
Take half of the pie crust (or 1 store-bought pie crust) and roll out the pie crust 1/8" thick between two pieces of parchment paper. You can alternatively use a lightly floured countertop, but I think parchment is easier.
Cut out as many mummies as you can. I used a 4" gingerbread man cookie cutter. Place them on the prepared baking sheet about 1" apart.
Roll together the remaining bits of dough, roll it out again, and cut out more mummies. You should now have the bottom part of about 20 mummies. The number will depend on your pie crust, how thick you roll it out, and your cookie cutter size.
Fill each with about 1 teaspoon of jam.
For the vegan option, brush a little cashew milk all around the sides of a mummy and then place another mummy cut-out on top. For the non-vegan option, brush the egg wash all around the sides of a mummy and then place another mummy cut-out on top.
Press down the edges to make sure the jam doesn't ooze out.1
Brush the tops of the mummies with the egg wash (skip this for vegan) and poke the mummies with a fork to create a vent.
Bake for 12-15 minutes or until the mummies have browned nicely. Let them cool completely on the baking sheet before you ice them.
Prepare the icing. In a small bowl, mix together the icing ingredients, using the lower amount of milk and almond extract. It shouldn't be too runny. You need it thick enough to pipe. Add more milk and almond extract, if needed.
Transfer the icing to a piping bag fitted with a small round tip or cut the end off of a Ziploc.
Pipe the frosting over the top of each hand pie to create the mummy look. Let the frosting harden before placing in an airtight container.
These are best served on the day of preparation. If you need to store them longer than that, keep them in the fridge. If transporting these, I recommend not stacking them. The icing firms up, but it could still be damaged if stacked.
Notes
You can use a fork to crimp the edges, but it's unnecessary. It looks nice, but takes quite a bit of time.