These paleo chocolate cupcakes are moist but not eggy and have a rich, dark chocolaty taste! Topped off with chocolate fudge frosting. Grain-free, gluten-free, and dairy-free. Scroll down for a how-to recipe video.
So here's the promised cupcake recipe that I used as a carrier for the paleo vegan chocolate frosting that I posted last week.
Before anyone gets their knickers* in a twist, I know sprinkles aren't paleo. They're, like, the very opposite of paleo. But just look how they brightened these cupcakes up! They look much happier with the sprinkles.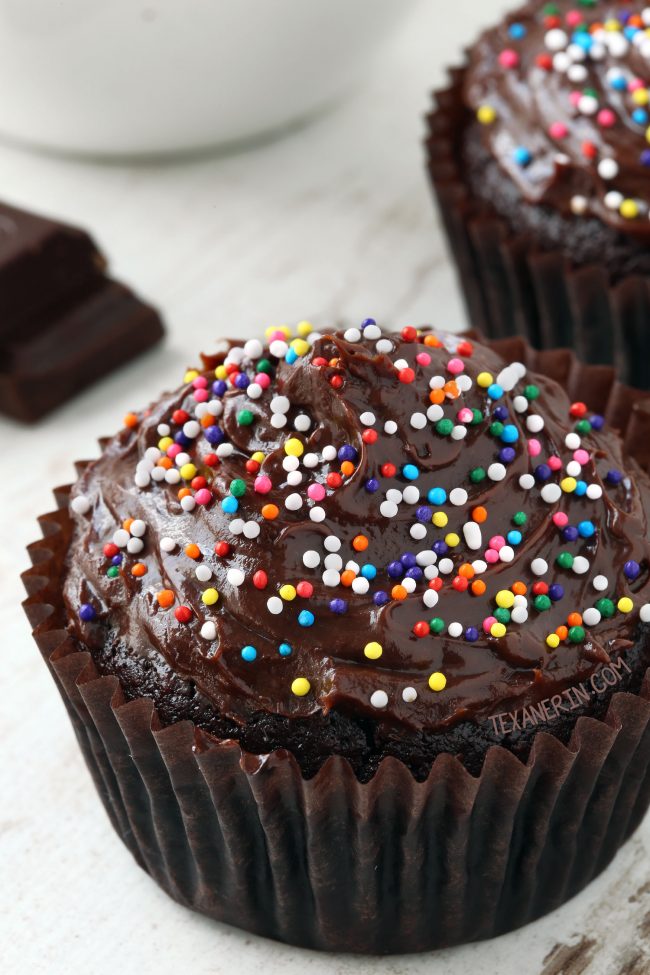 Here's how you can make your own paleo coconut sprinkles. The recipe uses plant-based natural coloring and coconut and while they're not nearly as bright as nasty store-bought sprinkles, you don't have to worry about what you're eating!
Raspberries, strawberries and mini chocolate chips would also make for pretty and delicious paleo alternatives to sprinkles.
* I don't think I'm British – I just loathe the p-word.
This paleo chocolate cupcakes recipe is pretty much the same recipe I used in my spiderweb cupcakes. I adapted it a little to make the cupcakes bigger and to make the measurements a bit easier for people who use measuring cups instead of grams.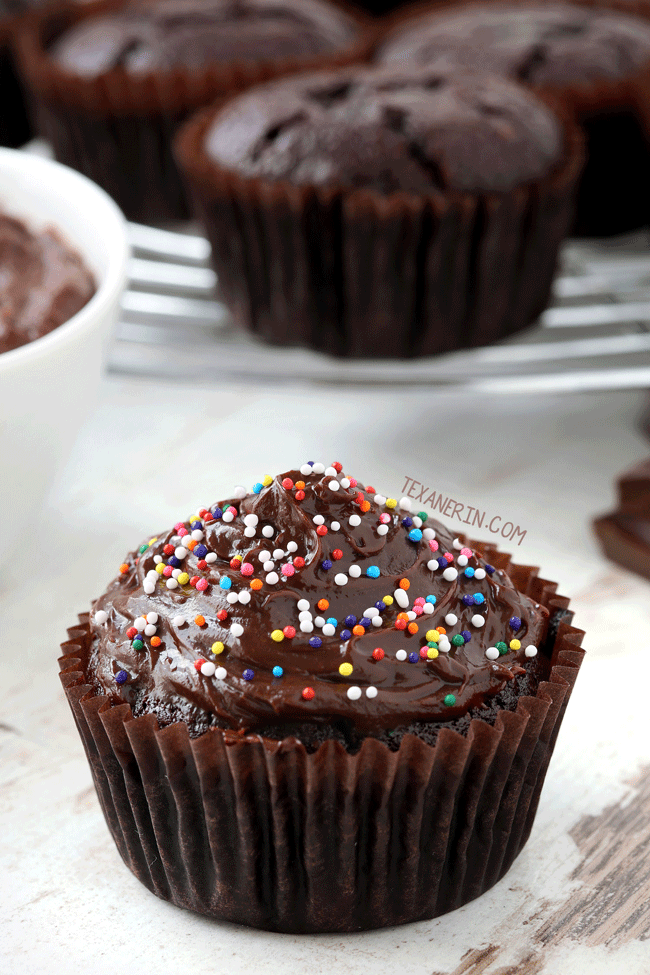 I also added a little more sweetener! The original paleo cupcake recipe was sweetened with just honey but when I tried the recipe as written, and ate a cupcake without the frosting, I wanted more sugar. So I added two tablespoons of coconut sugar.
These gluten-free dairy-free cupcakes have a really interesting texture and I don't mean that in a bad way! It's hard to describe, but they're kind of mousse-like. They're not like regular, fluffy airy cupcakes, but they're moist and… mousse-like. I'm sure that won't convince you to make them so here's a review from the original recipe:
"A girl who has been eating GF for 3 years said they were the best GF cupcakes she has ever had! They were all asking after the recipe!" I think they're pretty darned delicious but I don't know about best gluten-free cupcakes ever. I think I'll reserve that title for cupcakes that have the same exact texture as regular cupcakes. Ones where you have no idea that they're gluten-free (like my best gluten-free brownies recipe!)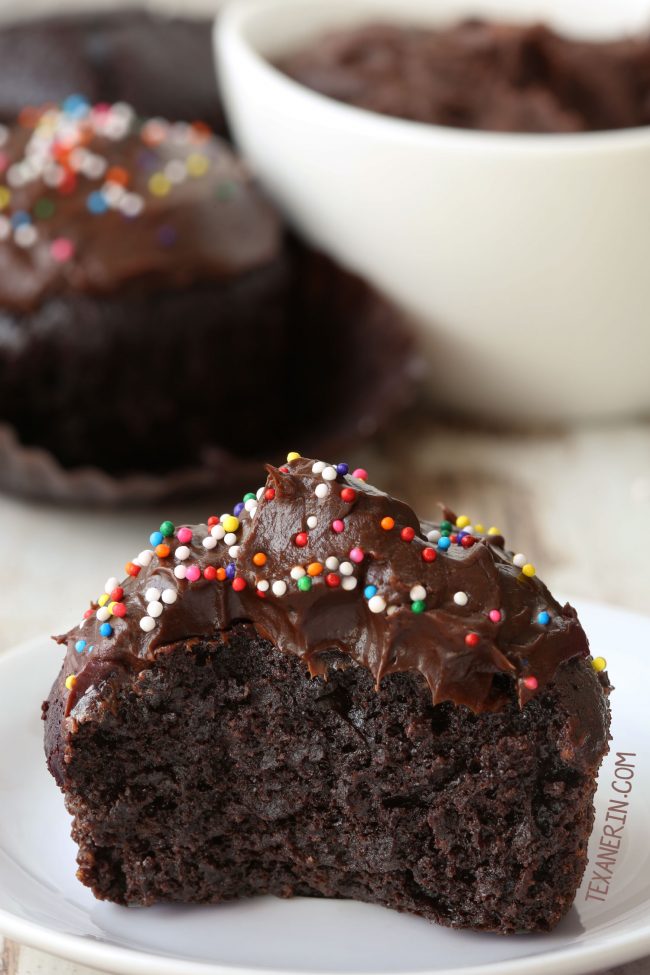 These paleo chocolate cupcakes don't have that typical weird, eggy and spongy thing that a lot of grain-free cupcake recipes I've tried have had, though so that's a huge plus. All in all, I'd say that these cupcakes are a victory. :) Check out the reviews in the comments in you need convincing!
For more of my most popular paleo recipes, try my chocolate chip paleo cookies or these paleo blueberry muffins! I can pretty much guarantee you that neither will disappoint. :)
I definitely need to up my paleo cupcakes game (when it comes to variety!). These chocolate cupcakes are pretty much all I have. What kind should I make next?!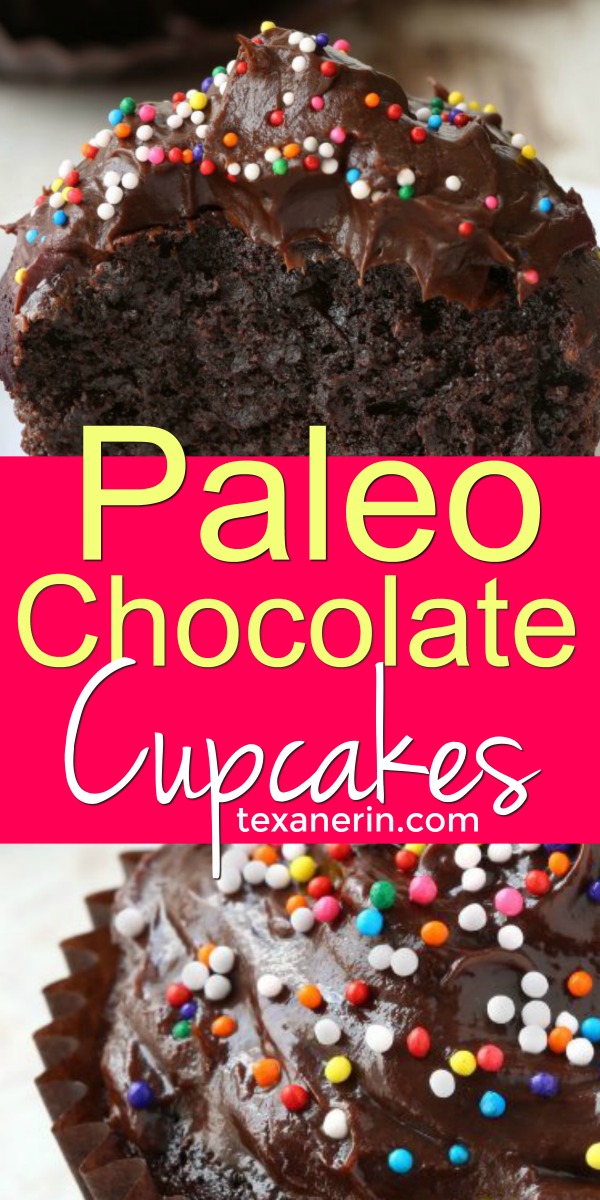 ❀
Paleo Chocolate Cupcakes (grain-free, gluten-free, dairy-free)
Prep Time:
Cook Time:
Ready in:
Yield:

14 cupcakes
Ingredients
3/4 cup + 2 1/2 tablespoons (104 grams) Dutch-process cocoa powder
2/3 cup + 2 tablespoons (80 grams) almond flour or almond meal
1 1/2 teaspoons baking powder (use paleo baking powder, if necessary)
1 teaspoon espresso powder
1/4 teaspoon salt
1/2 cup + 1 tablespoon (126 grams) coconut oil, melted
2/3 cup (213 grams) honey
1/2 cup + 2 tablespoons (160 grams) unsweetened applesauce
2 tablespoons coconut sugar
4 large eggs, room temperature
1 tablespoon vanilla extract
for frosting: 1 or 1 1/2 batch paleo chocolate fudge frosting1
paleo decoration ideas: raspberries, strawberries, mini chocolate chips, homemade coconut sprinkles
Directions
Preheat your oven to 350 °F (175 °C) and line a muffin pan (or two) with 14 liners.
In a medium mixing bowl, stir together the cocoa powder, almond flour, baking powder, espresso powder and salt. Set aside.
In a large mixing bowl, stir together the melted coconut oil, honey, applesauce, coconut sugar, eggs and vanilla. Add the dry mixture to the wet and stir just until combined.
Pour the batter evenly into the muffin liners, about 3/4 full.
Bake for 24-28 minutes. A toothpick inserted in the middle should come out mostly clean. A few moist crumbs or a little stickiness is okay, just not raw batter. These are super moist so if it comes out totally clean, they're probably overdone.
Let cool for 5 minutes and then remove to a wire rack to cool completely. These do not taste very good straight out of the oven. I recommend letting them sit for 2 hours and then frosting. When you refrigerate them, they become denser, the way brownies get when you refrigerate them. Can be kept at room temperature, unfrosted, for up to 3 days or can be refrigerated for up to 5 days.
Notes
1 batch of frosting will yield just enough for slightly more than 1 tablespoon of frosting per cupcake, which isn't very much for frosting lovers. You may want to do 1 1/2 batches or even a double batch if you want to frost the cupcakes more generously. I used about 1 1/2 tablespoons (1 1/2 batches) of frosting on mine.