This vegan chocolate fudge frosting only uses four ingredients and is also paleo! It takes 5 minutes to make, holds up perfectly at room temperature, and can be piped.
First up, for the non-paleo eating readers – this frosting recipe doesn't use any unusual ingredients and tastes exactly like regular chocolate fudge frosting. Don't run away just because it's paleo and vegan! ;)
For this vegan frosting recipe, all you need is chocolate chips, coconut oil or butter, milk and vanilla extract. Melt it together and that's it! There's no creaming or beating or any fuss.
This dairy-free chocolate frosting recipe yields enough for a thin layer (using 1 tablespoon) for 16 cupcakes or if you want to be a little more generous with the frosting, it's enough for 12 cupcakes. The cupcakes pictured are these amazing paleo chocolate cupcakes! I highly recommend them. :)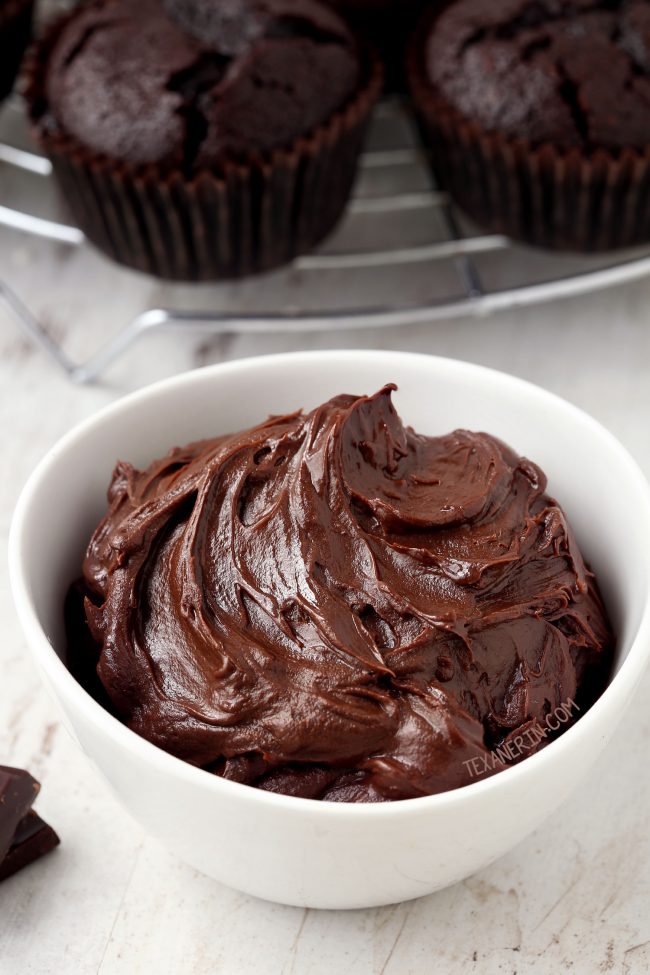 Now for my paleo readers, I know this isn't exactly the healthiest paleo chocolate frosting recipe out there but to be honest, I was tired of frosting that doesn't taste exactly like traditional frosting and that melts or at least gets melty at room temperature.
So many of my paleo recipes have to be refrigerated which isn't all that big of a deal, but it's super annoying when you want to serve them at a party.
This paleo chocolate fudge pie is another great chocolaty paleo dessert that tastes just like a regular pie and doesn't melt at room temp!
The frosting gets firmer in the refrigerator (as fudge does) so I actually prefer serving this at room temperature. It's not bad straight from the fridge, but I like the slightly softer texture.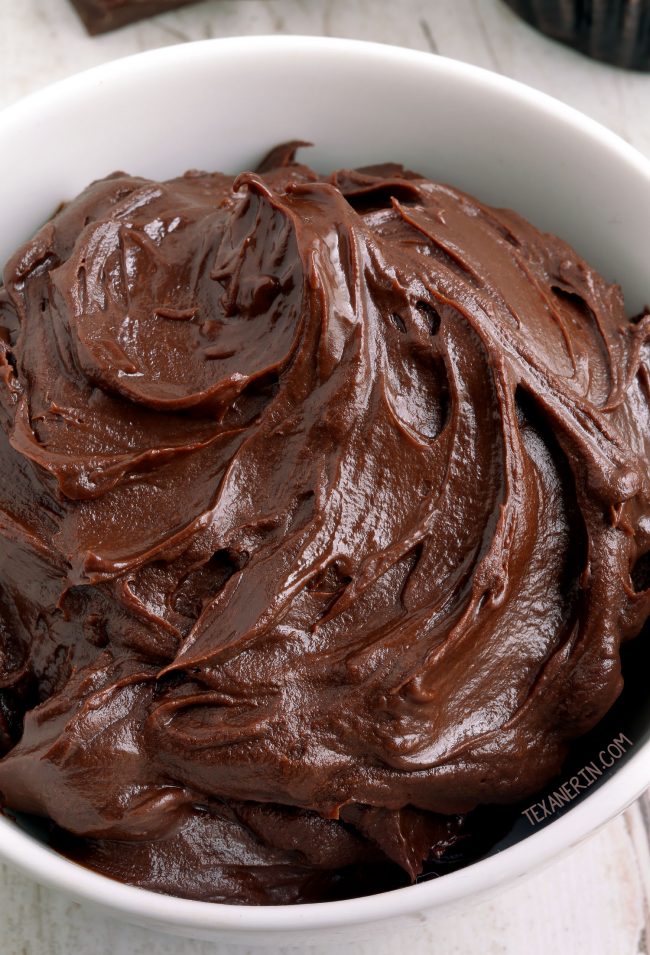 Another plus is that this vegan chocolate fudge frosting doesn't taste a bit like coconut (as long as you use refined coconut oil)! Mr. T's response to one of my paleo chocolate recipes the other day was – "Does everything have to taste like coconut now?" So this one is for you coconut dislikers or just anyone who needs a little break from coconut milk-based treats.
In the below picture, this seriously decadent dairy-free frosting looks a bit oily or melted but I assure you it was just the lighting. It holds its shape beautifully and can even be piped! By the way, it'd be great on these Orange Cupcakes. :)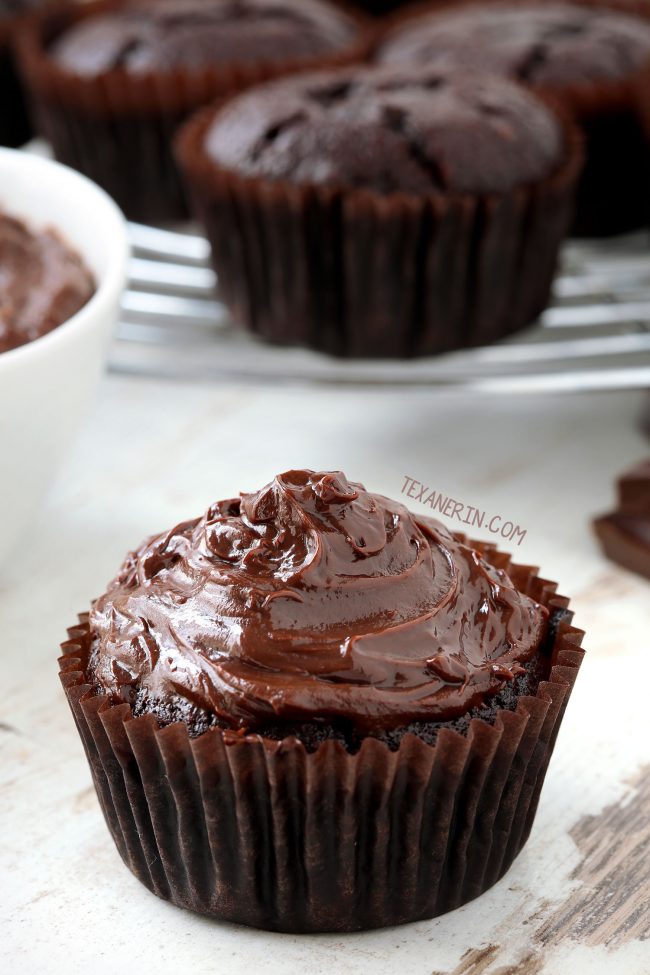 One more thing! For the paleo readers, I'm thinking there's a .02% chance that you won't find this frosting sweet enough. But for the people who are used to super sweet, powdered sugar-filled buttercream recipes, you can whisk in 1/3 cup powdered sugar after everything is all melted. I really, really think it's sweet enough without so be sure to sample it before doing that!
If you're paleo and have a crazy sweet tooth, melt the coconut oil on low, mix in 2-3 tablespoons of coconut sugar, turn off the heat and let it sit for a few minutes until the sugar has dissolved. Then add the rest of the ingredients.
Want more paleo vegan chocolate desserts? Try my vegan paleo fudge recipe, these vegan paleo double chocolate cookies or my paleo vegan chocolate ice cream!
And if you're not paleo, why not try my frosting recipe on this best ever vegan chocolate cake from The View From Great Island? These vegan chocolate banana cupcakes from It's Yummi also sound wonderful!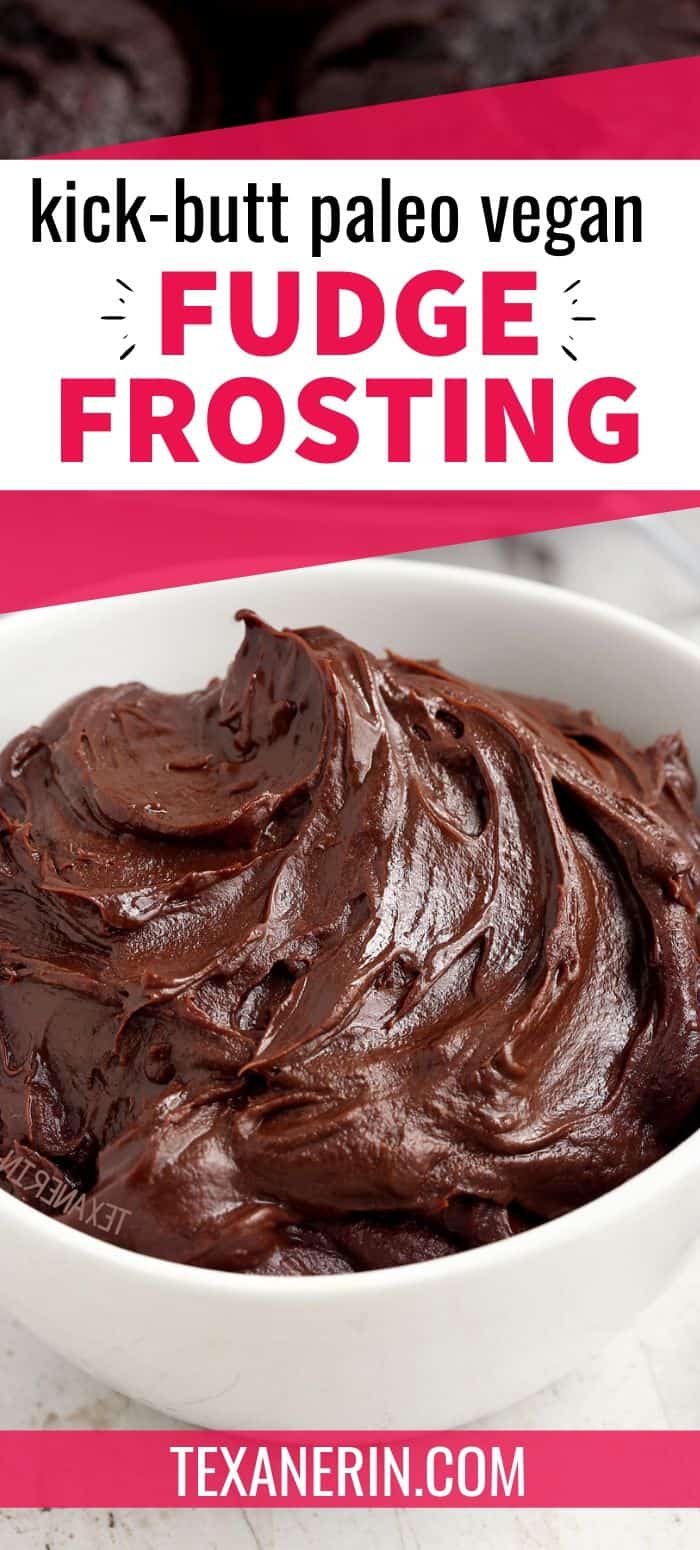 ❀
Paleo Vegan Chocolate Fudge Frosting (gluten-free, dairy-free)
Prep Time:
Cook Time:
Ready in:
Yield:

1 cup of frosting (enough for a thin layer on 16 cupcakes)
Ingredients
1 cup (170 grams) semi-sweet chocolate chips or chopped chocolate (use paleo / dairy-free / vegan chocolate chips, if necessary)
1/4 cup (60 milliliters) milk of choice (but not canned coconut milk - I used almond milk for the paleo / vegan / dairy-free version)
1/4 cup (56 grams) coconut oil1 or unsalted butter for a dairy-containing version
1 teaspoon vanilla extract
pinch of salt
for a non-paleo version for the people who are used to traditional sweets: 1/3 cup powdered sugar (see the section after the third picture for notes on this)
Directions
In a small saucepan over medium-low heat, mix together the chocolate chips, milk, coconut oil, vanilla extract and salt. Stir until melted and completely smooth. If you want to add powdered sugar, gradually stir it in now.
Let the pan cool for about 15 minutes (or until cool enough to place in the refrigerator) and then place the pan in the refrigerator for about 10-20 minutes, stirring after every 5 minutes, or until firm enough to spread on the cupcakes. I only need about 15 minutes but other people have needed more time (like an hour). If you forget about it and leave it in the refrigerator too long, it'll be too firm to spread, so be sure to keep checking on it. Very lightly reheat it on low heat, stirring constantly, until it's soft enough.
Spread 1 tablespoon of frosting on top of each cupcake for a thin layer and 1 1/2 - 2 tablespoons for a more generous portion. Can also be piped. If doing that, you'll likely need quite a bit more frosting than 1 tablespoon per cupcake. I wouldn't recommend piping a huge mound of frosting, though, as this frosting is very rich! If you have any leftover frosting, cover and store in the refrigerator. Gently reheat on low heat.
I keep the frosted cupcakes at room temperature for a day and then refrigerate, just to be safe.
Notes
I prefer refined coconut oil, which doesn't have any coconut taste. If you use unrefined coconut oil, there will likely be some coconut flavor in the frosting.