Raspberry overnight oats are a quick, easy, healthy way to start your day. They're made with wholesome ingredients with a little added protein from almond butter and yogurt, and they're sweetened with maple syrup. They can also easily be made gluten-free and vegan.
Also, happy 4th of July to my readers in the US! I hope you'll have a delicious and safe day. :)
I've been posting overnight oat recipes because I'm all for easy mornings. This Overnight Oats Without Chia Seeds was one of the latest additions. But today's recipe is quite different (but it's also chia seed-free!).
Overnight oats are typically made with oats, milk, chia seeds, sweetener and maybe yogurt. This recipe is loaded with pureed raspberries, and because those tend to be watery, I've added yogurt and blanched almond butter to help thicken the oats up.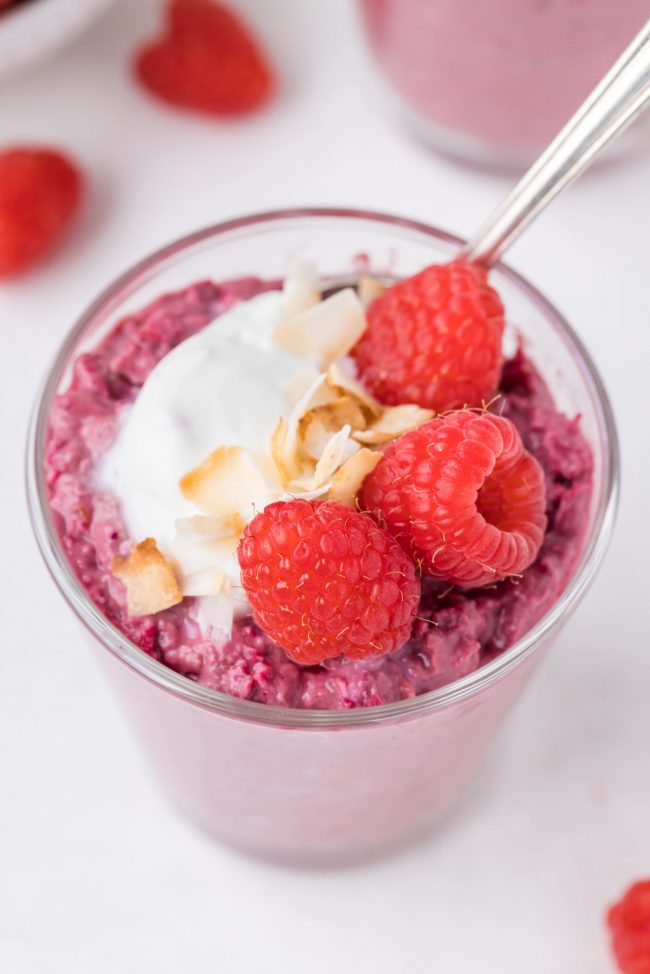 Ingredients
Frozen raspberries – you'll want to defrost them. And you can use fresh raspberries if you prefer.


Blanched almond butter – here's my recipe for → Blanched Almond Butter. It's optional, though, so don't feel like you have to make it or buy an absurdly expensive jar


Yogurt – I used coconut milk yogurt, which is pretty thick. If you're vegan, make sure to use vegan yogurt.


Maple syrup – or whatever sweetener you'd like.


Rolled oats – if you're gluten-free, use GF oats.


Vanilla extract


Lemon juice


Pinch of salt
All you do is blend everything – except for the oats! – together in a blender. Then transfer the raspberry puree to a mixing bowl, stir in the oats and refrigerate for at least 8 hours.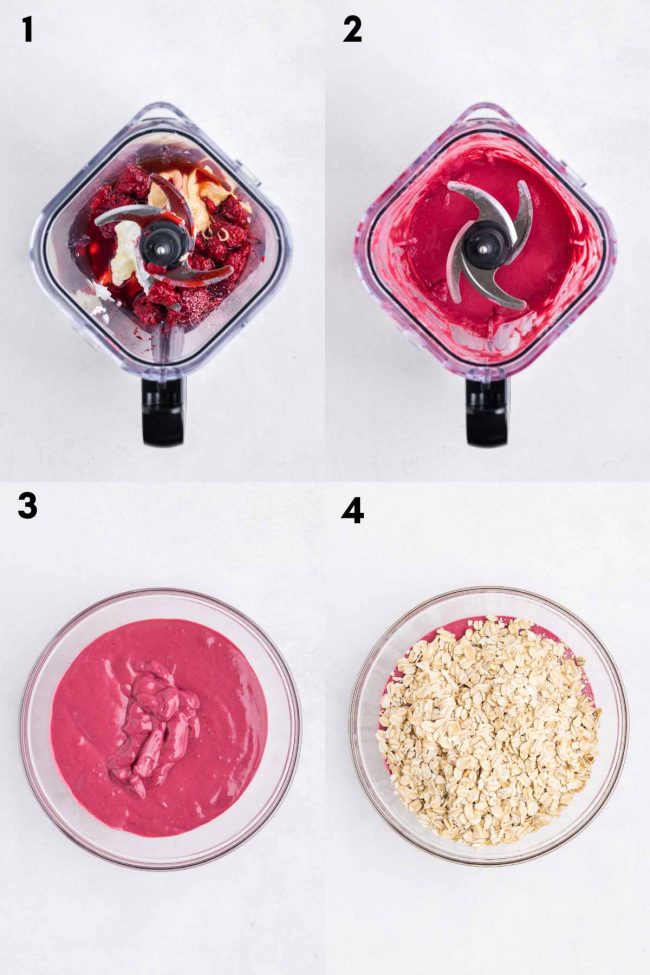 Why overnight oats?
Overnight oats are perfect for busy people. With very little prep, they're ready when you wake up.
This recipe is more involved than the usual overnight oat recipe because of the raspberry puree you have to make, but you're rewarded with a load of raspberry flavor.
In the morning, all you have to do is stir, add some toppings, if desired, and you've got yourself a healthy breakfast or snack with loads of vitamins, minerals, iron, fiber and a bit of protein.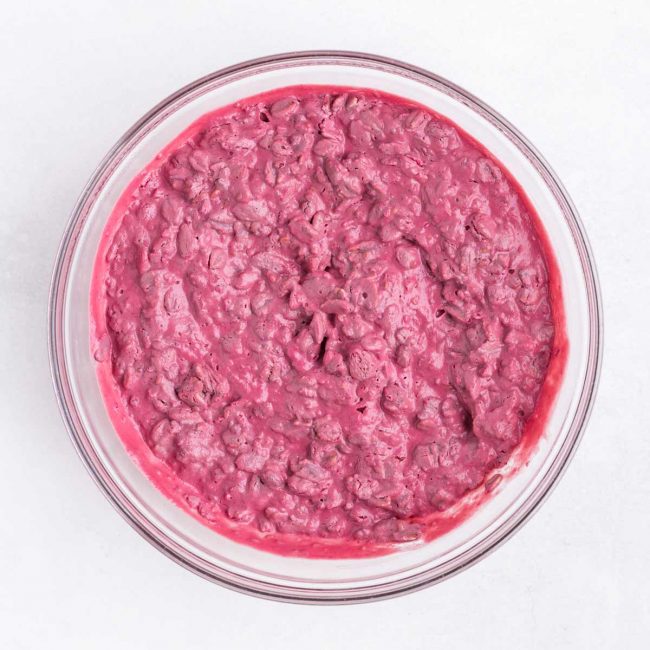 And they're healthier than cooked oatmeal!
Because overnight oats are soaked rather than cooked, they retain more nutrients than old-fashioned cooked oatmeal; moreover, uncooked oats have higher levels of fiber and protein.
Soaking oats break down the starch and decrease phytic acid, making it easier to digest and allowing for more nutrient absorption.
Phytic acid prevents the body from absorbing essential nutrients, so the less phytic acid, the easier it is to absorb nutrients.
So, yeah, I'm all about overnight oats!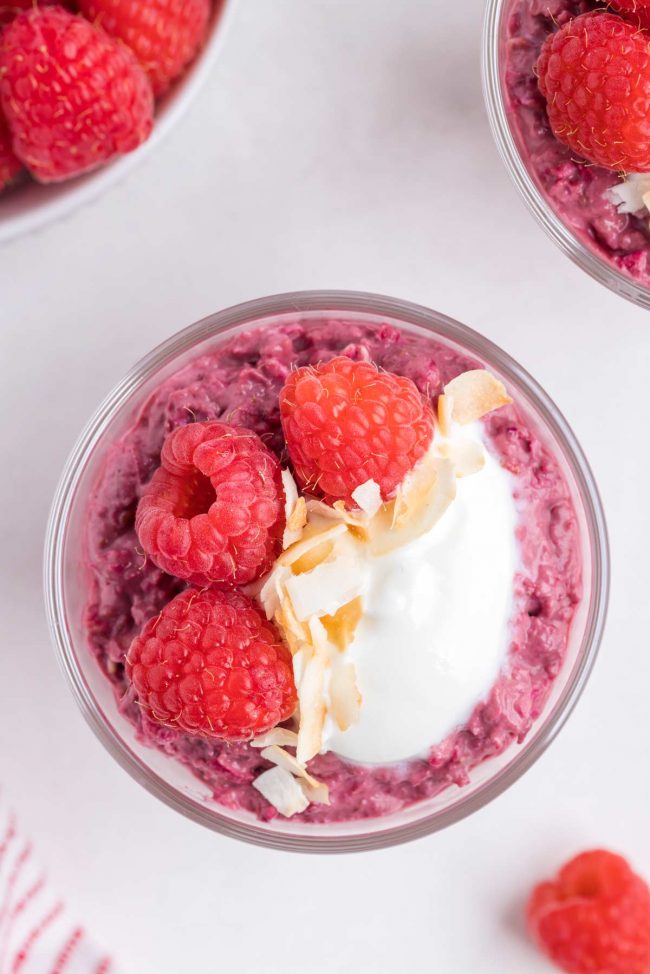 What type of oats should I use?
I use rolled oats because they have a little more chew than quick oats.
People love quick oats, though, so you can use those. Quick oats are creamier and smoother than rolled oats, so use whatever texture you prefer.
Don't use instant oats; it will just make mush.
Toppings
If you like crunch, you can top them off with toasted seeds, nuts, or granola.
Adding extra fruit on top is always an excellent way to add even more nutrition. Using fresh berries or bananas is a great option.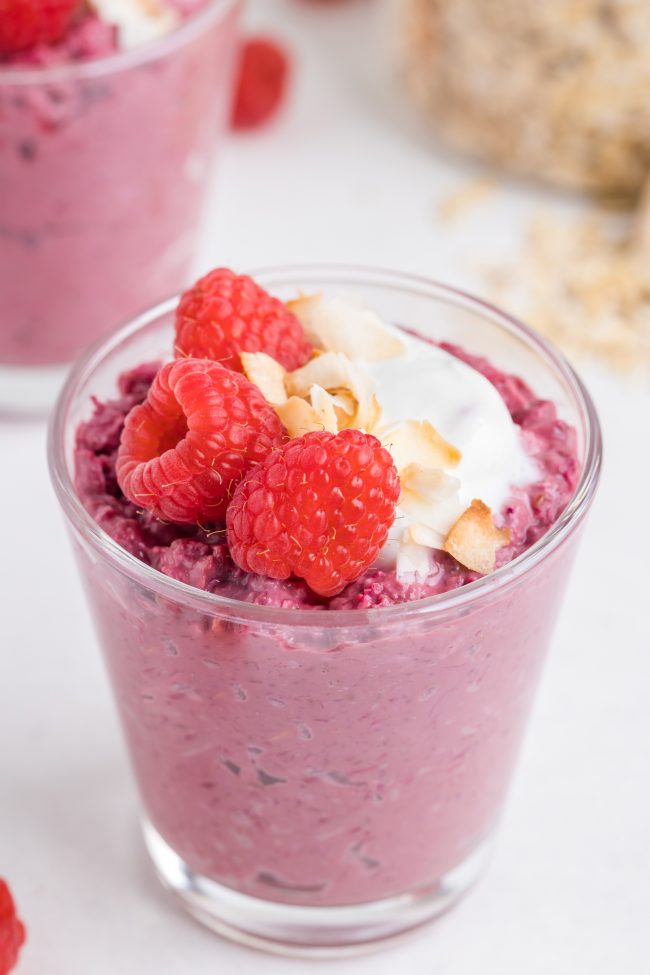 Gluten-free and vegan
Oats are naturally gluten-free, but you'll want to purchase gluten-free oats if you are sensitive to gluten. Please read Are Oats Gluten-free? if you're new to the gluten-free diet.
For a vegan version, you'll want to use a vegan yogurt. Here's a good resource on the best-tasting vegan yogurts.
Other things you might want to know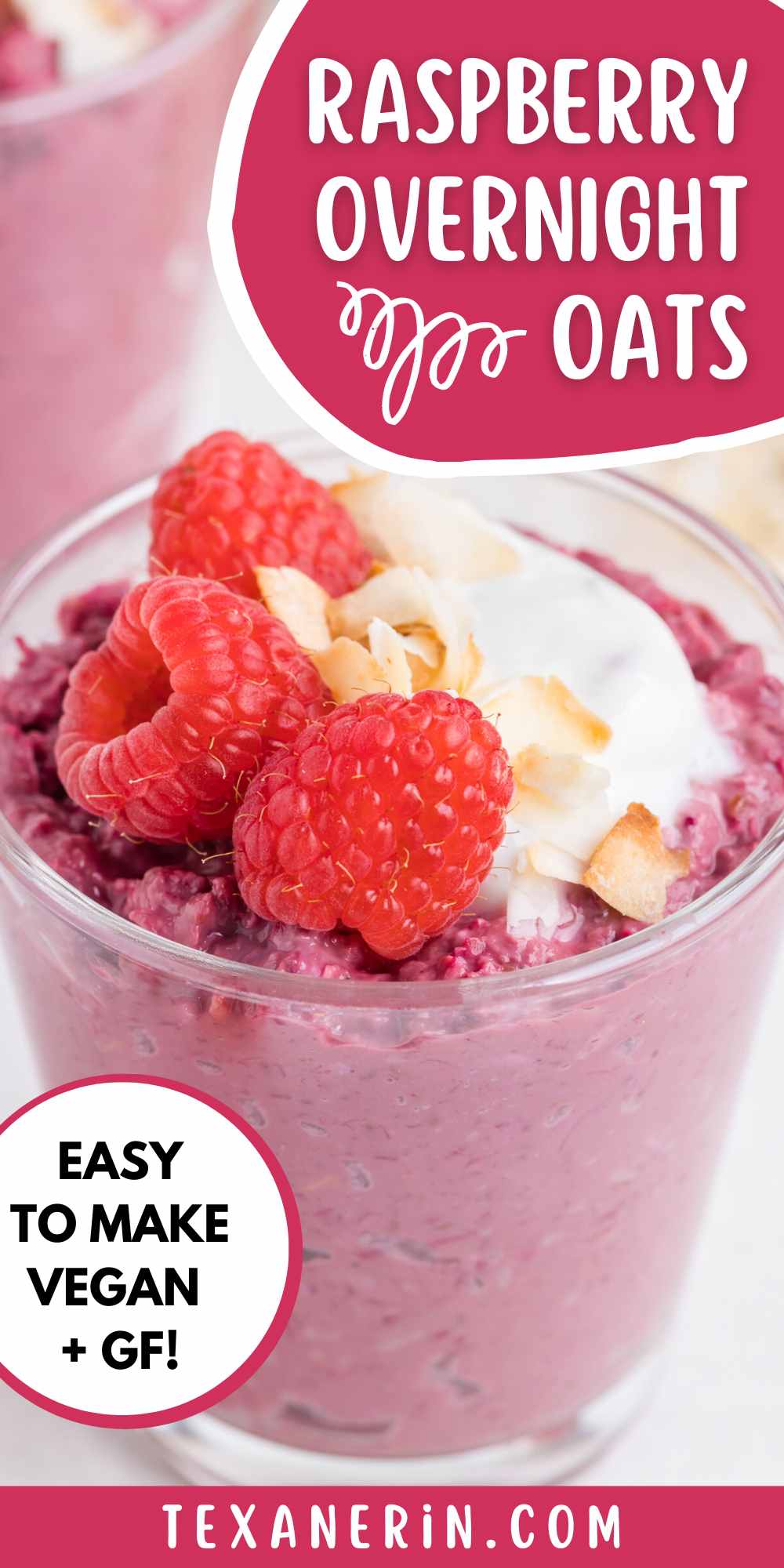 More oat recipes
I hope you'll enjoy these raspberry overnight oats. If you make them, we'd love to hear about it. Please leave a comment below or tag #texanerin on social media. Thanks! :)
❀
Raspberry Overnight Oats
Prep Time:
Cook Time:
Ready in:
Yield:

4 servings
Ingredients
12 ounces (340 grams) frozen raspberries, defrosted
3 tablespoons (42 grams) blanched almond butter, optional
3 tablespoons yogurt (use vegan yogurt if vegan)
3 tablespoons maple syrup
1 teaspoon vanilla extract
1 1/2 teaspoons lemon juice
pinch of salt
1 cup (92 grams) rolled oats (if you're gluten-free, use GF oats)
Directions
Place everything BUT the oats in a blender or food processor and blend on high until no lumps of raspberries remain.
Transfer to a mixing bowl and stir in the oats.
Cover and refrigerate for 8 hours or overnight.
Stir before serving. Can be refrigerated for up to 4 days.