The best gluten-free brownies (and the reviewers agree with me)! So fudgy, gooey, and incredibly easy to make. If you're looking for a truly delicious gluten-free brownie recipe, look no further. They can also be made with all-purpose flour or whole wheat flour for a non-GF version. With a dairy-free option.
There are some bloggers who pretty much label every recipe of theirs as the best (The Best Cheesecake! The Best Chocolate Cake! The Best Everything!) which gets a mega eye roll from me, but here I am doing it.
I apologize for being a hypocrite but… yeah. I'm not changing my title. :D These really are the best brownies ever!
Simple, quick, no-fuss, super fudgy gluten-free dairy-free brownies. They're also 100% whole grain (if you choose one of the two whole-grain options)!
By the way, if you're very sensitive to gluten, check out my post on Are Chocolate Chips Gluten-free? to see which brands are safe for celiacs.
Different flour options
You've got several flour choices for these GF brownies. One that's not listed below is coconut flour. If you want to use that, you're in luck because I have a version of these gluten-free brownies that uses just coconut flour!
Check out these coconut flour brownies for that. Their texture is just as amazing as these. :)
I also have a version with all almond flour. These almond flour brownies are super gooey and hard to resist. Both the coconut and almond flour versions are paleo. If you love almond flour, also take a look at my almond flour chocolate chip cookies!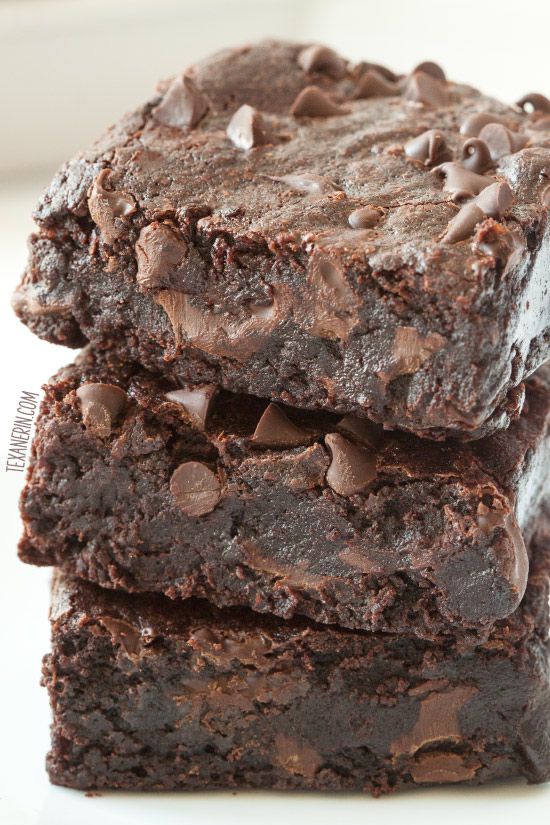 Your flour options for this recipe are:
A gluten-free baking flour that's a 1:1 sub for all-purpose flour
Teff flour
Buckwheat flour
For a non-gluten-free version: all-purpose flour, whole spelt flour, white whole wheat or regular whole wheat flour
GF Baking Flour
So for that first option, make sure it's meant as a 1-to-1 sub for all-purpose flour. The one I always use is Bob's Red Mill Gluten-free Baking Flour. It's the one in the blue bag.
Commenters have said that they've used the gluten-free flour blends from Pillsbury, King Arthur Flour, Namaste with success.
Teff flour
Up next are the two healthier and whole-grain options. Teff comes in different varieties like white / ivory or dark and it's said that the dark kind is earthier tasting (read: it tastes like dirt, like buckwheat).
I've used both white and dark teff flour in these gluten and dairy-free brownies and you really can't detect any difference – all that Dutch-process cocoa powder does a great job of covering up any earthy / healthy flavors!
I think teff isn't the easiest flour to find but the dark kind is available on Amazon.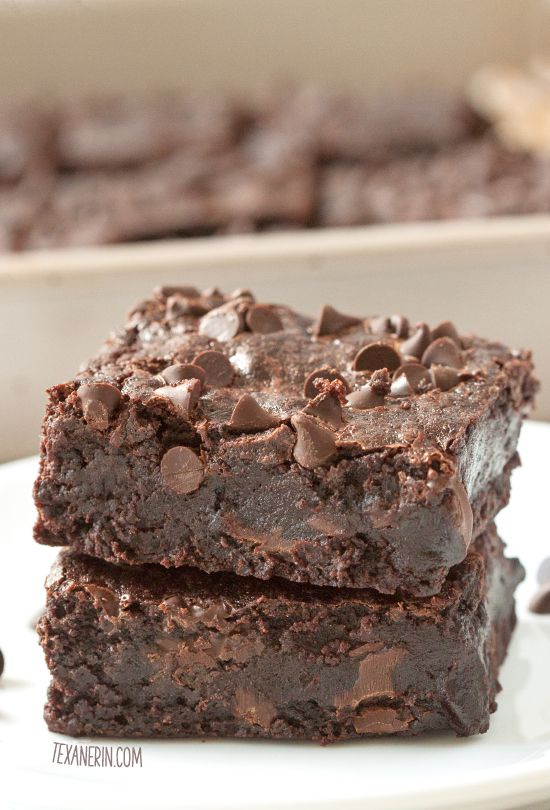 Buckwheat Flour
Buckwheat is also awesome in these brownies. You can't taste it at all. If you have some of that on hand, also check out my kladdkaka (Swedish sticky chocolate cake) for an amazingly gooey cake that's like a cross between cake and brownies.
Don't need a GF version? No problem.
And because I know some people don't need these to be gluten-free, I've also tried them with several wheat flours. They all worked equally as well!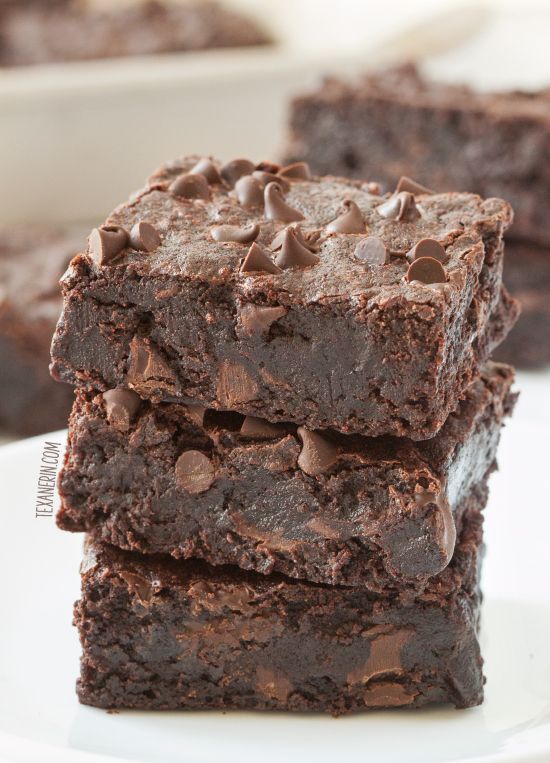 Do they all taste the same?
The cool thing is that all of the different versions taste the same. They're all just as gooey and there's no grittiness!
That can be said of all of my gluten-free recipes. I don't sacrifice on taste or texture!
If you try these gluten-free brownies while warm, the buckwheat and teff versions do have something a little texturally weird going on but once they cool, it's a thing of the past!
It's a really flexible recipe. Just don't go halving the sugar and then complain that they came out cakey. ;)
I've made these brownies (seriously the best gluten-free brownie recipe ever!) so many times to bring to picnics and other get-togethers. Nobody ever even knows they're gluten-free! The same with my gluten-free chocolate cupcakes.
Seriously. You can't go wrong with this recipe. :)
Need convincing? Check out the reviews below!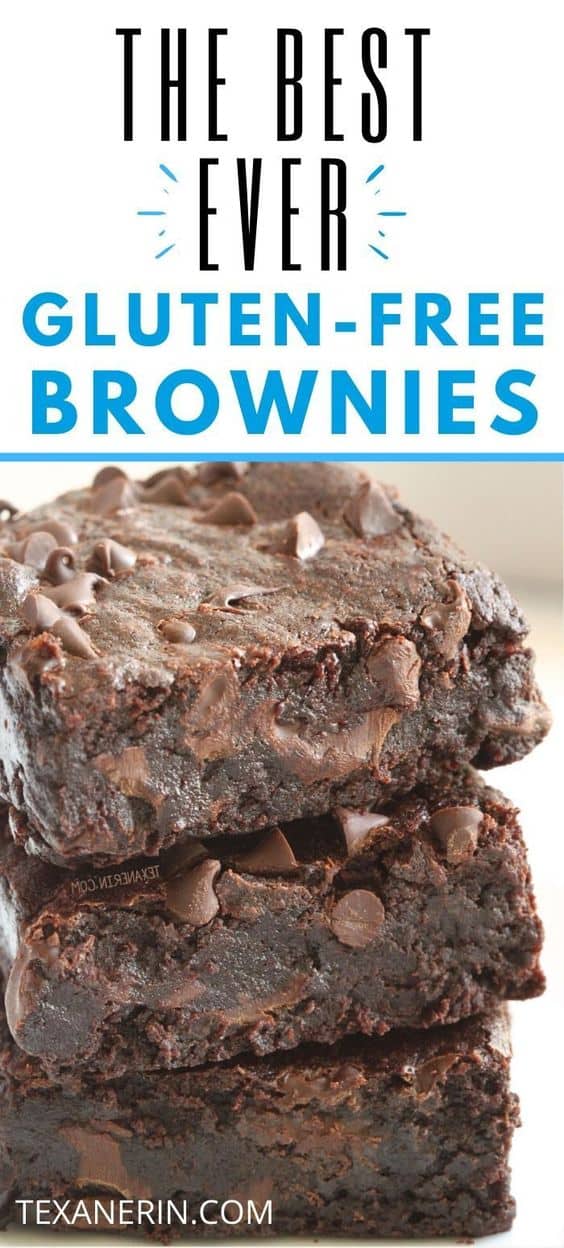 Want a smaller batch?
If you're like me and have portion-control issues, then these Air Fryer Brownies are a great option! They're a scaled down version of the recipe below.
And my Air Fryer Paleo Brownies are a scaled down version of the almond flour brownies, which I mentioned above. Also adapted from the below recipe. I do love this recipe. 😄
Questions about these gluten-free chocolate brownies?
Can I use something instead of the listed flours?

I link to my coconut flour and almond flour versions in the post. Commenters have used different brands of gluten-free baking flours with success. Off the top of my head, I can remember people saying Pillsbury, King Arthur and Namaste have worked.

Do I have to use Dutch-process cocoa powder?

No, but they might not be as chocolaty or they might be more cakey. But I will say that nobody has had any complaints about these brownies and I know people have used regular cocoa powder. So I'm guessing they're fine with whatever cocoa powder you want to use.

Are all cocoa powders gluten-free?

Cocoa powder is naturally gluten-free, but if you're really sensitive to it, you might want to read Is Cocoa Powder Gluten-free? for more info on brands that are tested and labeled as gluten-free. You can read more specifically about Hershey's here → Is Hershey's Gluten-free?

Can I use something instead of the listed fats?

Those are the only ones that I've tried. I'm guessing anything would work, though, given that liquid oil like canola oil and olive oil work as well as butter and ghee.

Do they taste like coconut if I use coconut oil?

Not if you use refined coconut oil. They taste 100% like regular, super gooey traditional brownies.

Do they taste like olive oil if I use olive oil?

I use extra-virgin olive oil and you can definitely taste it. My husband LOVES this version but I don't. I recommend a lighter tasting olive oil or something more neutral.

Can I use something instead of coconut sugar / granulated sugar?

Subbing in a liquid sweetener won't work. There's no liquid to reduce to make up for the added liquid, so it'd make the brownies cakey or possibly a liquidy mess. Other granulated sweeteners like maple sugar would probably work.

Can I reduce the sugar?

One commenter has said that they reduced the sugar to basically nothing and they're still gooey. But that's not possible. Or we must have differing opinions of what gooey means.

The less sugar you add, the cakeier and less gooey they are. They might also not hold together as well because sugar is a binder.

You could probably knock off 1/4 cup of sugar but don't be surprised if they don't have the perfect texture you see in the photos.

What can I use instead of the eggs?

I've tried egg replacements so many times and failed. Please just find an already vegan brownie recipe. :)

One commenter used 3/4 cup pumpkin puree in place of the eggs and I tried that and they were tasty. But the texture wasn't nearly as good as the egg version so I can't recommend it.

Do I have to use the chocolate chips?

Nope! They're sweet enough without. I just like them in my brownies. You could also top them off with my favorite paleo chocolate fudge frosting.

Can I double this brownie recipe?

Yes! Use a 9″x13″. I unfortunately forgot to write down the baking time. It is not that much more than the single recipe.
If you try these gluten-free brownies, I'd love to hear how they come out!
❀
The Best Gluten-free Fudgy Brownies (dairy-free)
Prep Time:
Cook Time:
Ready in:
Yield:

12 brownies
These gluten-free brownies are the best I've ever had - gluten-free or not! And the reviewers agree with me. They're super fudgy and dairy-free.
Ingredients
1 cup (158 grams) teff flour or 1 cup (125 grams) light buckwheat flour1 or 1 cup (138 grams) Bob's Red Mill Gluten-Free 1-to-1 Baking Flour (or a similar mix) or 1 cup (125 grams) whole wheat flour or all-purpose flour or a non-GF version
3/4 cup (86 grams) Dutch-process cocoa powder, sifted if lumpy (you could also use Hershey's Special Dark cocoa powder)
1/4 teaspoon salt
3/4 cup + 2 tablespoons (196 grams) unsalted butter or coconut oil, melted and cooled slightly (use coconut oil for a dairy-free version) or 3/4 cup + 2 tablespoons canola oil or another neutral-tasting oil2
1 1/2 cups (300 grams) granulated sugar, raw sugar, or coconut sugar
1 tablespoon vanilla extract
3 large eggs (50 grams each, out of shell), room temperature
3/4 cup (128 grams) semi-sweet chocolate chips (use dairy-free chocolate chips for a dairy-free version) + an additional 1/4 cup (43 grams) to sprinkle on top, if desired (I used mini chocolate chips on top)
Directions
Preheat the oven to 350 °F (175 °C) and line an 8"×8" (20cmx20cm) pan with parchment paper.
In a medium mixing bowl, stir together the flour, cocoa powder, and salt. Set aside.
In a large mixing bowl, stir together the melted butter or coconut oil, sugar, and vanilla extract. Once combined, add the eggs one at a time, and stir just until combined.
Add the dry mixture to the wet and stir just until almost no streaks of flour remain. Do not overmix! Fold in 3/4 cup (128 grams) chocolate chips.
Pour the batter into the prepared pan and sprinkle the remaining 1/4 cup (43 grams) chocolate chips on top, if desired.
If using teff or the GF flour blend, bake for 20-22 (some commenters need more) minutes or until the brownies have formed a thin crust and appear set in the middle. If using buckwheat or whole wheat, you may only need 15-20 minutes. A toothpick inserted into the center will come out wet. A toothpick inserted into the sides will come out with some moist crumbs on it, but not totally raw batter. The brownies will continue to bake as they sit in the pan and will firm up as they cool. Note that a lot of commenters have said they needed to bake them longer than what I have listed. I've made these brownies at least 20x since posting and the baking times I have listed are what works for my oven (which is running correctly :))
Let cool completely and then cover and store at room temperature for up to 4 days. You can also refrigerate them to give them a fudgier texture.
Notes
Buckwheat flour is naturally gluten-free but not all buckwheat flour is processed in a gluten-free facility. If you need these brownies to be gluten-free, make sure to use certified gluten-free buckwheat flour!
I prefer refined coconut oil over unrefined as refined has zero coconut taste to it.
As an Amazon Associate, I earn from qualifying purchases. For more info, see my disclosure.