Made with just three ingredients, this ridiculously thick, creamy and rich hot chocolate is truly the ultimate hot chocolate. Looking for vegan, dairy-free or paleo hot chocolate? Check out the recipes notes at the bottom!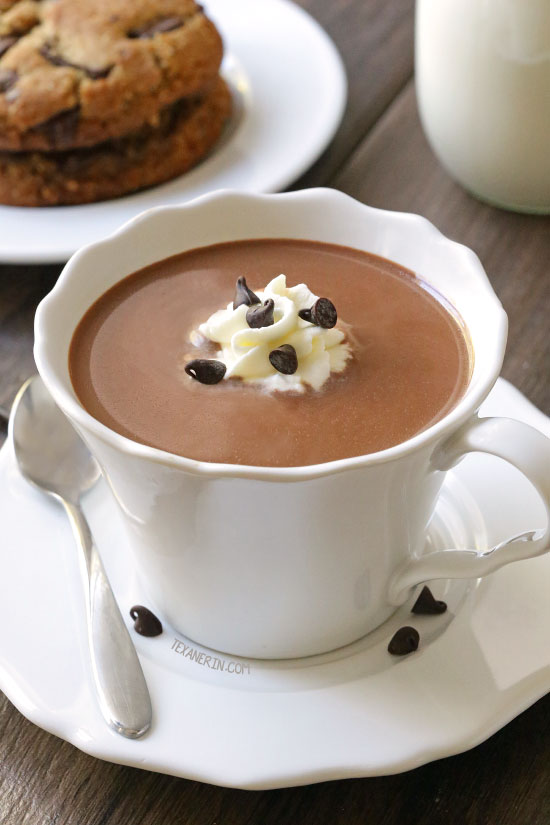 Last week, Joan of Chocolate, Chocolate and More went to sleep, complaining of stomach pain, and didn't wake up. The autopsy revealed that Joan had had a heart attack. She left behind three children and a food blogging community who absolutely loved her.
I wasn't close with Joan but I so appreciated her generosity. After she shared a few of my recipes on her Facebook page and I saw what a huge effect it had had on my traffic, I actually asked her if I could pay her to share more of my recipes (embarrassing, but true!) Her response?
"Sweetie, I love sharing from other bloggers, digging into archives and finding those fabulous forgotten about posts and my fans love them too. I don't take payment for sharing. It's just part of my giving back to the blogging community."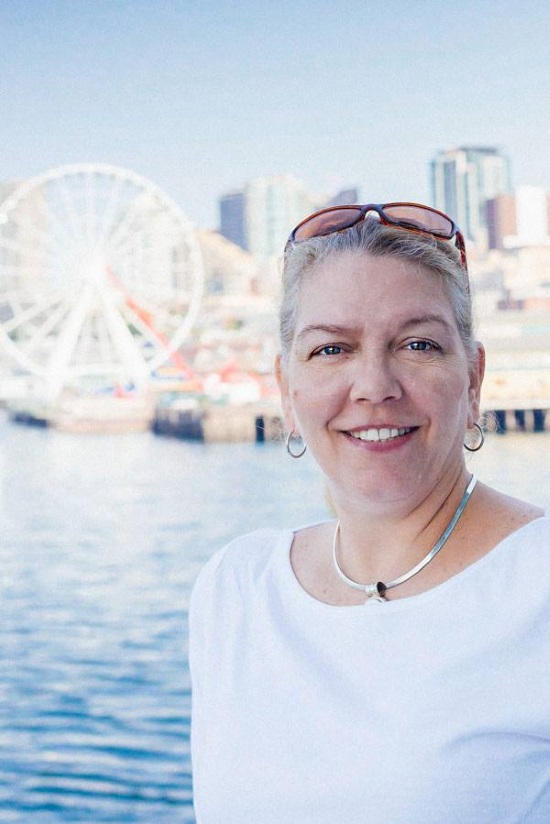 Anytime she shared a recipe on Facebook that wasn't on her own blog, she basically gifted that blogger with a ton of traffic. Traffic (and therefore income) that she would have received herself if she would have posted a recipe of hers instead. I always thought that was so awesome.
I wanted to make the most decadent and chocolaty thing I could think of in Joan's honor – this ultimate hot chocolate. Four years ago, I found this thick and rich homemade hot cocoa recipe on Sing For Your Supper.
If you go and read the comments on that post, you'll see five very enthusiastic comments from me. I was obsessed with the stuff. Then I stopped making it because I have no self-control and consuming almost 2/3 cup of chocolate (as I'd often drink from my husband's share) in one evening wasn't the best habit.
The recipe basically consists of evaporated milk and chocolate (though I included a paleo, vegan, and dairy-free option in the recipe notes). That's it.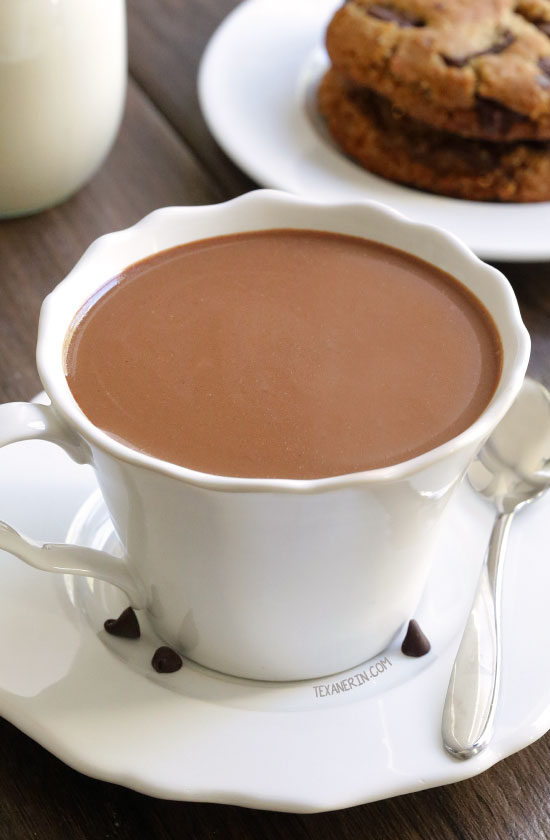 Joan liked quick and simple and I'm sure she didn't mind decadent. I thought I'd try adding some whipped cream to make it extra special but after going through a full cup of cream, trying to pipe it on just the right way, I decided Joan wouldn't have cared. So I stopped.
And as I was going through her recipe archive the other day, I saw that Kahlua was her booze of choice. So I made the hot chocolate again and added Kahlua. I never got to meet Joan but I'm pretty sure she would have loved this hot chocolate.
I bet should would have even loved the paleo hot chocolate version! To make this hot chocolate paleo and vegan, just use coconut milk in place of the evaporated milk. So easy! And stil super decadent.
Joan was only 49 years old and seemed to be in good health. Heart disease is the #1 killer of women in the United States and the symptoms of heart attacks are different in women than in men. Please take a moment to read and share this article about heart attack symptoms in women.
❀
The Ultimate Hot Chocolate (paleo, vegan, dairy-free options)
Prep Time:
Cook Time:
Ready in:
Yield:

2 cups
Please see the notes at the bottom for the vegan / paleo version!
Ingredients
1 12-ounce (340-gram) can evaporated milk (that's 1 1/2 cups)
2/3 cup (113 grams) semi-sweet chocolate chips or chopped chocolate
pinch of salt
1 teaspoon vanilla extract
optional add-ins: 1-2 tablespoons Kahlua (or another liqueur such as Frangelico or Amaretto) and / or 1/2-1 teaspoon espresso powder
milk, optional – to thin it down a bit
Directions
In a small saucepan over medium heat, stir together the evaporated milk and chocolate. Continue stirring until melted – about 3 minutes. Stir in the remaining ingredients. Let sit for 5 minutes and then serve. If it's too rich and thick, add milk to taste. This can be covered and refrigerated for up to 3 days.
Notes
For a paleo, vegan and dairy-free version - you can make this with coconut milk. If you use dark chocolate, you can add coconut sugar or whatever sweetener you'd like. I've made this twice with coconut milk and with one brand, you could taste the coconut flavor. With the other brand, you couldn't. Make sure to use vegan / paleo-friendly chocolate.
Adapted from thick and rich homemade hot cocoa on Sing For Your Supper