These keto peanut butter balls are easy to make, use just a few ingredients and are perfect for holiday parties! They're also vegan.
I wanted to wait around Christmas time to post these, but I don't know why. These peanut butter treats can be enjoyed year-round!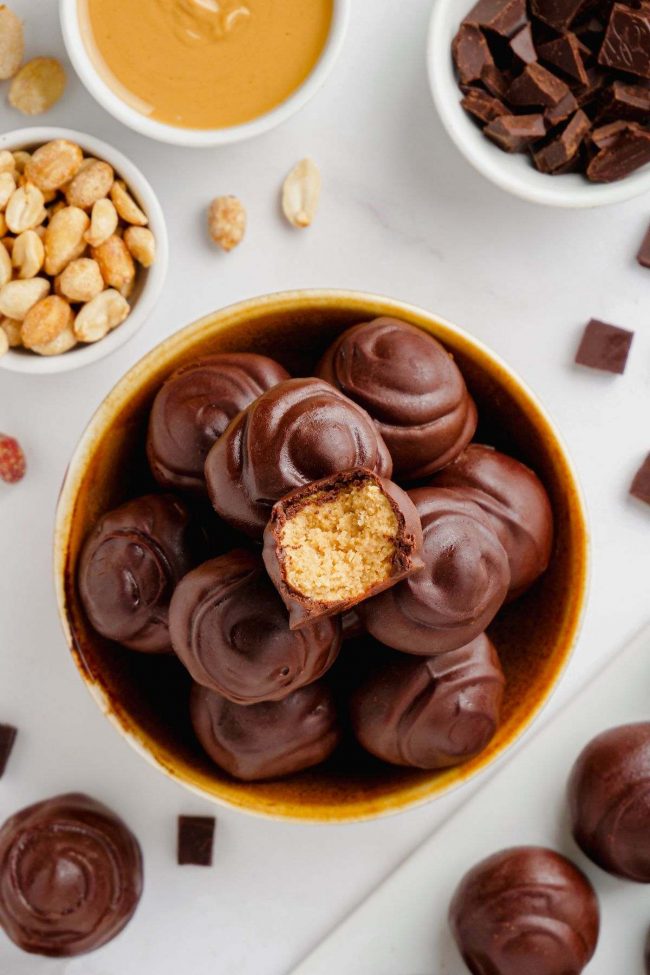 I think these healthier peanut butter balls are even more delicious than the traditional version with powdered sugar, which I find too sweet.
Ingredients
If you're keto, you likely already have this stuff in your pantry!
Natural peanut butter – the kind with just peanuts and salt. This Homemade Peanut Butter works great! Read the subs section if you'd like to use a different type of nut/seed butter.


Keto sweetener – I used a Gentle Sweet copycat. Read the section below for more info!


Coconut flour – this creates the doughy texture.


Melted chocolate – you can use whatever brand of keto chocolate you'd like.


Refined coconut oil or butter – I recommend refined coconut oil over unrefined so that there's no coconut taste.


Vanilla and salt – don't omit either of these! They add a lot of flavor. Add more salt if you use unsalted peanut butter.
The sweetener
Lakanto?
I first tried this recipe with Lakanto Maple Flavored Syrup, and we couldn't even eat them. So I can't recommend that.
I said the same thing in another one of my peanut butter ball posts and a reader tried it, anyway. She agreed that they were awful, so it's not just me and my family. ;)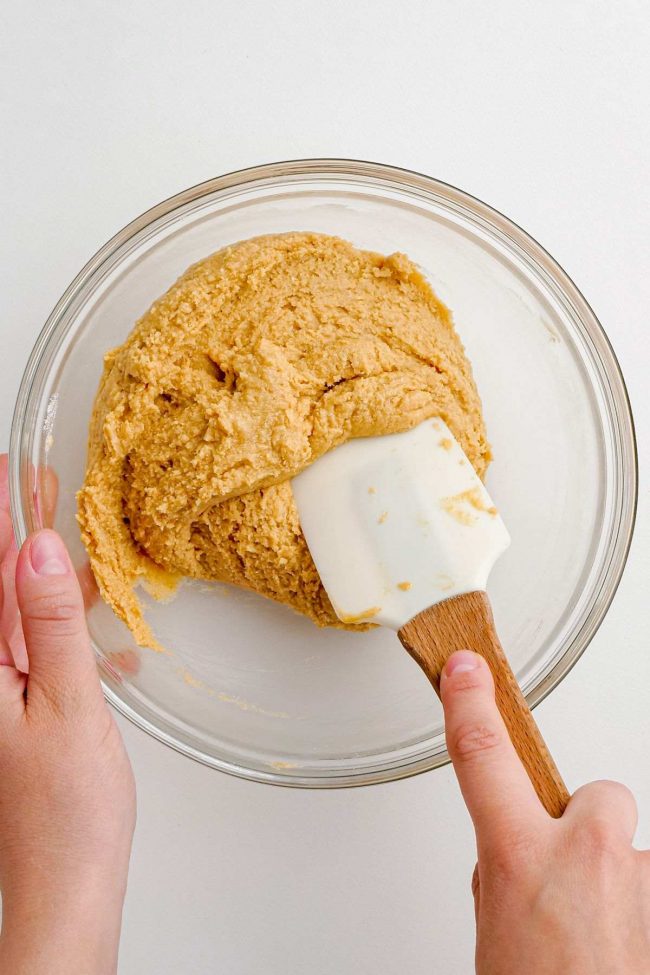 Gentle Sweet copycat
I ended up using the same mix of sweeteners I used in my Keto Pumpkin Cheesecake and all my other keto recipes.
It's a mix of erythritol, xylitol and powdered stevia. It took me years to start posting anything keto because I don't like most keto sweeteners. This mix, I like!
I still prefer maple syrup and coconut sugar, but if you can't have it, you can't have it.
You can, of course, just buy Gentle Sweet from Trim Healthy Mama and use that. That blend uses the same three sweeteners and tastes the same. You'd need the same exact amounts as the homemade blend.
I love having a big batch of this on hand so that I can grab it whenever I need a quick, keto dessert. This Keto Peanut Butter Mousse would also be a quick treat!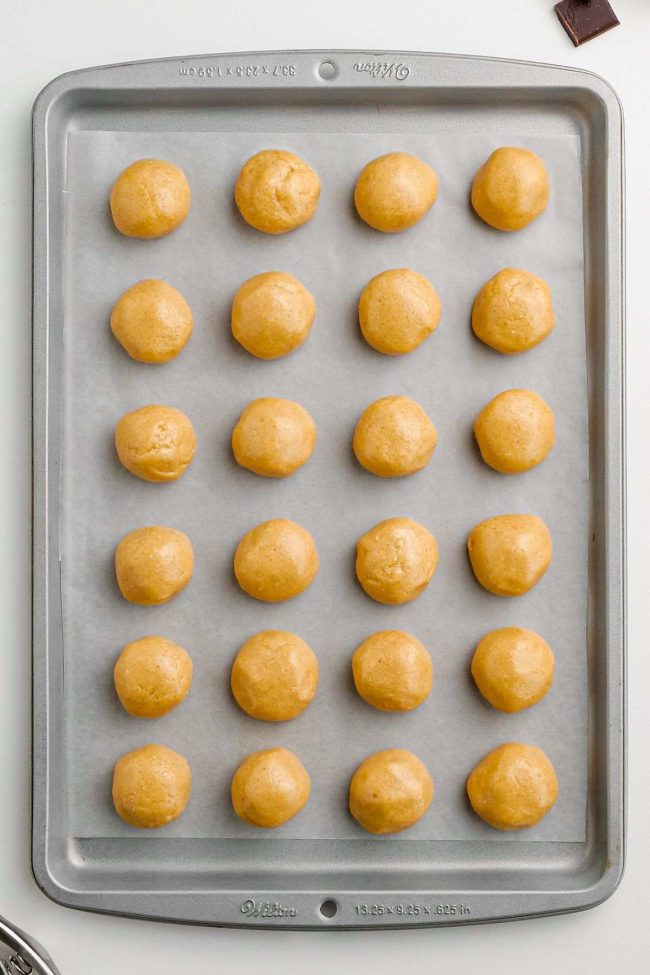 To make a big batch of this sweetener, use:
1 pound (453 grams) xylitol = 2 1/4 cups
12 ounces (340 grams) erythritol = 1 1/2 cups + 3 tablespoons
2 teaspoons pure stevia powder
Once you have that mixed up, then you can make these other delicious low-carb recipes: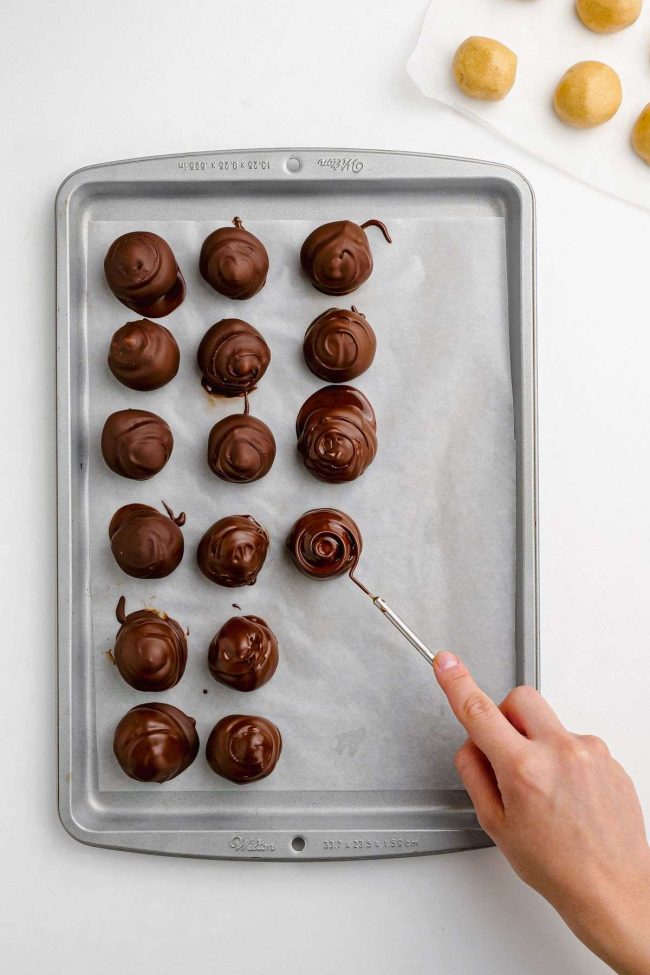 Note that this sweetener isn't a 1:1 sub for granulated sugar. When I use this homemade blend, I use about 50% the amount of granulated sugar called for, or maybe up to 2/3. It depends on the recipe.
If you want to make enough for just this recipe, then you need:
41 grams xylitol
31 grams erythritol
3/16 teaspoon powdered stevia (3/16 teaspoon = .1875 and you actually only need .1814 teaspoon so this is just approximate. Hence why it's better to just make up a big batch!)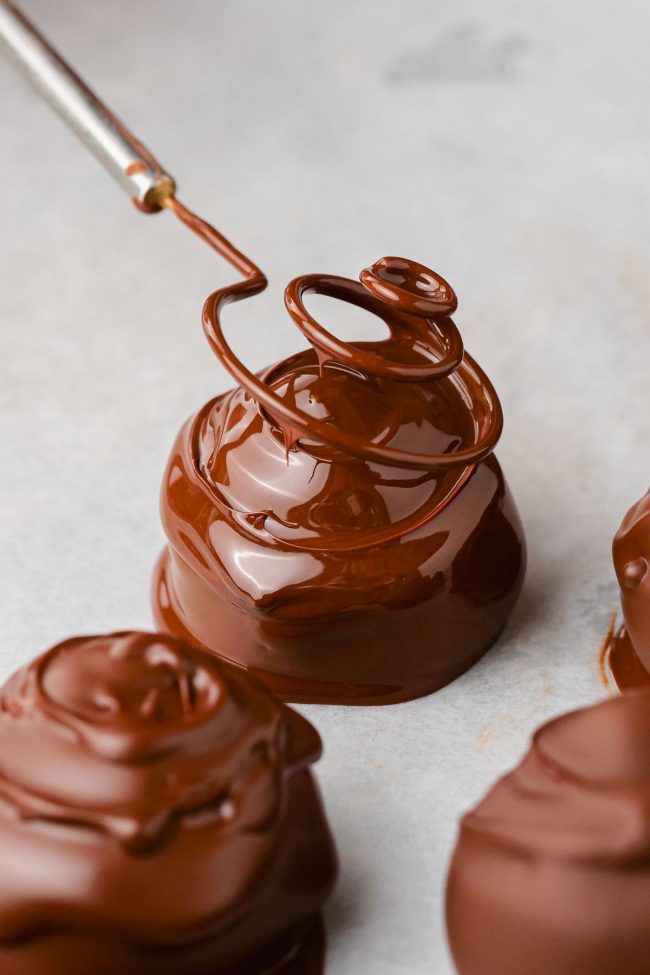 How to make the balls
All you do to make these peanut butter balls is mix together the peanut butter, sweetener, coconut flour, vanilla and salt.
You freeze a bit, roll into balls, and then coat in chocolate + coconut oil.
You, of course, have to make sure to use keto chocolate.
Should you be wondering about that tool above, it's called a chocolate dipping tool, in case you're wondering. :)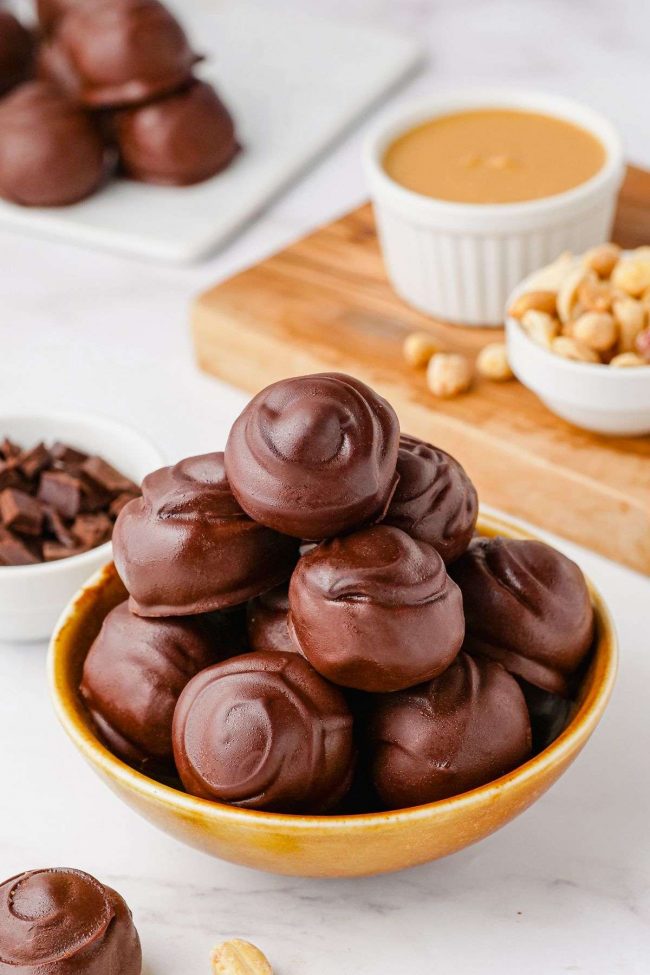 Coconut flour
How absorbent coconut flour is really varies from brand to brand. I've noticed this in a lot of my coconut flour recipes.
I've made these keto peanut butter balls loads of times, and the amount of coconut flour I used was slightly different several times. It all depends on the brand of coconut flour.
If you add too little, it'll be clear because you won't be able to form the dough into balls. But don't add too much coconut flour or the balls will be too chewy.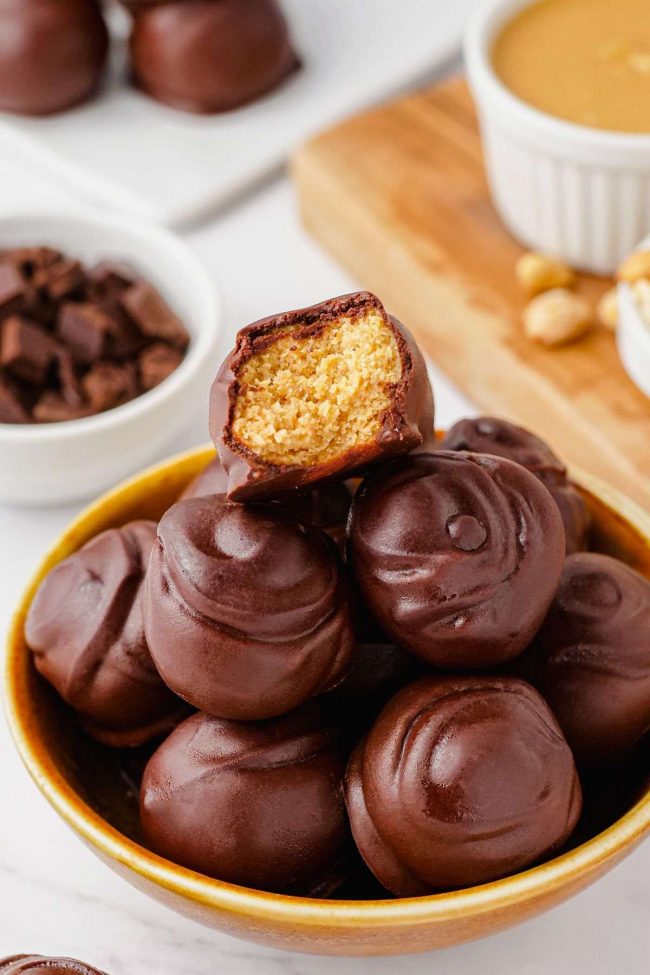 The best keto chocolate brands?
The problem with using a typical 40-gram bar of chocolate is that it has 20 grams of sugar. That is a keto no-no, so finding the best keto chocolate brands is a must when making keto treats. Here are a few to choose from:
Lily's Sweets chocolate bars don't have any added sugars and use stevia and erythritol to add sweetness making it 4g per serving. They have a variety of bars ranging from milk chocolate to extremely dark chocolate, and some have add-ins like nuts. They're easy to find online directly from their website or Amazon, but Walmart, Target, Kroger and Whole Foods all seem to stock them.


ChocoPerfection dark chocolate bar is made of chicory root fibers and erythritol with 2g net carbs with no added sugar, and it's gluten-free. It can easily be found on the manufacturers' website or Amazon, but can also be found at Walmart.


With Endangered Species Dark Chocolate, you're not only getting a fabulous chocolate bar, but your purchase also goes toward conservation efforts which makes you feel even better about it. It can be found just about everywhere. Besides online, you can find it at Target, Kroger, Safeway, Albertsons and Walmart.
These are only a few suggested keto chocolate brands. If you have a favorite, please share it so I can update the post to include it.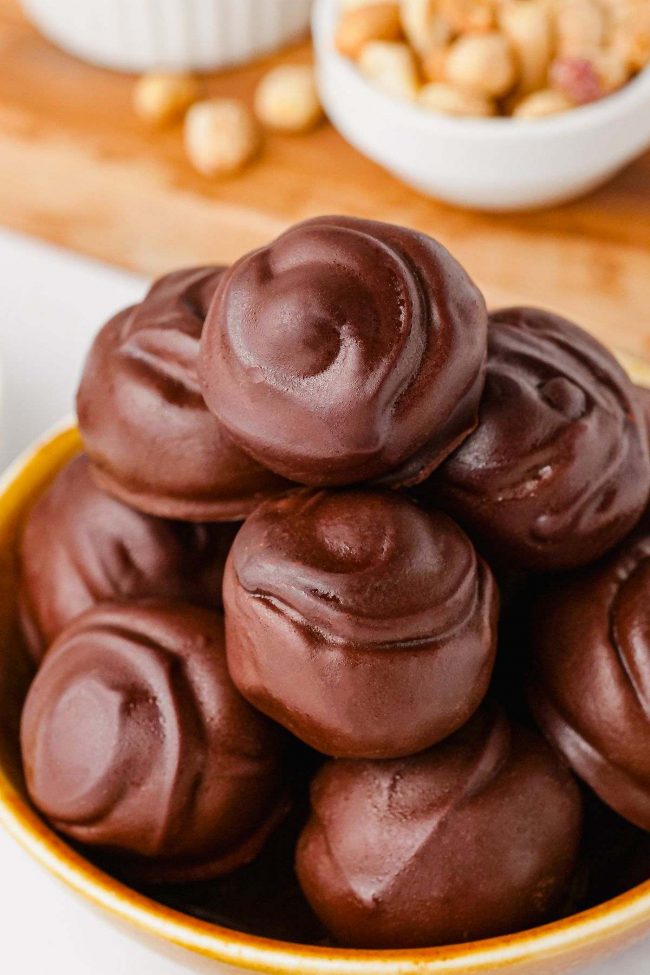 Substitution questions for these peanut butter balls?
Can I use something instead of peanut butter?

Because of the huge differences between each type of nut and seed butter, I can say that every nut butter will require a different amount of coconut flour.

If you'd like to use almond butter (here's how to make almond butter), you'll probably be able to use the same amount of coconut flour as is listed in the recipe.

But if you want to use cashew butter, you'll likely need even less than 1/4 cup. Maybe 3 1/2 tablespoons. Or even 3 tablespoons.

Walnut butter would probably work if you use or make soaked walnut butter, and if you don't mind a really strong walnut flavor. I think for that, if your walnut butter is really runny like in my photos, you'll likely need more like 1/3 cup coconut flour. Or even 1/2 cup.

But these are just guesses! It really depends on how runny you make your walnut butter.

I also have a recipe for pistachio butter. I'm not sure how tasty they'd be, but I think they'd be a nice green color.

I think my macadamia butter recipe would probably be a safer bet and an amazing bet. Could you imagine is someone gave you homemade macadamia nut butter balls?!

What can I use instead of Gentle Sweet or the homemade blend?

You're looking for something that works in place of 1/2 cup maple syrup or 1/2 cup granulated sugar.

We thought Lakanto Maple Flavored Syrup tasted terrible in these, but that's the only other sweetener I've tried. If you want to experiment, it's easy enough to make a small batch and try it out!

Can I use something instead of coconut flour?

Sorry, but no. Coconut flour absorbs so much more liquid than any other flour, so there's no direct sub for it.

I've tried these peanut butter balls with almond flour and they were just too greasy. Almond flour doesn't absorb enough of the fat from the peanut butter.
I hope you enjoy these Keto Peanut Butter Balls! If you make them leave a comment below. And you know I want to see them! Just snap a pic 📸 and tag #texanerin so I can easily find them.
By the way, here are some resources if you're new to the vegan or gluten-free diet:
❀
Keto Peanut Butter Balls
Prep Time:
Cook Time:
Ready in:
Yield:

28
Ingredients
1 1/4 cups (320 grams) natural salted peanut butter1
6 tablespoons (72 grams) THM Gentle Sweet or the copycat listed below2
1 teaspoon vanilla extract
1/4 teaspoon salt3
1/4 cup (32 grams) coconut flour4
1 1/2 cups (255 grams) keto chocolate chips or chopped keto chocolate
1 tablespoon (14 grams) coconut oil5 or unsalted butter for non-vegan
Directions
In a medium mixing bowl, stir together the peanut butter, low-carb sweetener, vanilla and salt until combined.
Stir in the coconut flour. My dough was firm enough to roll into balls. If yours isn't, freeze for about 30 minutes. The balls won't be totally firm when you form them but that's okay. They don't need to be totally perfect.
Prepare the coating. Mix together chopped chocolate and coconut oil in a small bowl or pot that can be used to melt the chocolate and dip the balls in.
Shape into about 28 20-gram balls and place on a tray small enough to fit in your freezer.
Place them in the freezer to let them firm up more (since rolling with warm hands heats them up quickly).
Dip the balls one at a time into melted chocolate, allowing excess to drip off.
Place on a waxed paper-lined baking sheet, cover and refrigerate until ready to serve.
Refrigerate for up to a week or freeze for a few months. Can also be kept at room temperature for a few days (if it's not too warm).
Notes
Natural peanut butter meaning just peanuts + salt - no added fat or sugar.


If you want to make a big batch of the THM Gentle Sweet copycat, see the post for the amounts. If you want to make enough for just this recipe, then you need:

- 41 grams xylitol

- 31 grams erythritol

- 3/16 teaspoon powdered stevia (3/16 teaspoon = .1875 and you actually only need .1814 teaspoon so this is just approximate.


Add more salt to taste if your peanut butter is unsalted.


You may need to add a tiny bit more coconut flour. Brands tend to vary a lot.


Use refined coconut oil for no coconut taste.