These 100% whole grain pumpkin cupcakes are made healthier but don't taste like it! Super moist and incredibly delicious, they're topped off with cream cheese frosting.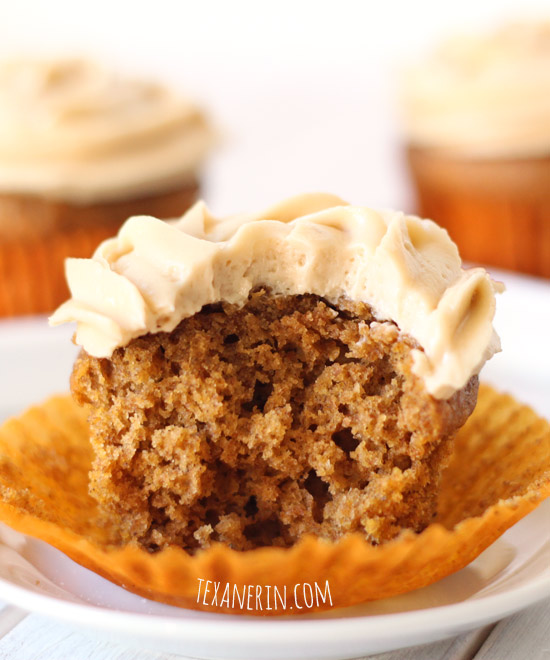 Honestly. You guys. I can't believe how delicious these pumpkin cupcakes are. They taste just as good as regular cupcakes… or even better!
They're super simple to make and if you want, you can have them as muffins. Just leave off the frosting and bam! A delicious breakfast pumpkin muffin.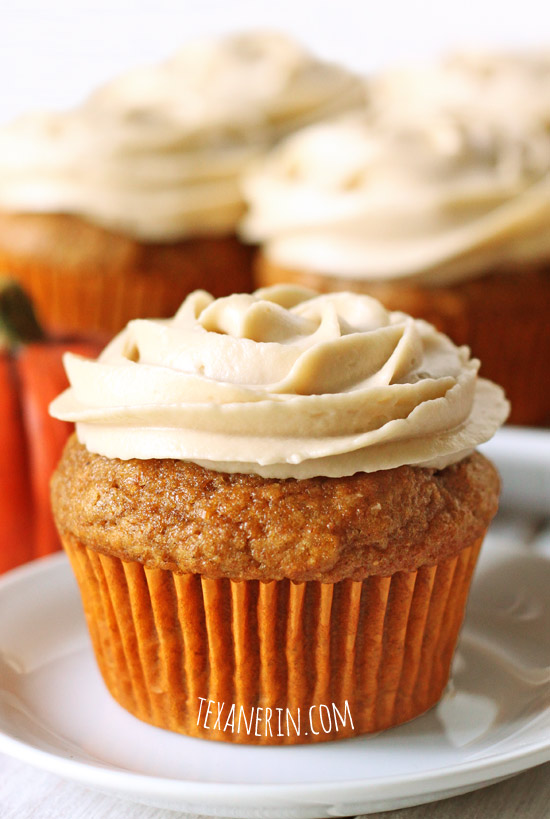 I used canned pumpkin in these pumpkin cupcakes because I have always had a better experience with that. With homemade, I'm never sure exactly how much to drain it, so when I make a recipe, I usually have texture / moisture issues. And I just can't have that. So use canned!
Plus to be honest, I don't think the homemade kind tastes any better. I'm sure a lot of people are surprised but really… homemade tastes the same or even worse to me!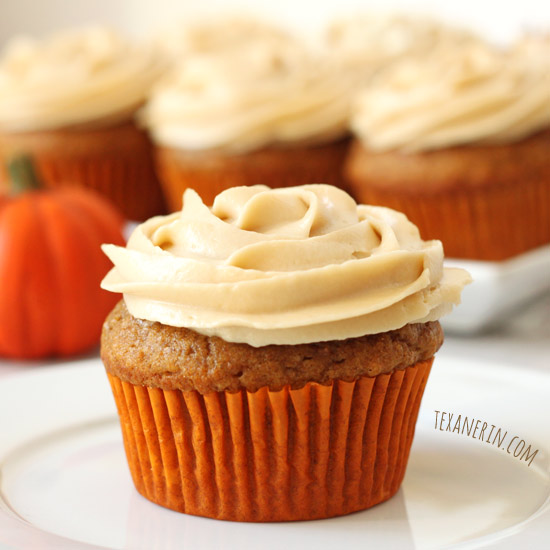 These pumpkin cupcakes are sweet enough without the cream cheese frosting but what would a cupcake be without cream cheese frosting? Kind of boring, right? ;)
By the way, if you don't live in North America and don't have the bricks of cream cheese like in the US, you need to drain the cheese cream. I used about 500 grams of cream cheese and drained it with a thin kitchen towel (a cheesecloth would also work) until it was the consistency of American cream cheese. If you don't drain it, the frosting will be super runny and unpipable. Still delicious, but like soup.
This recipe yields enough frosting to frost them like in the picture. So if you want to pile on the frosting like you see in most recipes, you'll need more frosting. As pretty as those other cupcakes are, I think it's just too much sugar for me.
❀
Pumpkin Cupcakes (100% whole grain)
Prep Time:
Cook Time:
Ready in:
Yield:

10 cupcakes
Ingredients
Cupcakes:

1 cup (125 grams) whole wheat or whole spelt flour
1 teaspoon baking powder
1/2 teaspoon baking soda
1/4 teaspoon salt
1 teaspoon ground cinnamon
1/2 teaspoon ground ginger
1/2 teaspoon ground nutmeg
2 large eggs, room temperature
1 cup (8 ounces / 225 grams) canned pumpkin puree
1 cup (200 grams) unrefined, coconut or brown sugar
1/2 cup (120ml) canola or olive oil

Cream Cheese Frosting:

1/2 cup (1 stick / 113 grams) butter, softened
12 ounces (340 grams) cream cheese, softened
1/8 teaspoon salt
1/2 teaspoon vanilla extract
1/2 teaspoon maple extract - optional
1/2 teaspoon cinnamon (you can use more or less) - also optional
1 1/2 cups (195 grams) powdered sugar
Directions
Preheat the oven to 350°F / 175°C. Prepare a muffin tin with 10 paper liners.
In a medium bowl, sift together the flour, baking powder, baking soda, salt, cinnamon, ginger, and nutmeg.
In a larger bowl, whisk the eggs, pumpkin puree, sugar, and oil.
Add the flour mixture to the wet mixture and stir just until combined. Do not over mix!
Divide the batter among the tins and bake for about 20 – 24 minutes, or until a toothpick inserted in the center comes out clean.
For the frosting, beat the butter and cream cheese until soft and smooth. Add the salt, vanilla, maple extract and cinnamon. Add in the powdered sugar, 1/2 cup at a time. Beat until fluffy. Mine was pipable right away, but if yours isn't, put it in the refrigerator until it's to the piping consistency you like.
Adapted from Pumpkin cupcakes