These pumpkin cupcakes are super moist, incredibly delicious and topped off with cream cheese frosting (with a dairy-free option). Can be made with gluten-free, 100% whole grain or all-purpose flours.
Well. I can't say that I've tried every pumpkin cupcake recipe in existence but I have tried over 40 and these are definitely, without a doubt, the best I've ever had!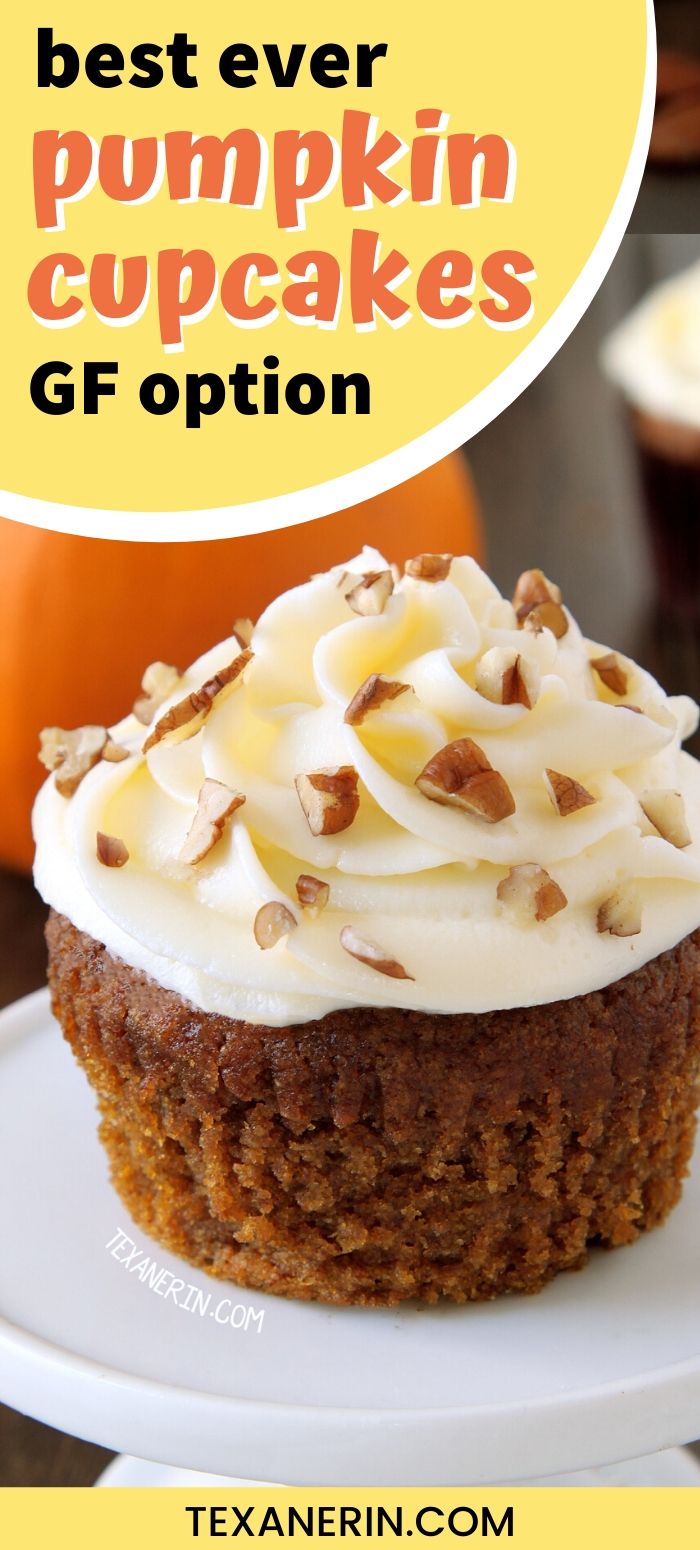 I wish I could take credit for it but it's adapted from an Ina Garten recipe. I posted this recipe a few weeks after I started blogging in 2011 and it's so good, I figured I should test a gluten-free version, reshoot the pictures and post it again.
If none of the three flour options work for you, try my paleo pumpkin cake!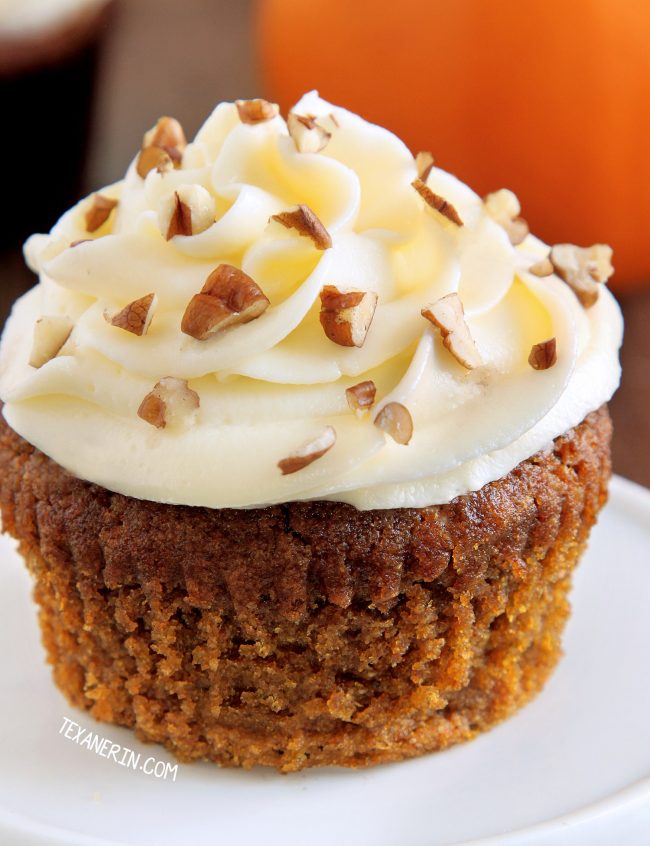 Some highlights from the latest reviewers if you need convincing:
This is the lightest and fluffiest cupcake I've ever made.
It was the most MOIST cupcake I have ever made or eaten. So delicious and amazing!
One of the moistest cupcakes I have ever made even when I changed the recipe.
And my favorite: My daughter ate 5 in a short while and she was full. I did not even bother to feed her dinner.
All of the reviews above and in the comments refer to the whole wheat version but I can assure you that the gluten-free version is just as delicious as the whole wheat version, which is just as delicious as the all-purpose flour version!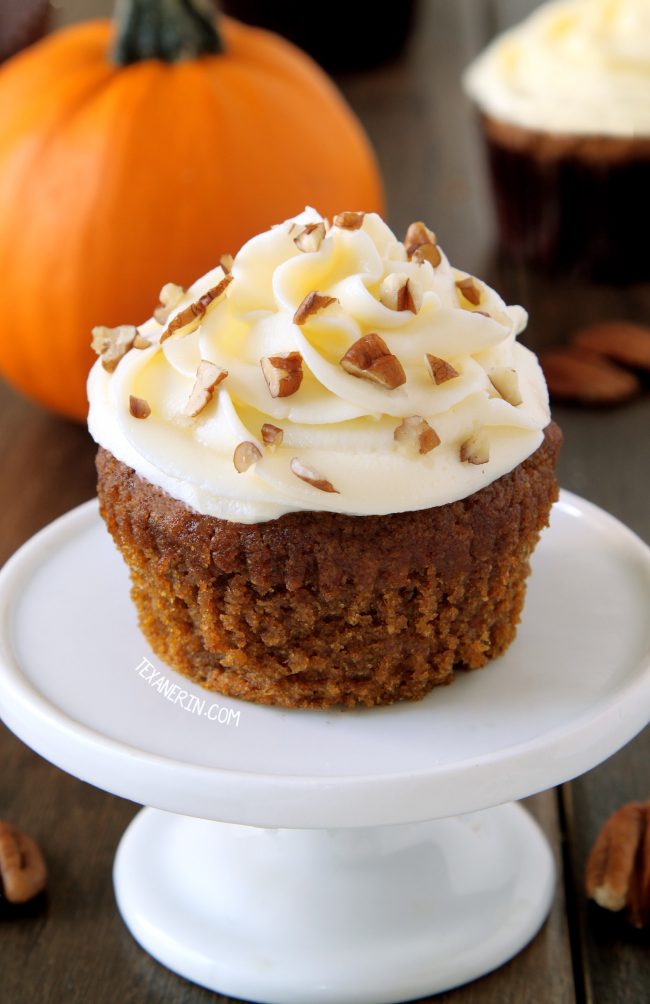 I shared my pumpkin cream cheese muffins two weeks ago and several of you have already made them and loved them.
So you might be wondering what the difference is between the two pumpkin batter bases. They're really similar. This one has more sugar, more oil and more pumpkin than the other (for the same yield).
I'd say the difference is in the crumb. These are more cupcake-like.
These pumpkin cupcakes are sweet enough without the cream cheese frosting but what would a cupcake be without cream cheese frosting? I used a scaled down version of my healthier cream cheese frosting. It pipes really well!
This Whipped Cream Cheese Frosting would also be a great choice!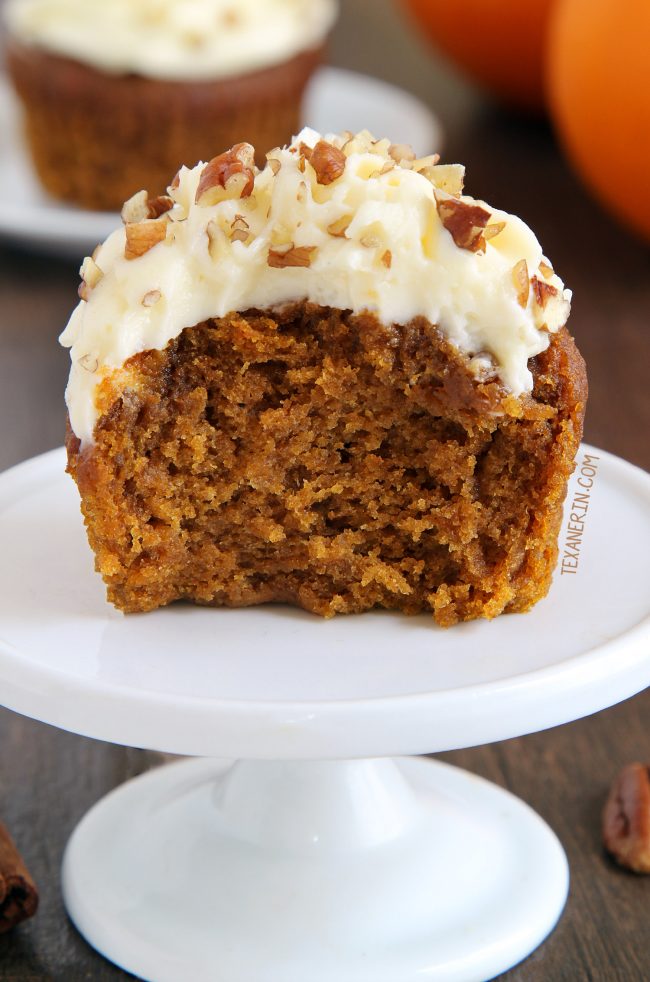 If you need a dairy-free version, try this vegan maple cream cheese frosting on them. Just note that it's very soft and you won't be able to pipe it on!
If you're looking for a great cupcake recipe for Halloween, these pumpkin cupcakes are for you! And if you want something a little orange and something a little black, try these whole wheat chocolate cupcakes, which can also be made with AP flour or gluten-free flour!
And both of these cupcakes would make the perfect base for these spider cupcakes. Aren't they cute?! :)
If you're not feeling the cupcake love, try these iced pumpkin cookies from A Dash of Sanity or these pumpkin chocolate chip muffins from Melanie Makes!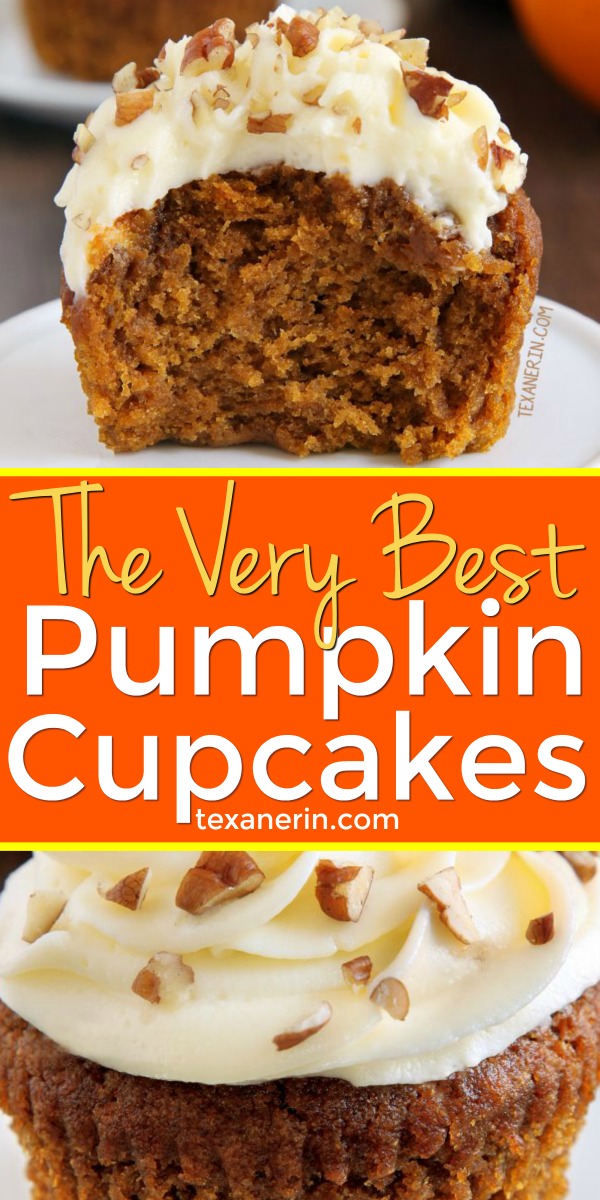 ❀
Pumpkin Cupcakes (gluten-free, dairy-free, whole grain, all-purpose flour options)
Prep Time:
Cook Time:
Ready in:
Yield:

10 cupcakes
Ingredients
Cupcakes:

1 cup (125 grams) whole wheat flour, whole spelt flour, all-purpose flour or 1 cup (134 grams) 1-to-1 gluten-free baking flour for a GF version
1 teaspoon baking powder
1/2 teaspoon baking soda
1/4 teaspoon salt
1 teaspoon ground cinnamon
1/2 teaspoon ground ginger
1/2 teaspoon ground nutmeg
2 large eggs (50 grams each, out of shell), room temperature
1 cup (240 grams) canned pumpkin puree
1 cup (200 grams) brown sugar, raw sugar or coconut sugar
1/2 cup (120 milliliters) olive oil1 (or another neutral-tasting oil that's liquid at room temperature like canola oil)

For the frosting (use this →vegan maple cream frosting for a dairy-free + non-pipeable version):2

8 ounces (225 grams) cream cheese, room temperature3
2-4 tablespoons (28-56 grams) unsalted butter, room temperature4
2/3 cup (80 grams) powdered sugar (you can add more, if desired)
pinch of salt
1/2 teaspoon vanilla extract
Directions
Preheat the oven to 350 °F (175 °C). Line a muffin pan with 10 muffin liners.
In a medium bowl, sift together the flour, baking powder, baking soda, salt, cinnamon, ginger, and nutmeg.
In a larger bowl, whisk the eggs, pumpkin puree, sugar, and oil.
Add the flour mixture to the wet mixture and stir just until combined. Do not over mix!
Divide the batter among the liners, filling each about 4/5 full, and bake for about 20 -24 minutes, or until a toothpick inserted in the center comes out clean.

For the frosting:

Once the cupcakes have cooled completely, prepare the frosting.
In a medium mixing bowl, beat the cream cheese and butter together with an electric hand mixer at medium speed until well combined. It's okay if it looks a little crumbly.
Gradually beat in the powdered sugar until totally combined and then beat in the salt and vanilla. If it's firm enough for your needs, frost your cupcakes now. The frosting yields enough for just slightly more than 2 tablespoons per cupcake.
If you want it firmer, refrigerate for about an hour, stirring the frosting after about 30 minutes. Don't let it chill too long before frosting your cupcakes, though, because it gets quite firm, like a cream cheese tart filling. If that happens, just bring it to room temperature and then frost. The frosting firms up once refrigerated so if you want the softer frosting texture (rather than a cream cheese tart filling kind of texture), let the cupcakes come to room temperature before serving.
Store frosted cupcakes in the refrigerator for up to 3 days or in an airtight container at room temperature for 2 days.
Notes
If you use olive oil, the batter will taste like olive oil but the taste disappears after baking.
Here is the original frosting recipe I had listed on this recipe. I thought it was way too much for only 10 cupcakes and this newer version has less sugar.
– 1/2 cup (113 grams) unsalted butter, softened
– 12 ounces (340 grams) cream cheese, softened
– 1/8 teaspoon salt
– 1/2 teaspoon vanilla extract
– 1/2 teaspoon maple extract - optional
– 1/2 teaspoon cinnamon (you can use more or less) - also optional
– 1 1/2 cups (195 grams) powdered sugar


If you live outside of North America and have the kind of cream cheese that's meant for toast (that comes in a little plastic tub) rather than American style brick cream cheese, then get 300 grams of cream cheese, place it in the center of a cheesecloth, and wring out the liquid until you have 225 grams of cream cheese left.
If you want to pipe this frosting, use 4 tablespoons of butter and if you just want to slather it on, use 2. Or 4 if you just want it a little firmer!
Adapted from Ina Garten's Pumpkin Cupcakes