This healthy orange banana avocado smoothie, with a paleo and vegan option, really benefits from the addition of avocado! It adds extreme creaminess and nutrition that you won't find in other smoothies.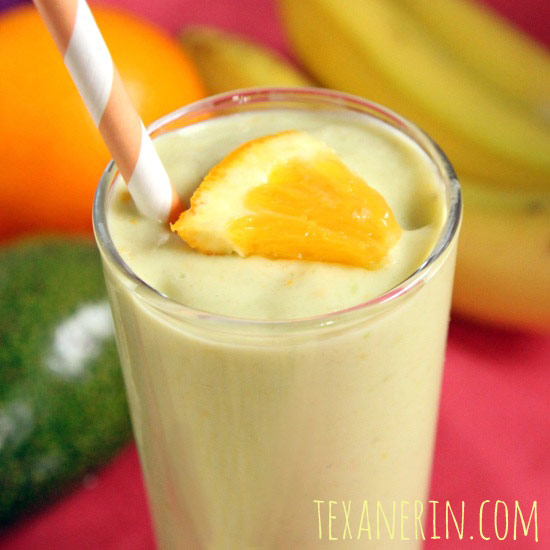 When I gave the first version of this smoothie to Mr. Texanerin to try, I asked him to guess what was in there. His first guess was lemon. And then strawberries. Both incredibly wrong! In my tropical island paradise, I'm serving orange banana smoothies.
This smoothie can also be made vegan and paleo. And it's already naturally gluten-free (as most smoothies are!).
Banana because I am SO tired of raspberry smoothies, orange because they're in season, and avocado because I have to eat green food and avocados in smoothies is the only way I like green food.
This smoothie doesn't taste at all like lemon or strawberries. It tastes like banana and orange and summer and sunshine. And it's so sweet!
It's amazing what bananas can do. Most importantly, this smoothie most definitely does not taste like it has avocado in it. Did you know that only 1/5 of a medium avocado is one serving?
So this means this orange banana avocado smoothie has 5.5 servings of fruit. The whole smoothie is quite a few calories for one person in one go, but at least it's healthy. Let's say it's two small servings, shall we?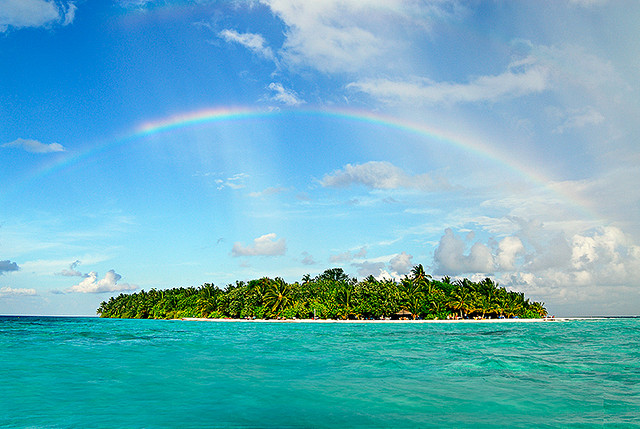 Welcome to my island paradise! On my island, despite the constant sunshine, there are no UV rays. Little golden retriever puppies, who stay puppy sized forever, run around freely. Vegetables and sweets have switched nutritional value and my only responsibility is to bake. And everyone on my island has perfect health. You're invited!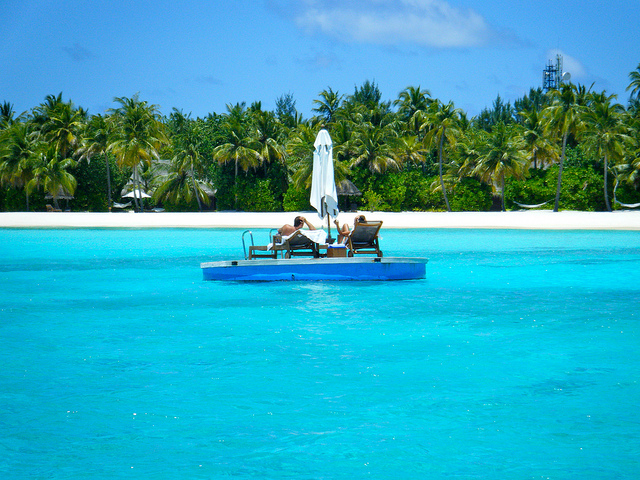 Just look at you and your special someone relaxing on the boat, sipping on this smoothie. Life is good.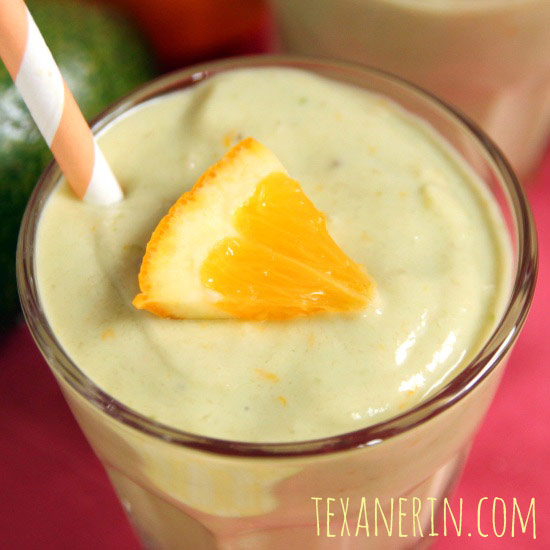 Mr. T and I had a disagreement about the next picture.
Mr. Texanerin: Why would would anyone go from floating on the water to a hammock? That makes no sense.
Erin: Because they're tired and they need to nap!
Mr. Texanerin: But they can nap on the boat.
Erin: Nooooo.
Mr. Texanerin: You can write that dolphins came up to the boat and kept trying to play and so the people couldn't nap on the boat and so they had to go to land!
Please forgive my silliness. The incredibly dark gloomy skies have caused some slight problems with my sanity.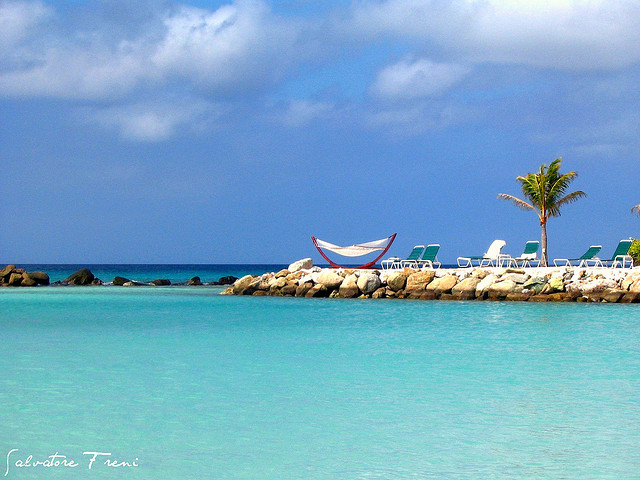 I have some other avocado smoothies if this banana orange smoothie isn't your thing!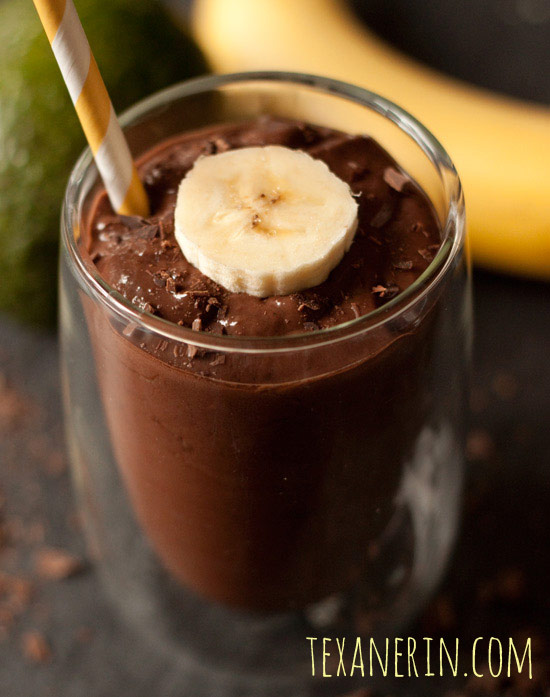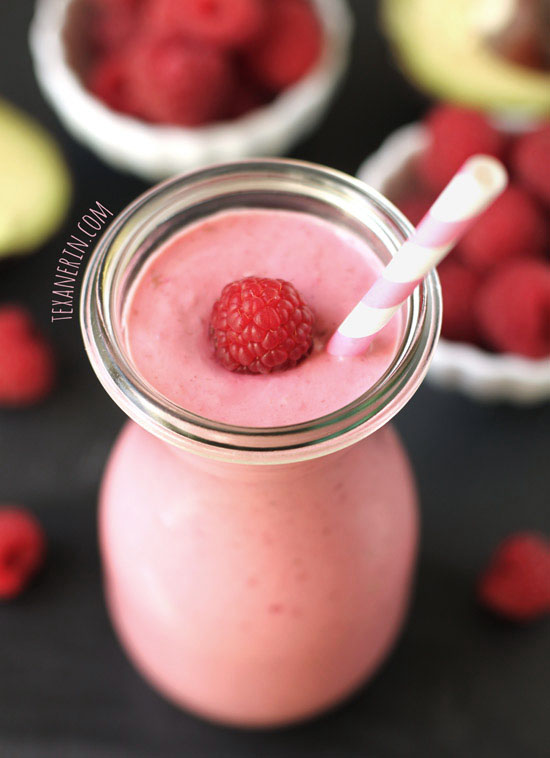 This tropical anti-inflammatory smoothie also looks like a great option (and doesn't have avocado in case you need something avocado-free!)
❀
Orange Banana Smoothie (paleo, vegan option)
Prep Time:
Cook Time:
Ready in:
Yield:

2 small servings
Ingredients
2 bananas, cut into chunks and frozen for 1 hour
1/2 cup plain Greek yogurt (use coconut milk yogurt for paleo / vegan / dairy-free)
1/2 cup orange juice
the meat of 1/2 an avocado
zest of 1 orange
milk (use dairy-free milk for paleo / vegan / dairy-free)
Directions
Blend everything together in a food processor. If you have a good blender, you can use that too.
If you want the smoothie thinner, add milk until you're satisfied with the consistency. Serve immediately.