This whole orange cake is gluten-free, grain-free and can even be made paleo! Throw some fresh cranberries in for a great Thanksgiving or Christmas dessert.
This cake is sometimes referred to as a flourless orange cake, but it does have almond flour in it. Like most almond flour cakes, it has a lovely dense texture and is super moist.
If you'd prefer a light and fluffy cake, I'd suggest finding a different recipe. Although I have a lot of cake recipes, I, unfortunately, don't have an orange one.
I would say that I have this citrusy Italian Lemon Almond Flour Cake, in which you could sub orange, but it's also dense. I'll add fluffy orange cake to my list of to-dos!
I love how few ingredients this cake has.
Oranges – you need two to boil and puree + two more to zest.


Eggs – no sub for these, unfortunately.


Granulated or coconut sugar – use coconut sugar for paleo. The result is still surprisingly orangey!


Almond flour or meal – I used blanched almond flour in these photos.


Fresh cranberries – optional but add a great zing.


Bakig powder + salt


Lots of orange flavor
This orange cake has two whole oranges in it – peel and all! I would really recommend using seedless oranges for that reason.
You can use oranges with seeds, but then you need to pick them out before tossing the oranges in your food processor or high-speed blender.
It also has zest from two additional oranges because I wanted loads of orange flavor. Orange extract isn't needed in this cake as it's super orangey with the whole oranges and zest.
Don't run off!
I first posted this recipe nine years ago, and when I revisited the recipe recently to make it again, I saw the part about boiling oranges and thought, "Oh, heck no…" and then almost closed the recipe.
But it's actually really easy. You do have to boil the orange for a total of 30 minutes, but the hands-on time is actually really low.
Why do you boil the oranges?
So you put two oranges in a pot and cover them with cold water. Then you boil for 15 minutes, rinse, and add in more cold water.
And why is that? "It has to do with osmosis. When you simmer citrus peels in clear water, a lot of the bitter flavonoids in the pith travel into the clear water due to osmosis. The more flavonoids in the water, the fewer flavonoids leave the peel, and eventually they stop leaving altogether. So you have to switch the water to continue the process," says a user on Reddit, who can definitely explain this better than I can.
So now you bring the water to a boil again and let it go for another 15 minutes. From start to finish, this process takes about 50 minutes. But the hands-on time for the orange boiling is about 3 minutes.
I'd stick around the kitchen until the oranges come to a boil and then you can set a timer and leave.
They'll float to the top, but they bob around after a while, so you don't need to worry about flipping them over to ensure both sides of the oranges get boiled properly.
You also don't want to poke them or cut into them. You want to disturb the cells as little as possible while they're processing.
The point of all this is to soften the oranges and also to reduce the bitterness in the peel.
If you want, you can boil the oranges a day in advance. Then on the day that you want to bake the cake, they'll be all ready to go.
Can I freeze this cake?
Yes! Let the baked cake cool completely, and then wrap it in plastic wrap. Then place in a Ziploc bag.
You can freeze it for up to 1 month. To defrost, place it in the fridge overnight. Once it has completely defrosted, pour the glaze over the top.
That makes this a great make-ahead option for Thanksgiving and Christmas! I know that I love to make as much as possible ahead of time as I can.
Other than this Gluten-free Mac and Cheese (which, like all mac and cheese, doesn't freeze well), and some veggies, our Thanksgiving dinner is already prepared and in the freezer. ;)
Numbers are skyrocketing here and I'm prepared for a lockdown. Here's what else I have waiting for our family of three:
Can I use a different flour?
You could use almond meal instead of blanched almond flour. The result will be darker than what you see in the photos because the almond meal has little bits of almond skin in it.
All-purpose flour, whole wheat flour, coconut flour, etc. will not work in this cake.
One of the commenters mentioned using a gluten-free 1-to-1 flour in place of the almond flour, but I haven't tried it myself.
I would say, though, that those two types of flours aren't at all interchangeable. So I think it's a bit risky.
Can I omit the cranberries?
Sure! You can even use dried cranberries if you don't like the little sour bursts that fresh cranberries add.
I poured half the cranberries on the bottom of the pan and the other half into the batter. But you can also just fold them all into the batter or put them all on the bottom of the pan.
What you don't want to do is pour in the batter and then top the cake off the cranberries. I can tell you from experience that they'll burn.
Paleo option
To make this cake paleo, I used coconut sugar in place of the granulated sugar, and I also omitted the syrup. The cake is more of a tan color than orange, but it still looks quite nice.
I originally posted this recipe without the syrup, and it's really unnecessary. But I was feeling fancy when I remade it.
For the paleo version, I first made it with 175 grams of coconut sugar instead of 200 grams of granulated. That was definitely not sweet enough. At least, not for me!
I would recommend going with 200 grams unless you really don't like things that are very sweet.
If you want to use honey or maple syrup, you need to find another recipe. There's no liquid in this recipe to reduce to make up for the added liquid from the maple or honey.
A honey-sweetened orange cake sounds amazing, though! Perhaps next year. :)
Can I make it vegan?
Egg subs won't work in this recipe. Sorry. :/
It already has a dense texture and there are very few ingredients, so I really wouldn't recommend experimenting.
For an orangey vegan treat, you could try my Gluten-free Orange Cookies. Or for something healthier, this Banana Orange Smoothie!
If you make this gluten-free orange cake, I'd love for you to leave a comment below. And you know I want to see them! Just snap a pic 📸 and tag #texanerin so I can easily find them.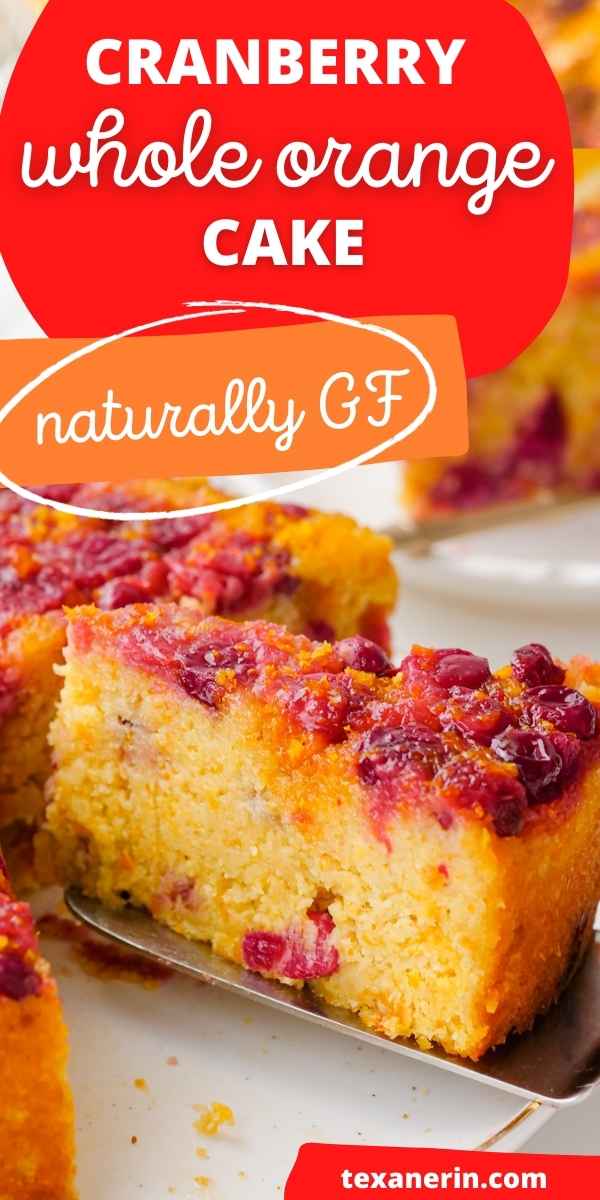 ❀
Grain- and Gluten-free Cranberry Orange Cake
Prep Time:
Cook Time:
Ready in:
Yield:

12 pieces
Ingredients
For the cake:

2 medium oranges (mine were 215 grams each)
zest from another 2 medium or large oranges
3 large (50 grams each, out of shell) eggs
200 grams (1 cup) granulated sugar or coconut sugar for paleo
3 cups (300 grams) blanched almond flour or meal
1 teaspoon baking powder1
1/8 teaspoon salt
2 cups fresh cranberries

For the optional syrup2:

zest and juice of 1 medium orange
3/4 cup (150 grams) granulated sugar
Directions
Preheat your oven to 350 °F (175 °C).
Grease a round 8" (22cm) springform pan.
Put the oranges in a pot and cover them with cold water. They will float a little.
Bring to a boil over medium heat and cook for 15 minutes.
Drain and then cover the oranges with cold water again and boil another 15 minutes.
Remove them from the pot, rinse with cold water and let cool for 10 minutes or until you're able to cut them without burning your hands.
Cut into fourths and remove any seeds.
Process the orange pieces in the bowl of your food processor until smooth. Add the zest of two oranges and give it another whirl.
In a large mixing bowl, beat the eggs and sugar together using an electric mixer. Beat until pale and thick and then gently fold in the orange, almond flour, salt and baking powder.
Fold in half of the cranberries.
Pour the other half of the cranberries over the bottom of the pan. They'll roll around, and not be perfect and that's fine.
Pour the batter over the cranberries and bake for 1 hour (prepare the syrup while it bakes) or until a toothpick inserted in the middle comes out clean. Let the cake cool for 15 minutes before flipping it over.

For the syrup:

Prepare the orange syrup while the cake is baking. Mix together the orange zest, juice and sugar in a small saucepan. Cook over low heat for 2-3 minutes or until the sugar is dissolved and the syrup has thickened a little.
Turn the cake onto a serving plate. Use a skewer to prick holes over the top of the cake (not into the cranberries). Spoon the syrup on top.
Let cool another 30-60 minutes and then slice.
Notes
Use paleo baking powder for a paleo version.
Omit for paleo.
Adapted from Taste.com.au