These perfect paleo chocolate chip cookies are thick, chewy and have the perfect texture. Many of the reviewers have called these the best cookies ever and said that nobody had a clue that they were paleo (or even gluten-free)!
This recipe also has vegan and keto options. Thanks to Bob's Red Mill for making today's post possible!
I first posted this recipe four years ago and am reposting it today with new photos and more tips. Since I posted it, it's been my most popular recipe and the photos just didn't do it justice.
All almond flours are not created equal
When I first made these paleo chocolate chip cookies, it'd been quite a while since I last posted some grain-free recipes. I had run out of my favorite Bob's Red Mill Super-Fine Almond Flour months before and was so frustrated with the brands of almond flour available here in Germany since they're so inconsistent.
Because I didn't want to deal with the hassle of ordering flour from the US, I thought I'd wait it out until Christmas when I'd be back in the US and could buy all the Bob's Red Mill I want.
But then I got a hankering for chocolate chip cookies. And I really wanted to make paleo cookies.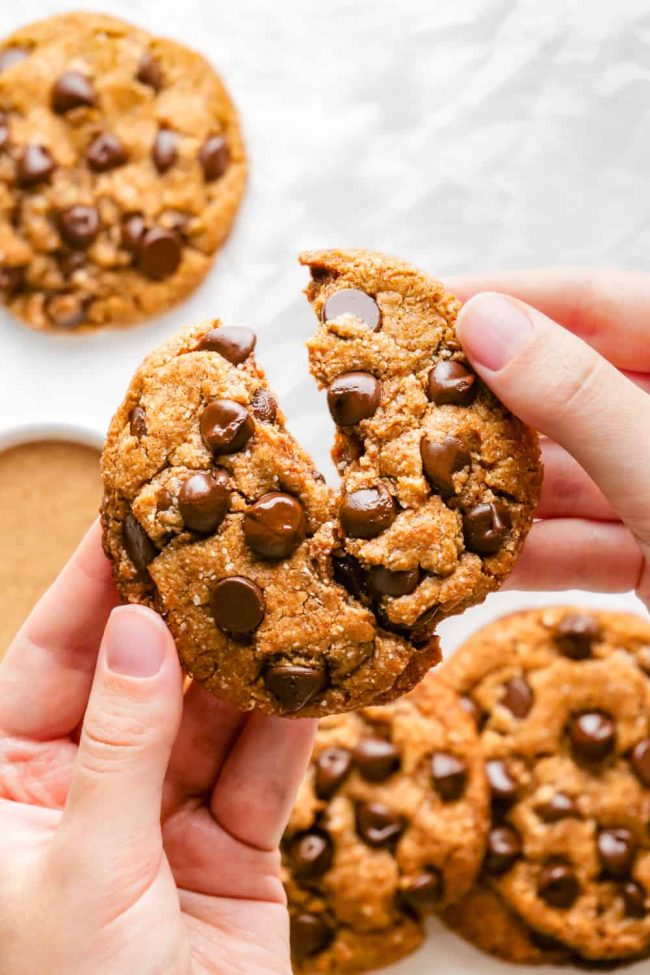 So I went to work and while every batch tasted amazing, the appearance and thickness was different every single time. The only variable?
The almond flour. The almond flour I'd been buying varies from brand to brand and even within the same brand.
Variation in baking = bad
They come in tiny 1-cup bags here so I go through a load of them when recipe testing. I'd open up one bag and find some finely ground almond flour, then I'd open up another bag from the same company, and it was overall coarser with bits of sliced almonds.
Sliced almonds! In my almond flour. That was the final straw.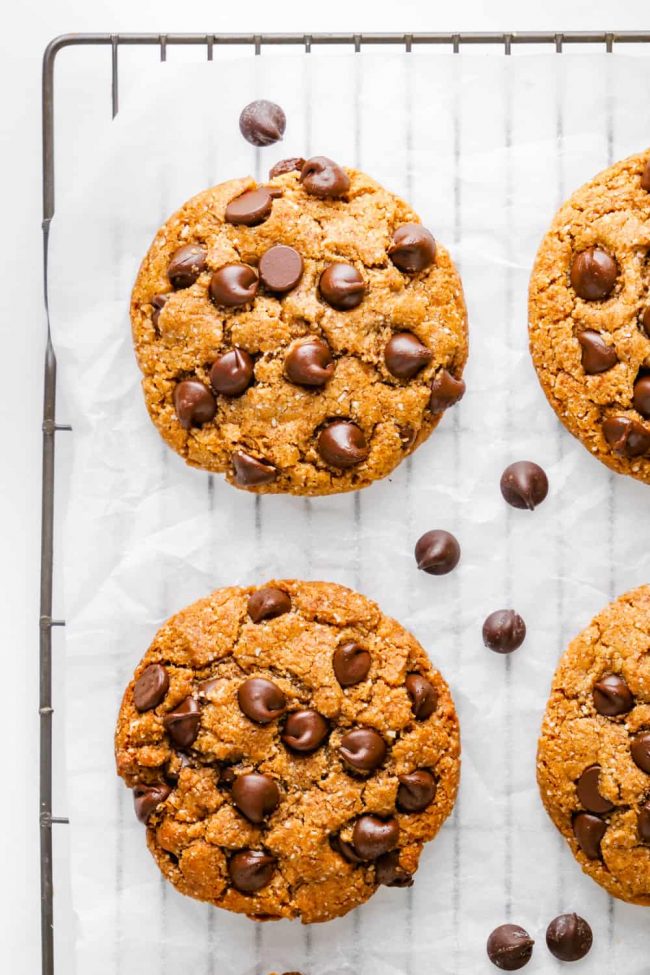 So to save my sanity, I ordered myself some Bob's Red Mill almond flour. By the way, if you have Bob's Red Mill in a retail store in your area, you can use one of these $1 coupons.
Consistency matters a lot
The cookies made with Bob's Red Mill came out thick, chewy and just as delicious and magical as all-purpose flour chocolate chip cookies. I doubt that anyone would be able to tell that these are paleo cookies! And the 750+ reviewers agree with me.
And every batch comes out the same. I can say this very confidently as I've made these cookies over 100x in the last 4 years (yes, that's about 2x a month!). Hooray for consistency!
Some of the reviewers have mentioned the same issues with random brands of almond flour vs. Bob's Red Mill. And homemade almond flour? The cookies definitely won't come out the same! This has been confirmed by several commenters.
So the almond flour obviously plays a huge role in the final outcome of these paleo chocolate chip cookies. Another thing that will affect the cookies is the temperature of the coconut oil.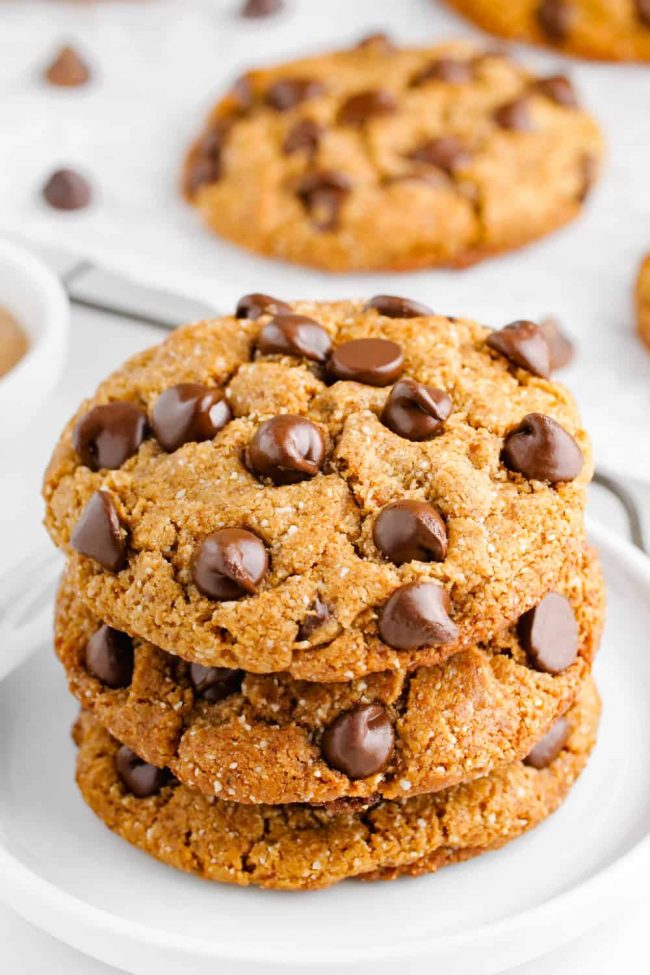 Pay attention to the coconut oil
If you make these in the summer when room temperature coconut oil means melted coconut oil, you'll need to refrigerate the coconut oil until it's firmer, like softened butter.
If you make these dairy-free cookies with melted coconut oil, the dough will be very greasy and the chocolate chips will be hard to incorporate into the dough.
It doesn't work to use melted coconut oil and then just chill the dough. I don't understand why but it doesn't work!
Coconut sugar (for paleo) vs brown sugar
You'll also need to chill the dough if you use coconut sugar rather than brown sugar. I made one version with brown sugar and one with coconut sugar at the same time and the brown sugar cookies were nice and thick while the coconut sugar version spread flat and was super thin.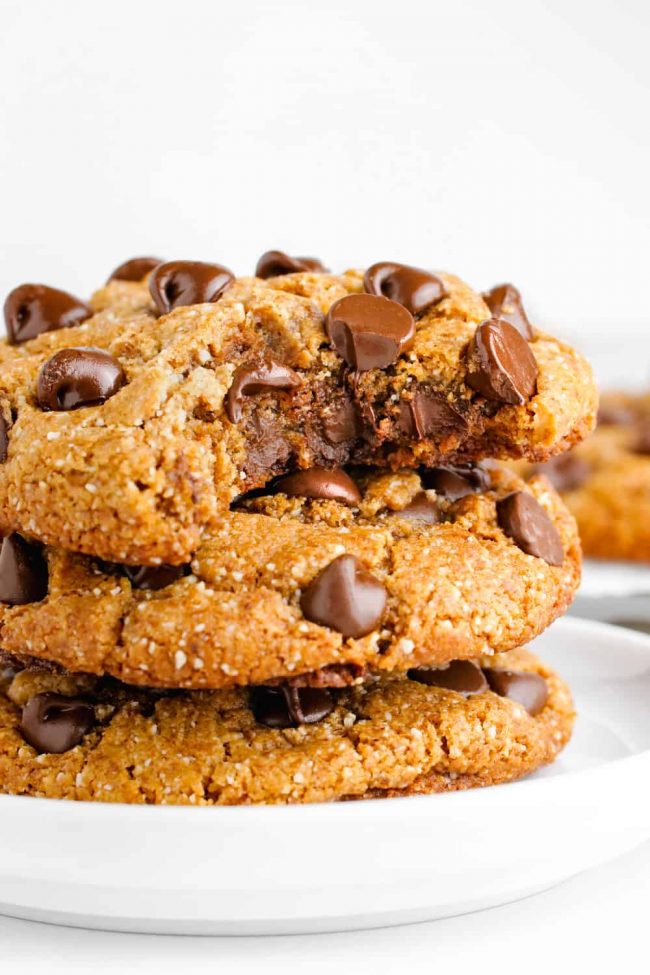 I refrigerated the remaining coconut sugar dough until firm and that resulted in nice and thick cookies, just like the brown sugar version! Just a little darker colored.
Size also matters
If you can't tell by the pictures, these paleo chocolate chip cookies are huge. Instead of making 8 cookies, you can make 16 to get regular-sized cookies.
I just prefer how they bake up with gooier and chewier centers when they're larger! Several of the commenters have said that they make them half that size and enjoy them and other commenters have said that they agree that the key to making these cookies so perfect is to make them huge.
Variations of this recipe
If you've had enough chocolate chip cookies lately but like this sound of this recipe, I've got you covered! I've made several variations of these cookies over the years:
Have you made one of them? Or the original? Which one is your favorite?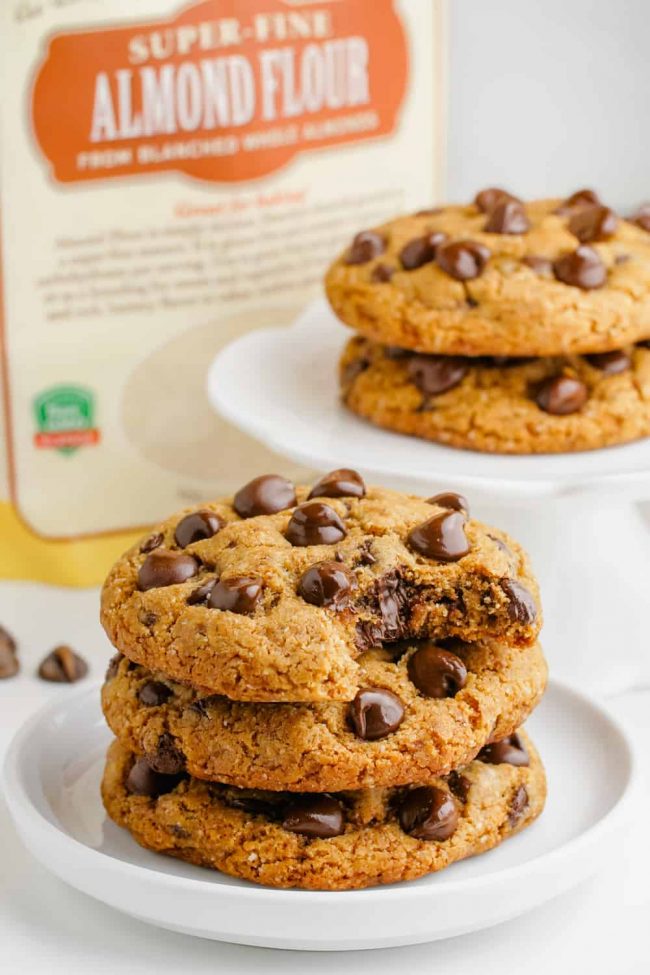 Substitution questions for these paleo chocolate chip cookies:
Can I use something instead of almond flour?

Almond flour is only really interchangeable with other nut flours so cashew or hazelnut meal would likely work. I've heard of some people using sunflower seed meal as a sub for almond flour but I haven't tried it myself.

Can I use something instead of coconut flour?

Nope! There isn't a really good sub for coconut flour. A few people have mentioned using oat flour (for a non-paleo version) with success but I haven't tried it.

Can I use something instead of almond butter?

I've tried using peanut butter but didn't like the results. So I really don't recommend using peanut butter.

Using it in the all coconut flour version? Amazing! It's linked to above. If using sunflower seed butter, you need to make a few changes (see the Paleo "Peanut Butter" Cookies linked to above).

Hazelnut butter would probably be awesome in this original recipe! Reviewers have used cashew butter but the cashew butter I get and make is SO much firmer than almond butter, I can't imagine the cookies coming out the same as with almond butter.

Can I use something instead of coconut / brown sugar?

Subbing in a liquid sweetener won't work. There's no liquid to reduce to make up for the added liquid, so it'd make the cookies cakey. Any other granulated sweetener would probably work.

What can I use instead of the egg or chia egg?

I've tried flax eggs but I don't like the taste (people say that flax eggs don't taste like anything but I think they do). Others have used it with success in this recipe. I haven't tried it, but Bob's Red Mill Gluten-free Vegan Egg Replacer would probably work.

Can I make these cookies smaller?

Yes, but I think they have a better texture when they're baked as huge cookies.

Can I bake these cookies as bars?

You can make them in an 8″x8″ pan. I'm super forgetful and never remember to write down the baking time but I recommend to start checking around 15 minutes.

Do you have nutritional info?

There are loads of free online nutritional calculators online. I'm not a dietitian and not legally allowed to post this info. Sorry about that!
If you try these paleo chocolate chip cookies, I'd love to hear how they come out!
Thanks again to Bob's Red Mill for sponsoring this post! Be sure to check out some of their other gluten-free flours if you're into gluten-free and paleo baking. :)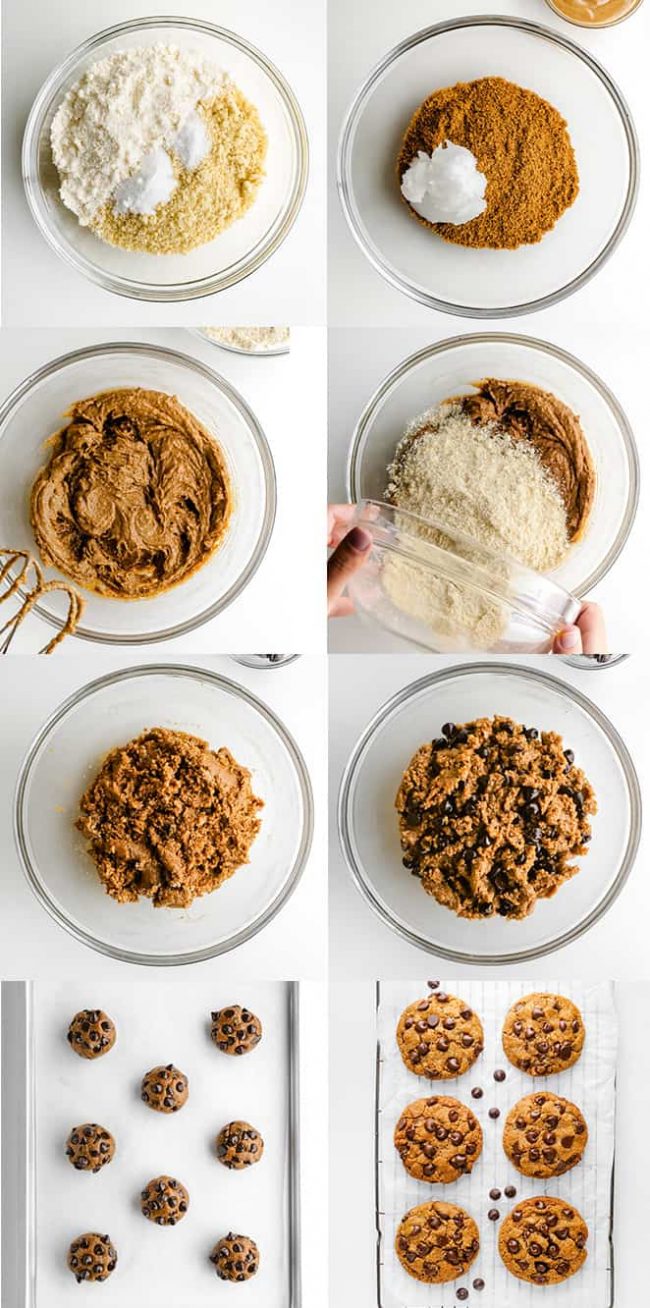 And here are some resources if you're new to the vegan or gluten-free diet: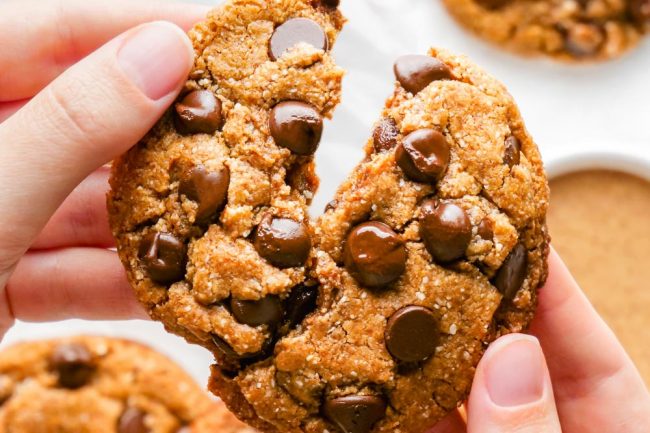 ❀
Perfect Paleo Chocolate Chip Cookies (vegan, keto options)
Prep Time:
Cook Time:
Ready in:
Yield:

8 huge bakery-style cookies or 16 regular-sized cookies
Please read the notes at the bottom before beginning!
Ingredients
1 cup (100 grams) Bob's Red Mill Super-Fine Almond flour
1/4 cup (32 grams) coconut flour
1 teaspoon baking soda
1/4 teaspoon salt
6 tablespoons (84 grams) coconut oil1 or unsalted butter, room temperature but NOT melted (if your coconut oil is a little melty, put it in the fridge for about 10-20 minutes or until firmer, like softened butter. If you use slightly melted coconut oil, the dough will be greasy and the chocolate chips will be hard to incorporate.)2
3/4 cup (150 grams) coconut sugar, very tightly packed for a paleo version (it's best to weigh this!) OR brown sugar OR for keto, use 2 ounces (57 grams) xylitol + 1.5 ounces (43 grams) erythritol + 1/4 teaspoon powdered stevia3
6 tablespoons (98 grams) natural almond butter (the kind with just almonds in it and no added fat / sugar), room temperature (here's how to make almond butter)
1 1/2 teaspoons vanilla extract
1 large egg, room temperature (or 1 chia egg4 for vegan)
1 1/4 cups (213 grams) semi-sweet chocolate chips, divided (make sure to use paleo / keto / vegan chocolate chips, if desired)
Directions
In a medium mixing bowl, stir together the almond flour, coconut flour, baking soda and salt. Set aside.
In a large mixing bowl with an electric hand mixer or using a stand mixer, beat together the fat, sugar, almond butter and vanilla extract at medium speed until well combined, about 1 minute. If you use coconut oil, it may not come together easily. If that's the case, use your hands to combine it and then beat another 20 seconds.
Beat in the egg on low and mix until well incorporated. Stir in the flour mixture until well combined. Then stir in 1 cup (170 grams) chocolate chips. If you used brown sugar, skip to the next step. If you used coconut sugar, place the bowl in the refrigerator for about 1 hour or until the dough is firm.
Preheat the oven to 350 °F (175 °C) and line a baking sheet with a piece of parchment paper.
Roll the dough into 8 (75-gram) balls and place the remaining 1/4 cup (43 grams) of chocolate chips on the top and on the sides of the dough balls. You can also roll them into 16 smaller balls but then you need to adjust the baking time (a few minutes less than recommended below). Place 4" apart on the prepared baking sheet. Press the cookies down lightly with the palm of your hand.
Bake for 11-14 minutes (if using coconut sugar or the keto version) or 14-17 minutes (if using brown sugar) or until the surface of the center of the cookies no longer appears wet. They'll be very soft but will continue to cook as they sit on the cookie sheet.
Let cool completely on the baking sheet. Store in an airtight container for up to 3 days.
Notes
If you use unrefined coconut oil, the cookies will likely have a slight coconut taste. I prefer refined coconut oil for absolutely zero coconut taste (but most reviewers have used unrefined and are happy with them!)
I haven't tried these with ghee or shortening or anything other than coconut oil and butter.
The sweeteners I used were 100% xylitol, 100% erythritol and 100% stevia. If you don't have a scale, then this is about 1/4 cup + 3/4 teaspoon xylitol, 3 tablespoons + 3/4 teaspoon erythritol + 1/4 teaspoon stevia.
To make a chia egg, mix together 1 tablespoon of ground chia seeds and 2.5 tablespoons water. Let sit 5-15 minutes or until goopy like an egg.
For paleo: use coconut sugar, coconut oil, and paleo chocolate (some consider Enjoy Life to be paleo, some don't. If you really don't want to use cane sugar, try Pascha's 100% cacao chocolate chips.
For dairy-free / vegan: use coconut oil and dairy-free chocolate.
For keto / low-carb: use the keto option. Some consider it paleo, some don't. I had previously listed Lakanto but this other mixture works much better! Also use sugar-free chocolate chips, such as Pascha 100% cacao chocolate chips (paleo) or Lily's Chocolate Chips (not paleo, due to soy).