These Squash Mashed Potatoes are made from butternut squash and regular white potatoes to create a creamy, rich side dish perfect for Thanksgiving! With paleo, vegan and Whole30 options.
Up until a few weeks ago with my Gluten-free Mac and Cheese, I only had one savory Thanksgiving side dish on the blog. Even my cornbread recipe is sweet. I am all about Thanksgiving desserts!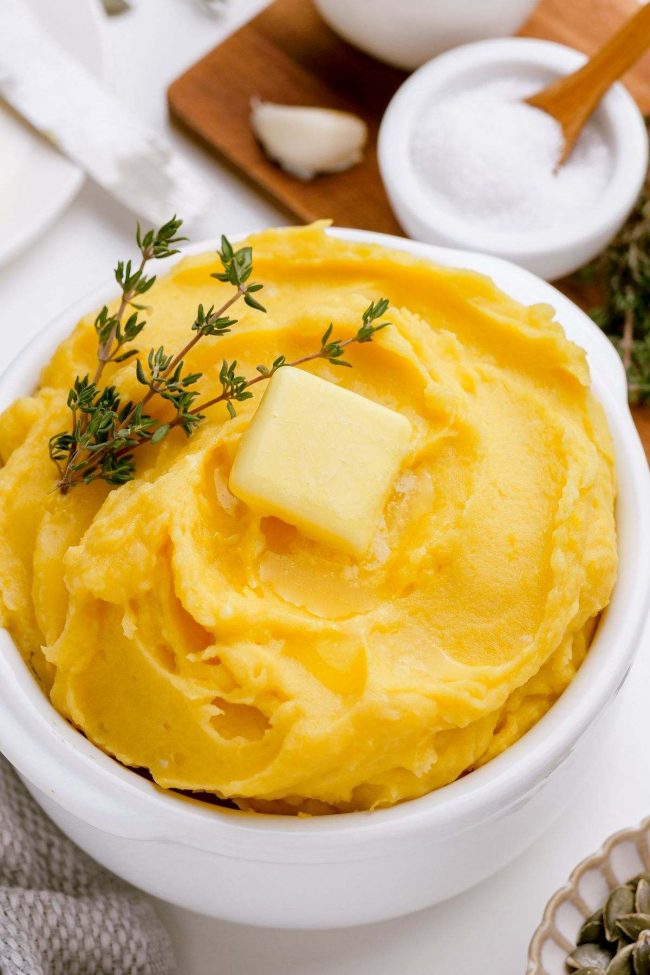 But these squash mashed potatoes are way better than they sound.
They are sweet but not overly so. And less sweet than mashed sweet potatoes.
If you want to put something different on the Thanksgiving table this year, then these squash mashed potatoes are a great option!
Ingredients for mashed potato squash:
Yukon Gold or Russet potatoes
Butternut squash
Garlic cloves
Butter or coconut oil
Whipping cream OR plant-based milk + canned full-fat coconut milk for vegan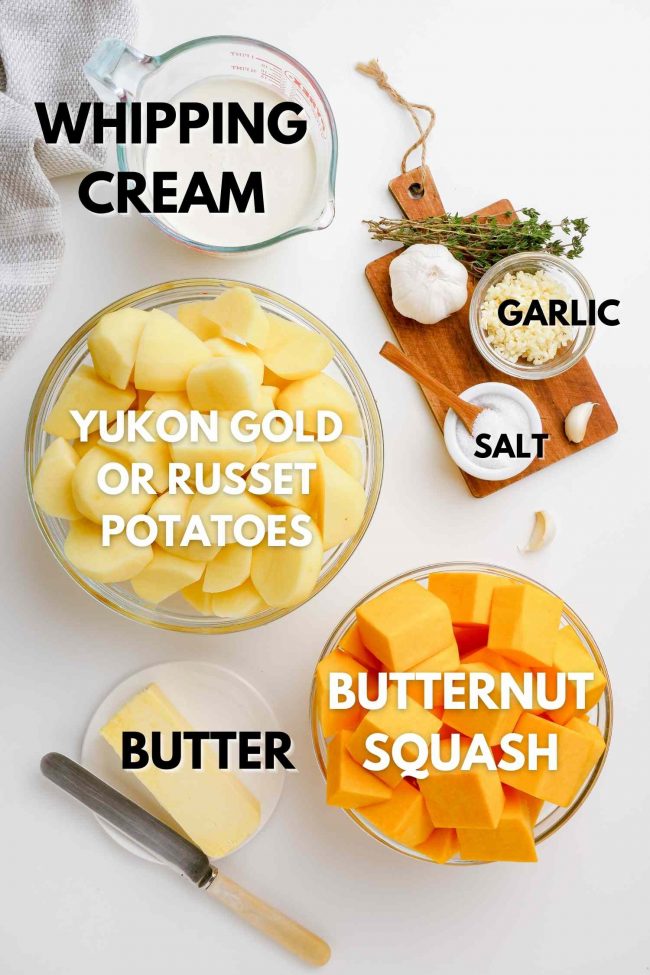 How to make mashed butternut squash:
Prepare, peel and cut potatoes and butternut squash.
Using a steaming basket in a large pot, add one inch of water and bring to a boil.

Add potatoes and butternut squash chunks into the basket and cover with a lid. Steam until tender.

Once fully cooked, remove the basket and drain the water.
Add butter to the pot and cook garlic until it starts to brown.

Add potatoes and butternut back into the pot and mash a bit.

Add remaining butter and stir until melted.
Add half of the cream and mix with a hand mixer on low then to high until smooth and creamy.
Add the rest of the cream and continue to mix.

Taste and add more salt if needed.

Garnish with a dab of butter and fresh sage.
Best when served immediately.
Can I use different types of squash?
Yellow summer squash, no. Zucchini, no.
But pumpkin? That should work just fine, though I haven't tried it myself.
You'll want to use one meant for cooking and baking and not a jack-o-lantern. Why? Because, although the jack-o-lantern pumpkin is edible, it is not ideal.
The flesh of the jack-o-lantern pumpkin is tough, fibrous, watery and quite bland. It just isn't suited well for cooking. Besides, there are other pumpkins to choose from that taste great with a much better texture.
Pumpkins used for cooking should be sweet and flavorful with a smooth texture. They are usually labeled as sugar or pie pumpkins. Sugar pumpkins are small and round and work well with this mashed potato dish.
Long Island Cheese pumpkins are oblong and are also good to eat. Caspers are deliciously sweet, but Cherokee Bush, Cinderella and Fairy Tales would also be great.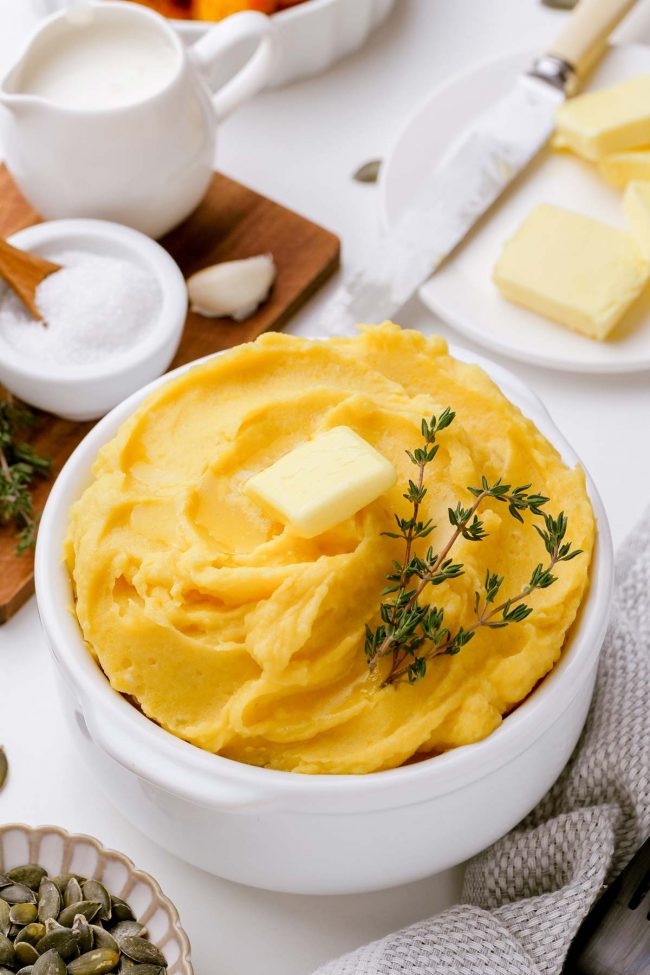 Can I just use all butternut squash and no potatoes?
No, you'd need to find a recipe for mashed butternut squash. You'd need a whole lot less liquid and make other adjustments.
What type of potatoes are best?
Yukon Gold potatoes are the best for mashed potatoes because they aren't mealy. They've got a naturally creamy and slightly buttery taste which blends well with butternut squash.
Russets would be my second choice. But don't use waxy potatoes like new potatoes or fingerlings because they get gummy and sticky.
Best way to mash the potatoes
Have you ever over mashed potatoes? You'll know because they get gluey and gummy. And mashed potatoes should be fluffy and creamy. So it's essential not to over mash them.
In this recipe, I like to use the beaters of a hand mixer to break up the big chunks of cooked potatoes. Then I turn on the hand mixer and beat just until lump-free.
Important note! If you add the last bit of liquid and the potatoes look runny – just continue mashing and they will become fluffy and silky.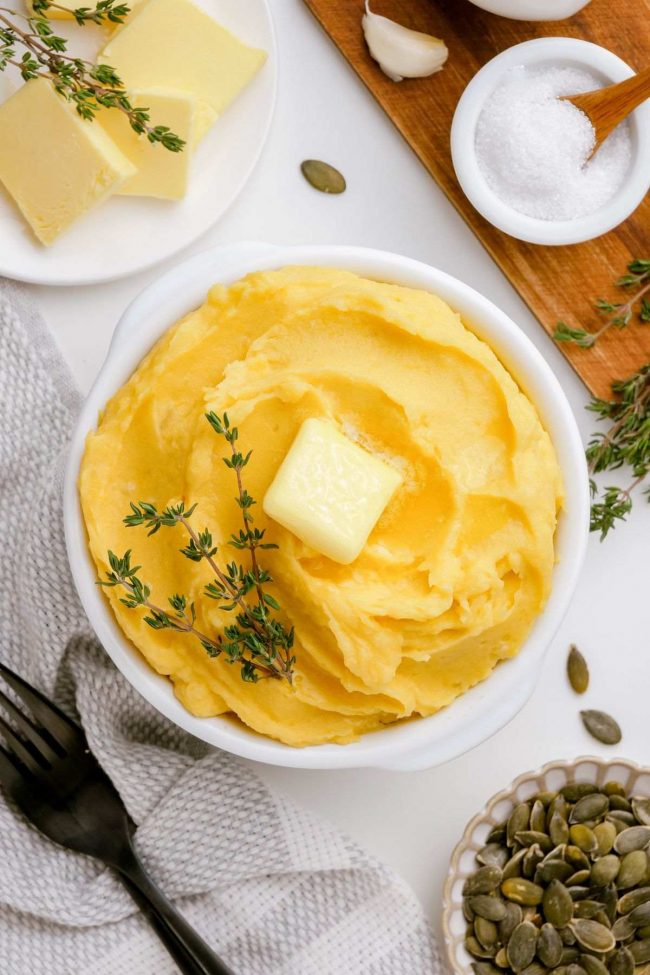 Can I use milk instead of cream?
I didn't find them to be as satisfying, but you can try. You can always add more butter if you decide that they're not rich enough.
Do I have to use the garlic?
No, but I definitely think these potatoes are tastier with it. You can also use granulated garlic or garlic powder and add to taste.
If you omit the garlic and are making the paleo/vegan version and want to use coconut oil, note that unrefined coconut oil will add coconut taste to your potatoes. So it's better to use refined coconut oil if you want to skip the garlic.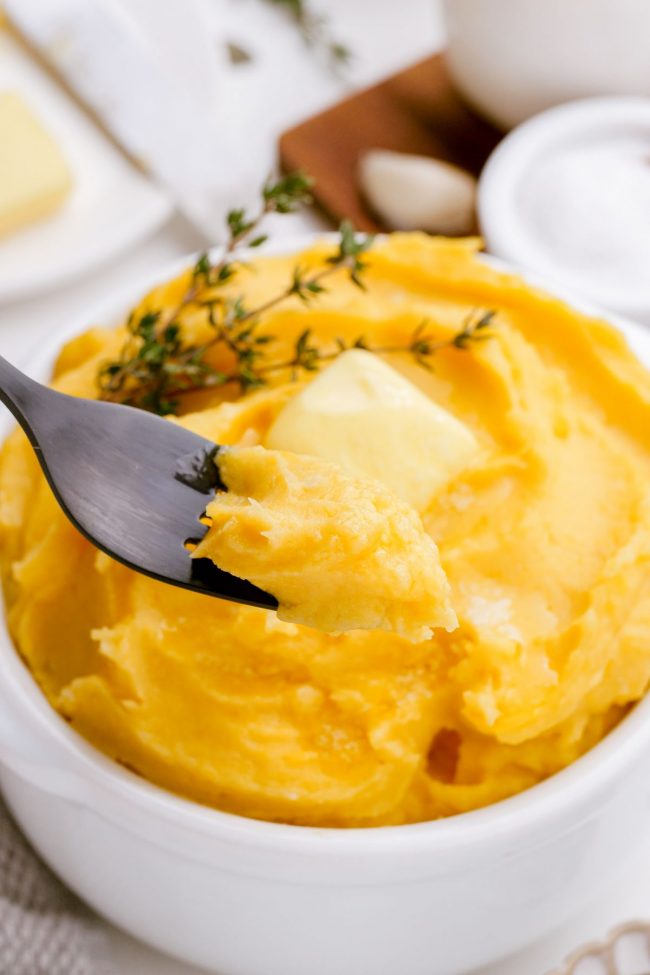 Can I reduce the amount of fat?
You can add less fat, taste, and add more if desired. I'm not a fan of reduced-fat recipes, but if you are, you might enjoy these potatoes with less fat.
How do I make these paleo/vegan/Whole30-friendly?
In place of the whipping cream, I use 3/4 cup cashew milk and 3/4 cup canned coconut milk. You get the richness and creaminess from the coconut milk and the cashew milk hides the coconut taste.
For the fat, I used refined coconut oil. If you use unrefined coconut oil, there might be some coconut taste, but I think all the garlic does a good job of covering up the taste.
If you're vegan but not paleo or Whole30, then you can use vegan butter in place of the butter.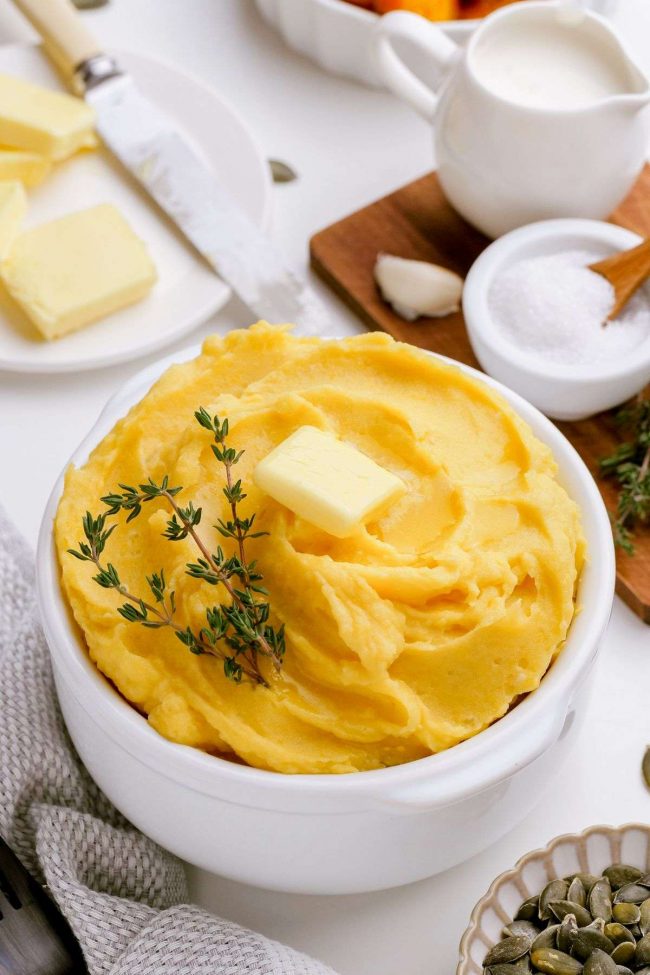 Other holiday side dishes:
If you're like me, I spend most of my time in the kitchen baking. 😉 I have no time to plan menus. So here are some quick side dishes that are easy to make and taste great.
Last but not least, the Crustless Pumpkin Pie! A pie can't get any easier and it's rich and full of pumpkin flavor. It's naturally gluten-free but can be made keto and paleo.
That's it! Thank you all for following along and may you have a wonderful Thanksgiving Day! I'm starting mine with this Apple Cider Mimosa Recipe. ;)
I would love to see your recreations! If you make this or any recipe on the site, I'd love to get some feedback. Just leave a comment below or snap a pic and tag #texanerin so I can be sure to find it!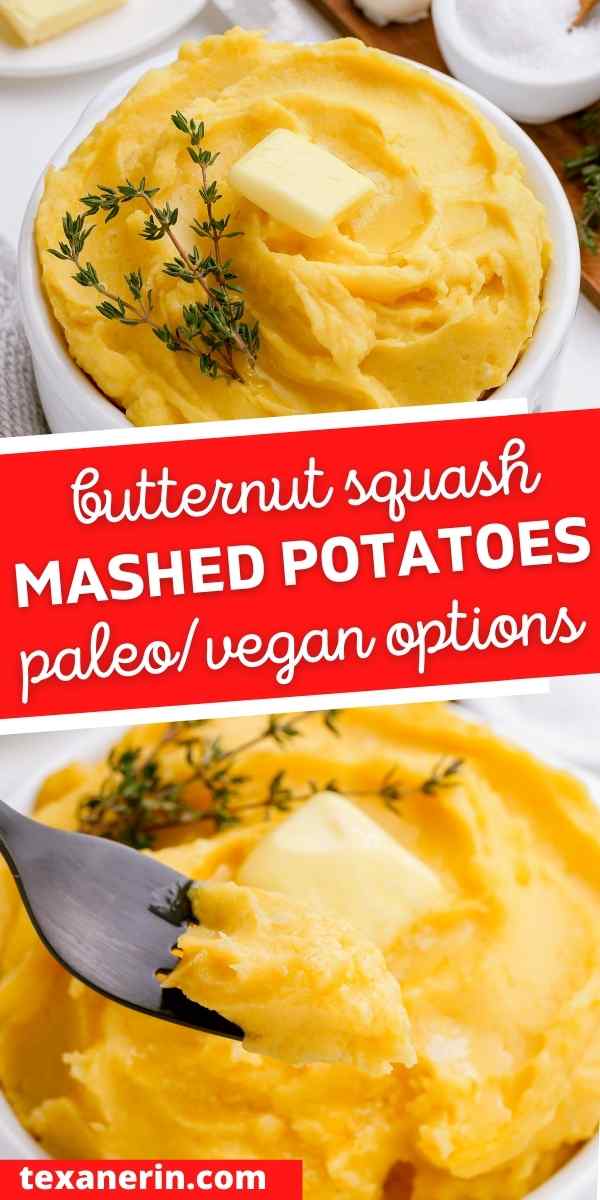 ❀
Squash Mashed Potatoes
Prep Time:
Cook Time:
Ready in:
Yield:

6-8 servings
Ingredients
4 pounds potatoes1 (this was 1,388 grams or 9 cups of peeled potatoes)
1 small butternut squash (2 to 2.5 pounds (907 grams-1133 grams)2
6 cloves of garlic (18 grams of peeled garlic), minced
1 tablespoon (14 grams) + 1/3 cup (75 grams) butter or coconut oil for paleo/vegan/Whole30
1 1/2 cups whipping cream OR 3/4 cup (177ml) cashew milk or 3/4 cup (177ml) canned full-fat coconut milk for paleo/vegan/Whole30
Directions
Place a steamer insert into a large pot that can fit all the potatoes and butternut. Add 1 inch (2.5cm) of water to the pot.
Scrub the potatoes clean, peel them and cut into about 1.5" chunks. Put them in a colander and rinse under cold water. Set aside.
Cut the stem and bottom part of the butternut squash off and then peel. Cut into about 1.5" (4cm) chunks. Set aside.
Bring the water to a boil and very carefully add the potatoes and butternut to the steaming basket. Cover the pot with a lid.
Turn the heat down to medium and steam for about 20-30 minutes or until tender. They should be fully cooked.
Once the potatoes are fully cooked, remove the steamer basket from the pot and drain the water from the pot. Give it a quick rinse and dry with a paper towel.
Add a tablespoon of butter to the pan and cook the garlic for a minute or two, over medium heat, until just starting to brown.
Put the potatoes back into the pot. With an electric hand mixer (turned off) or a potato masher, break up the large potato pieces first.
Add the remaining 1/3 cup butter (with a large spoon or silicone spatula) so that it coats the potatoes. It doesn't have to be perfectly mixed in - it just has to be melted and coat the potatoes.
Using an electric hand mixer, add half the cream, starting off on low so that the liquid doesn't fly everywhere.
Turn it up to high and beat until smooth and creamy.
Taste and add more salt, if needed.
Garnish with a dab of butter and a little sage. Best if served immediately, as with all mashed potatoes.
Refrigerate totally cooled leftovers in an airtight container for up to 4 days.
Notes
Yukon Gold is my first choice and Russets are my second choice.
My butternut squash was 2.5 lbs (1133 grams) with the peel and everything - once peeled and cut, it was about 2.2lbs (1kg) or a bit more than 6.5 cups.