This chocolate avocado smoothie is amazingly healthy, quick and simple, and outrageously creamy. And you won't even taste the avocado, it's all chocolate and banana! Naturally gluten-free with paleo and vegan options.
I love avocado smoothies, and this smoothie is at the top of my list. Avocados make any smoothie super rich, thick and creamy. Chocolate and avocado together make an indulgent treat.
But no worries because this luscious smoothie is actually good for you!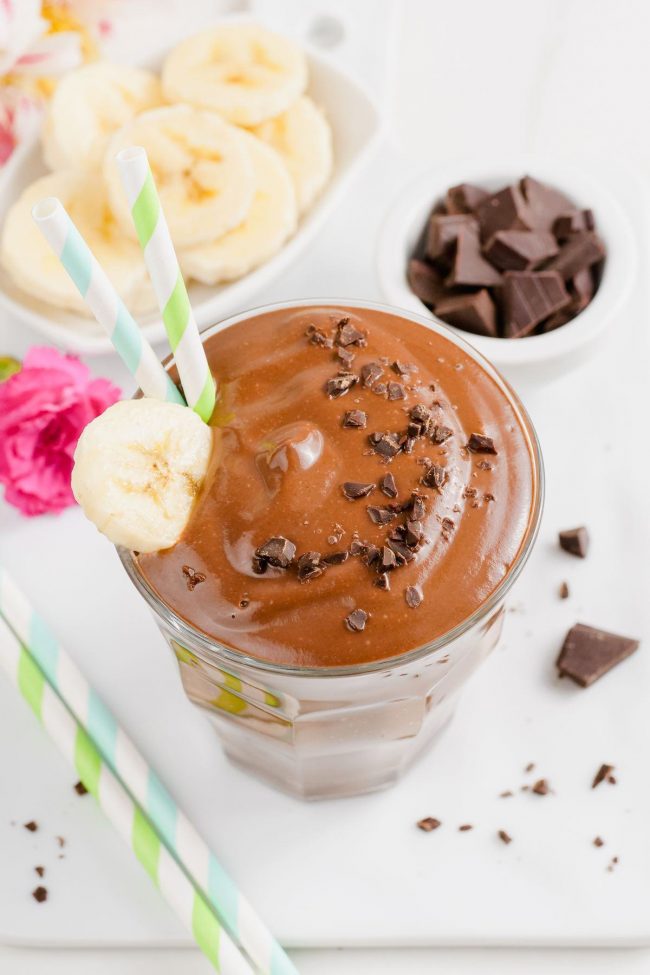 Ingredients:
Avocado
Cocoa powder
Banana
Greek yogurt or coconut yogurt for paleo and vegan options
Milk or non-dairy milk
Vanilla
Maple syrup or honey (for non-vegan)
By the way, if you need this smoothie to be gluten-free, check out Is Cocoa Powder Gluten-free? for more info on brands that are tested as and labeled gluten-free! You can also read specifically about Hershey's here → Is Hershey's Gluten-free?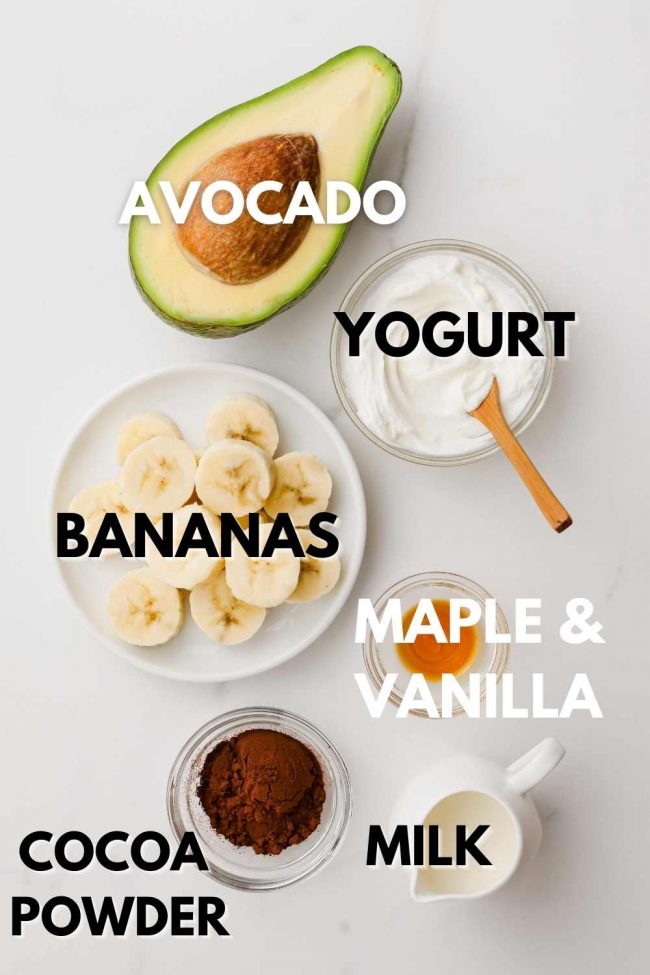 How to make:
It's super easy!
Just blend the ingredients until it's creamy.
Add a little milk if you want it thinner. Add sweetener, if desired.
Serve!
Tips:
As you blend, scrape down the sides of the blender to make sure all the ingredients are blended well.


Like your smoothies extra cold? Use frozen bananas. It takes a little prep, but it's worth it on those hot mornings. You can also freeze cubed avocado, so if you have some that are ripe that you're not using, just cut them into cubes and freeze them.


To make a smoothie bowl, top it with sliced fresh fruit and granola!


You can store this smoothie overnight in the fridge for a quick breakfast on the run. But don't forget about it because it will only last for a day.


If you want to make a couple of batches, you can put the smoothie into freezer-safe glass jars with airtight lids and store them in the freezer for up to 3 months. Just put one in the fridge to thaw overnight to thaw, stir and enjoy.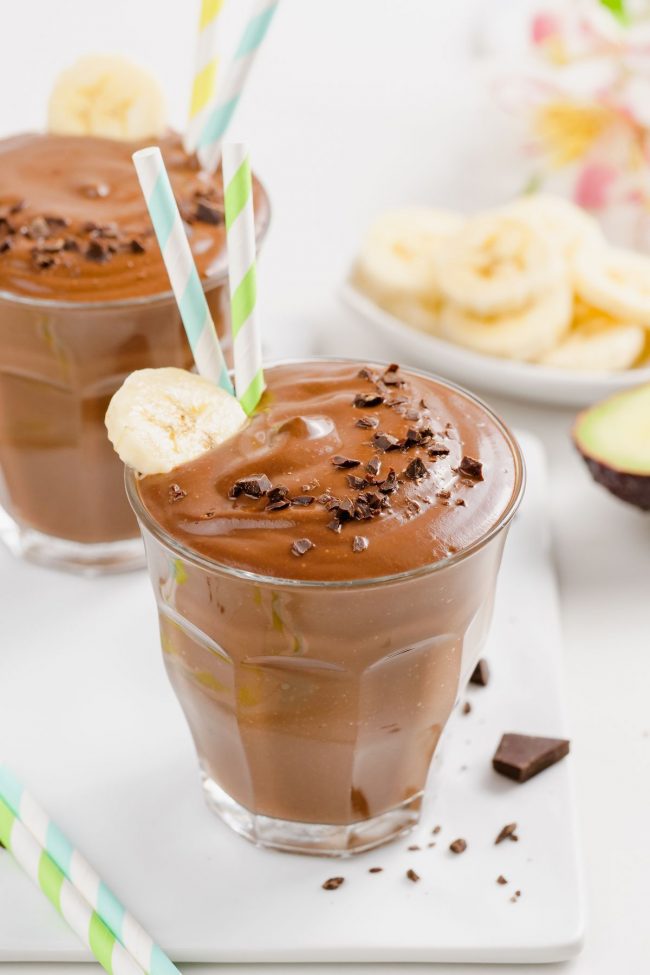 What milk alternatives can I use?
You can use any non-dairy milk you'd like. My favorites are cashew milk and then almond milk.
Soy milk and oat milk also work (for non-paleo). There might be slight differences in taste, so feel free to experiment and let me know which one you liked best.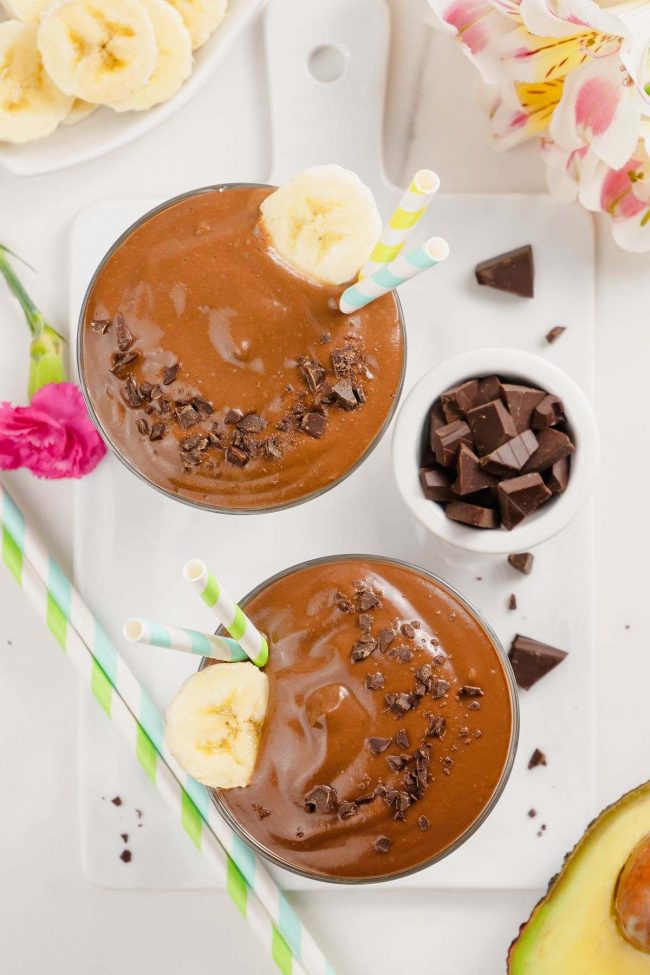 How to freeze bananas and avocados:
For this smoothie, I just put the banana and ripe avocado in the fridge overnight. It makes this smoothie cold and refreshing, but if you like smoothies extra cold and don't want to add ice (which would make it icy and watered down), then you can freeze the banana and avocado ahead of time.
How to freeze bananas:
Bananas are a staple for many, but no matter how much you eat them, there's always a couple that start to turn bad. But that's no problem because it means the banana will be extra sweet for this smoothie.
To freeze bananas, just peel and slice into little bites. Place the sliced banana pieces on a baking sheet lined with parchment paper. Don't overcrowd them or they'll stick together in a clump.
Put them in the freezer for about two hours. Once the bananas are frozen, transfer them into a resealable plastic bag and use them when needed. They can be stored in the freezer for up to 6 months.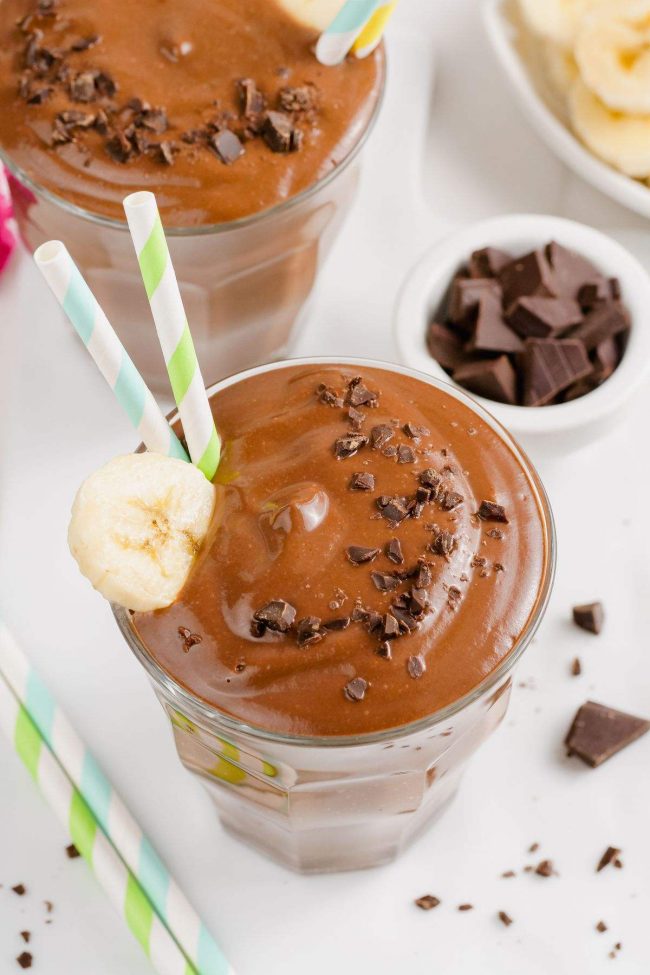 How to freeze avocados:
Avocados, too, tend to go from ripe to overripe within a day or two. When there's a sale on avocados, I buy what I can to have them for smoothies later.
To freeze avocados, just peel and dice into cubes. On a lined baking sheet, place the cubes on the sheet without overcrowding. Once they are frozen, transfer to a resealable plastic bag and store in the freezer for 4 to 6 months.
If you're looking for more information on avocados like how to choose them, cut them and store them, then check out my Ultimate Guide to Avocados. It has everything you need to know about avocados including all the healthy benefits.
Are you sure this smoothie isn't actually pudding?
No, not exactly. It verges on being a pudding because of its chocolaty creaminess and thickness. If you want to make a pudding instead just leave out the milk. That's what I did for this Healthy Mint Chocolate Pudding and the result is amazing!
If a non-avocado pudding is more your thing, try this super-rich Vegan Chocolate Pudding. It's easy and sweetened with either coconut sugar or maple, and it's also paleo.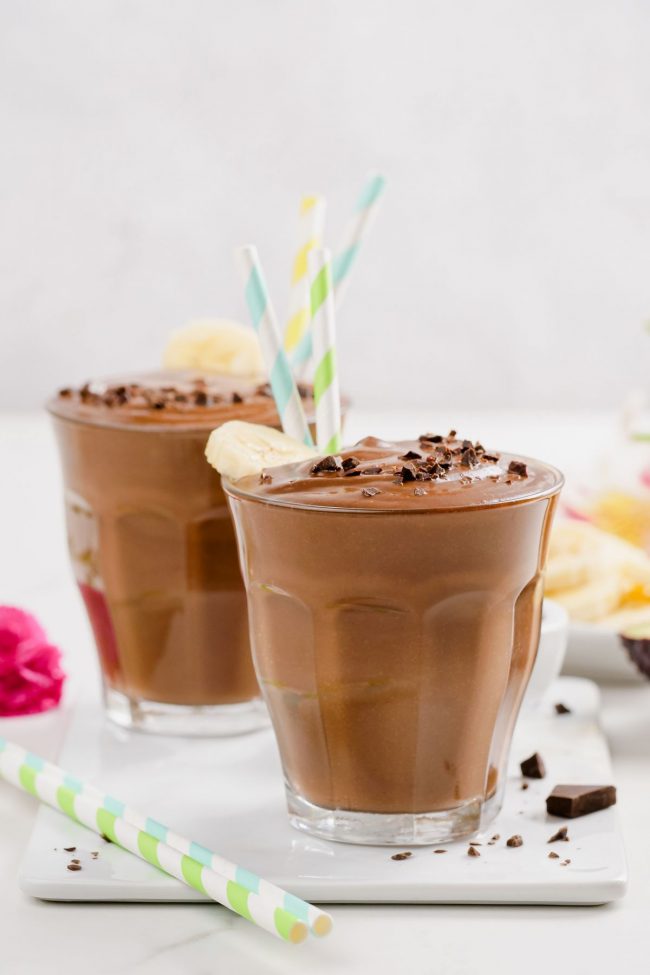 Other smoothie recipes:
It's hot out there, and one way to beat the heat is to start your day with a cool and refreshing treat.
Which one is your favorite?
If you try this chocolate avocado smoothie or any recipes you find here, I want to hear about it! Just tag your photos 📸#texanerin on Instagram, Facebook, and Twitter so I can easily find them. You can also find all my recipes on Pinterest, just hit the follow button. Enjoy!
Photos and text updated 7/2021. The recipe is still the same. Here's an old photo for reference.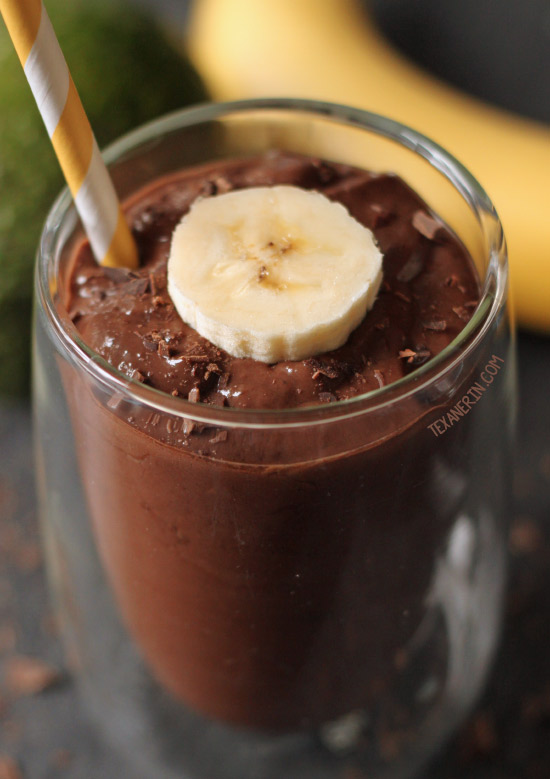 ❀
Chocolate Avocado Smoothie (paleo, vegan, dairy-free options)
Prep Time:
Cook Time:
Ready in:
Yield:

2 small smoothies
Ingredients
1/4 cup (60 grams) plain Greek yogurt or coconut yogurt for paleo/vegan (see below for more info)
1/4-1/2 cup (60-120ml) cashew milk or whatever milk you'd like
3 tablespoons cocoa powder (I like Dutch-process or Hershey's Special Dark)
1/2 teaspoon vanilla extract
pinch of salt
1/2 avocado (85 grams)
1 medium cold banana (about 120 grams without the peel)
2-3 tablespoons maple syrup, honey (for non-vegan) or another liquid sweetener, optional1
Directions
Put everything, everything for the sweetener, and starting with 1/4 cup of milk, into the blender (or food processor) in the order listed.
Blend until it's very creamy. Add more milk, if needed, until it's the desired thickness. Taste and add sweetener, if desired. I use 3 tablespoons of maple syrup.
Serve immediately or keep covered in the refrigerator for up to one day.
Notes
You could also add more banana instead of sweetener, but that will decrease the chocolate taste and make it more banana-y.
Coconut yogurt will yield a thick smoothie like you see in the photos but you could also use coconut milk for a thinner version. If using yogurt, make sure that it's compliant with your diet (so - no added junk for paleo).