This chocolate avocado smoothie is super healthy, quick, simple and ultra creamy! Doesn't taste a bit like avocados and can also be made as pudding. Naturally gluten-free with paleo, vegan and dairy-free options.
So for about 6 weeks, no matter where I went shopping, all I could find were rock hard, awful, turned-rotten-before-ripening avocados. As soon as the good ones returned, I just had to go and buy six of them.
A few days later and, "Oh… I have a lot of ripe avocados that need to be used immediately. Whoops." But it didn't turn out to be a problem because I just love throwing avocados into random things. It's an art form that I'm continually trying to master. ;)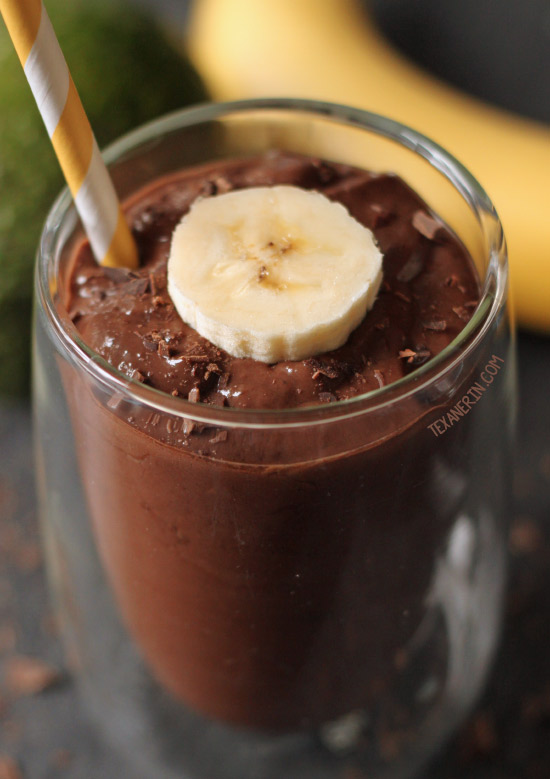 About a year ago, I was extremely dubious of this whole avocado in sweets thing. I thought those people eating avocado pudding were a bit daft, to put it quite nicely, but they had just seen the light before I had. Avocados in smoothies and desserts just works. If you haven't tried it, you definitely should!
This avocado banana orange smoothie is a great place to start! These healthier raspberry truffles, chocolate peanut butter pudding, and raspberry avocado smoothie are also great choices.
I've been making a lot of smoothies lately, and always with frozen berries. They're just so cheap and it's a quick way to get in a few servings of fruit. But I've started to get sick of them and that's why I just had to come up with something different. I wanted something chocolatey. And with banana. I am allergic to bananas but recently I've discovered that I can eat some and not others. It's incredibly odd. But I like this banana allergy rebellion thing. It's fun. :)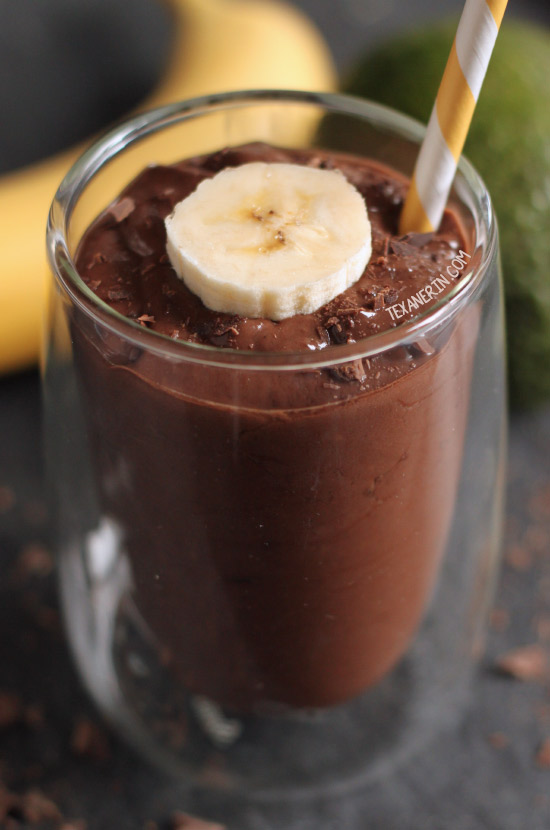 This chocolate avocado smoothie is almost on the verge of being pudding (I have another avocado pudding recipe you might like – this chocolate raspberry pudding). Actually, if you want pudding, just leave out the milk. And if you want this more liquidy like smoothies normally are, just add more milk and it'll be thinner.
I sometimes see smoothie recipes with ice called for, but I never use it in my smoothies because I don't like my smoothies icy. I like them like slightly runny yogurt. And creamy! This is super creamy with a banana and half an avocado in it. You can leave out the banana and have it just chocolate and avocado, but the problem with this is that you need a lot more added sugar to make up for the banana. Those suckers are just full of natural sweetness!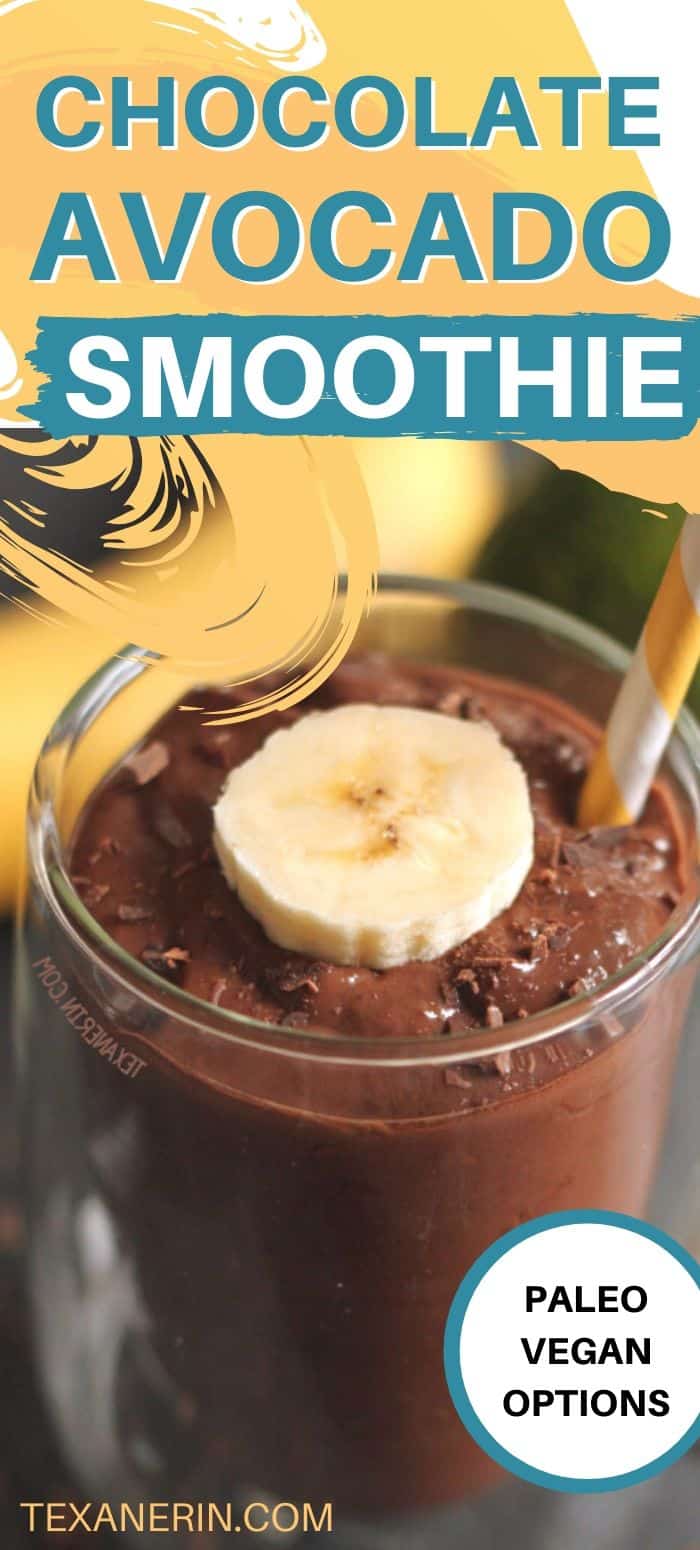 Oh, and you can't taste the avocado in this. It's all chocolate. And banana. I found it sweet enough without any added sweetener at all, but you can add honey or any other sweetener if you want. But the way the recipe is, I feel like I'm eating dessert when I'm actually eating something that's completely guilt-free and totally healthy. Yes, a chocolate milkshake is tastier, but for those times when you don't feel like consuming 500 calories and loads of sugar and unhealthy fat, there's this. :)
Don't have an avocado on hand? Try my chocolate cherry smoothie! This sunshine lemon smoothie from Wishes 'n Dishes sounds amazing as does this rise and shine smoothie from A Beautiful Plate.
❀
Chocolate Avocado Smoothie (paleo, vegan, dairy-free options)
Prep Time:
Cook Time:
Ready in:
Yield:

1 large smoothie
Ingredients
85 grams cold avocado flesh (~ 1/2 Hass avocado)
2 tablespoons Dutch-process cocoa powder
1 medium cold banana (mine was 120 grams without the peel)
1/4 cup plain Greek yogurt or coconut cream for the paleo / vegan option (see below for more options)
2-4 tablespoons milk, optional (for vegan, dairy-free, or paleo - use non-dairy milk)
1/2 teaspoon vanilla extract
Directions
Blend everything together in a food processor (or a blender if you have a very good one - mine requires too much liquid for a thick smoothie like this) until it's very creamy. Add more milk until it's the desired thickness.
Serve immediately or keep covered in the refrigerator for up to one day.
Notes
Coconut cream (from a can of refrigerated canned coconut milk) or coconut milk yogurt will yield a thick smoothie like you see but you could also use coconut milk for a thinner version.