These almond flour brownies are just as delicious as traditional gooey brownies but are made entirely with almond flour and can easily be made paleo and dairy-free. They're also super easy to make!
The same is also true of my almond flour banana muffins that I just posted. Definitely check those out after making these brownies. ;)
Together with my paleo chocolate chip cookies, my gluten-free brownies recipe have been one of my most popular recipes over the years. I have three different gluten-free flour options listed on that recipe (plus whole wheat flour for gluten-tolerating people) but readers wanted more.
So I came up with these coconut flour brownies (be sure to check out my favorite cookies, these coconut flour cookies, if you love coconut flour!).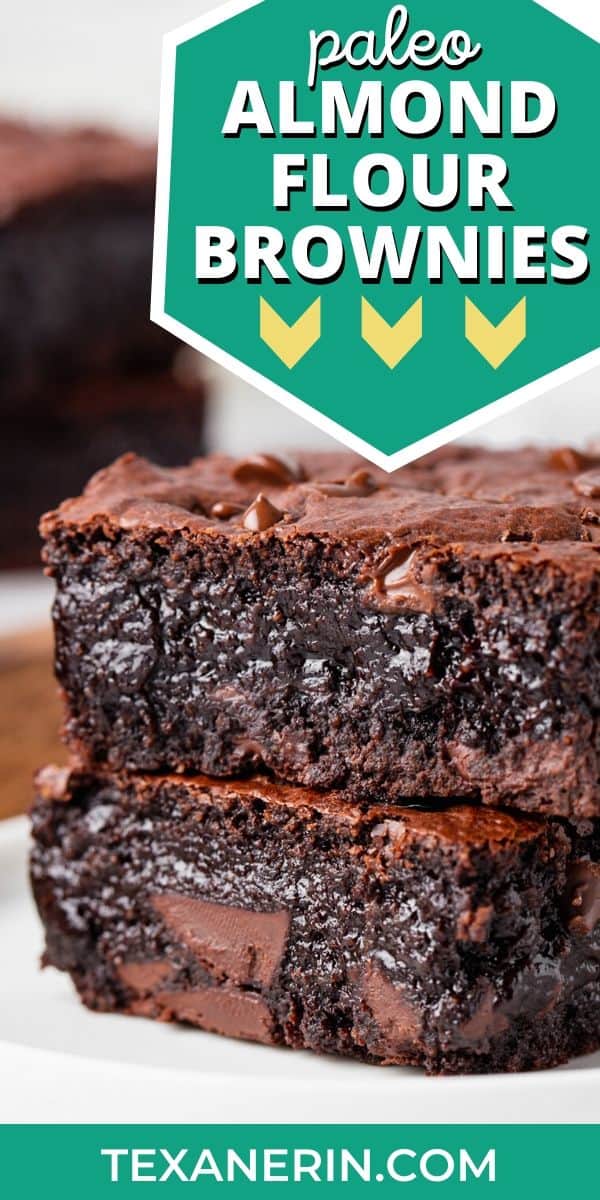 But that still wasn't enough. So here's another! Brownies with almond flour. And it's the last one. 5 flour options are enough! ;)
I think I've now got everyone covered, at least from the flour perspective – you can choose from plain gluten-free flour, whole grain gluten-free flours (buckwheat + teff), a grain-free + nut-free flour (coconut flour) and now a grain-free nut flour version.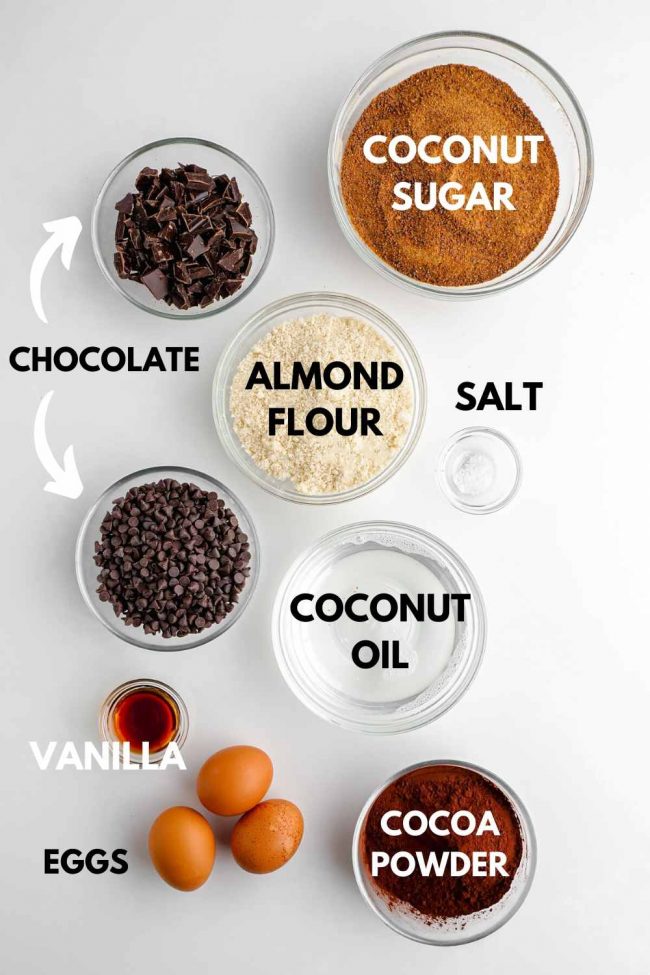 Which flour is the best?
If you're wondering which version to make, you can choose whichever one you have the flour for. They all taste the same and have the same texture.
If you've got them all, the coconut flour version is the cheapest. The original recipe, with teff, buckwheat or a GF 1:1 baking flour, is in the middle, and these almond flour brownies are the most expensive to make.
They call for 1 1/3 cups (133 grams) of almond flour so these brownies don't cost a fortune. They're definitely cheaper than some other healthy brownie recipes that call for a cup of almond butter, half a cup of maple syrup, and so on.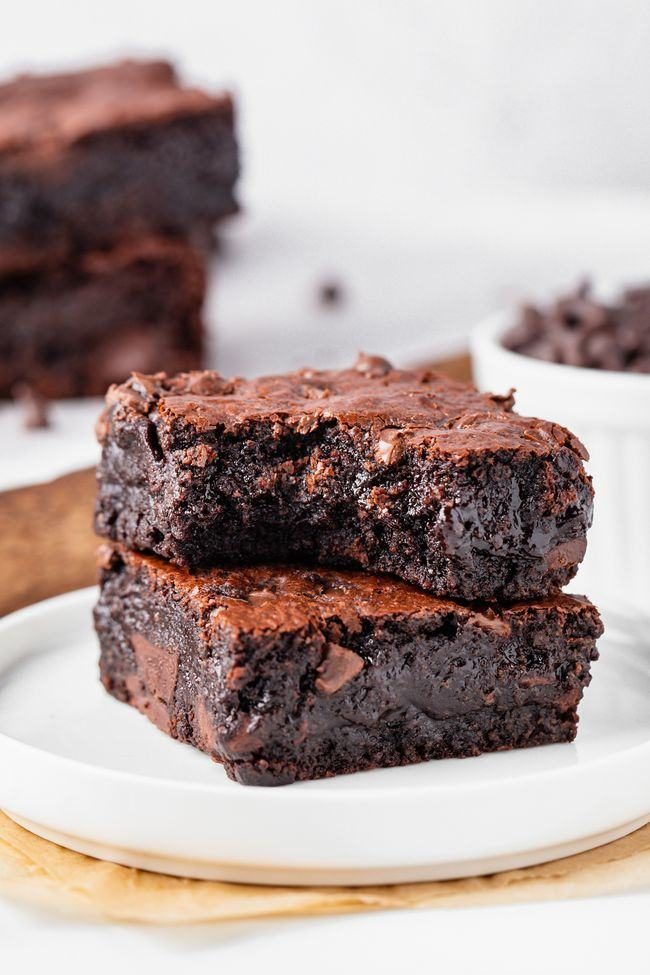 I have nothing against those brownies and am working on such a version myself. :)
Can I make these eggless?
I've tried egg replacers in the original version, the coconut flour version, and the below gluten-free brownies with almond flour. They're all disasters.
Flax eggs, chia eggs and powdered egg replacers haven't worked. The brownies were super oily.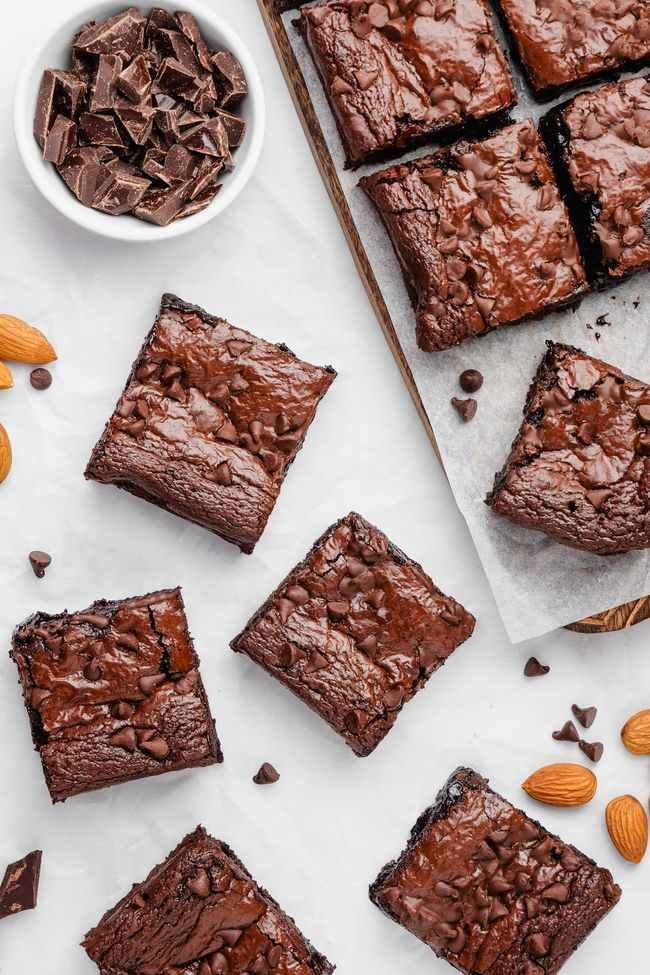 The recipe needed a lot of reworking, but I came up with a vegan version! Check it out here → paleo vegan brownies.
If you need a chocolaty vegan dessert recipe now, check out my kladdkaka (Swedish sticky chocolate cake), vegan chocolate cake, vegan chocolate ice cream or vegan chocolate cheesecake. All are either gluten-free or paleo!
I think that's it from me. I've answered questions about every single ingredient down below!
If you want more almond flour recipes, try my almond flour chocolate chip cookies that I posted recently or these amazing mini cheesecakes.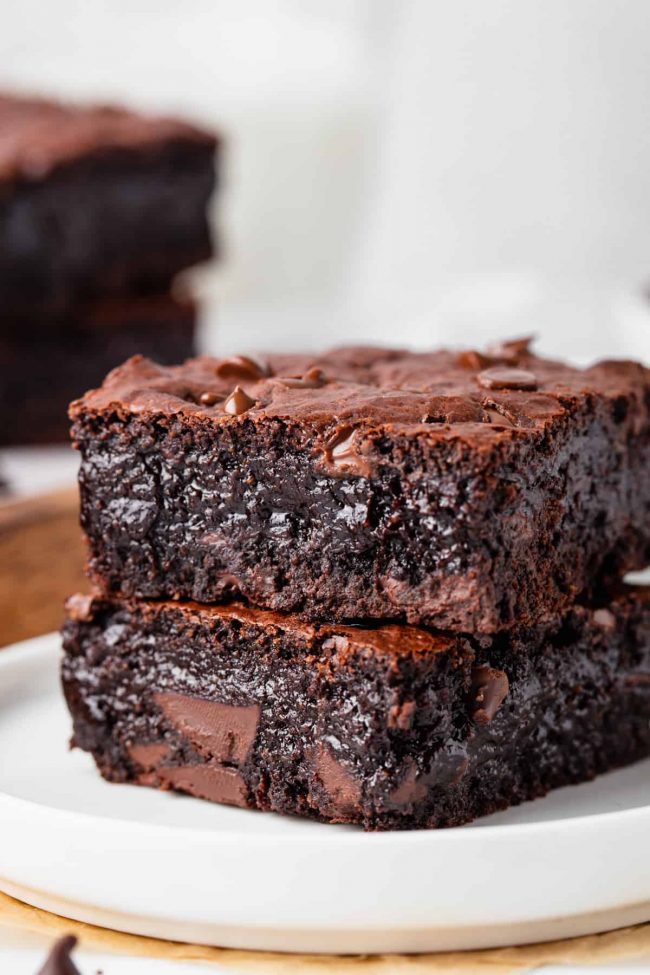 Other questions about these almond flour brownies?
Can I use something instead of almond flour?

Almond flour is only really interchangeable with other nut flours so cashew or hazelnut meal might work, but the texture likely wouldn't be exactly the same as the fat content of those flours are different.

I've never used almond meal in these but think it'd work fine.

Can I use homemade almond flour?

I don't recommend it. It's impossible to make it as fine as store-bought almond flour. If it's not finely ground, the brownies are likely to be greasy.

Do I have to use Dutch-process cocoa powder?

No, but they won't be as chocolaty and might be cakier. Or they could totally fail (but I don't think they would). The type of cocoa powder actually plays a big role in some recipes!

Are all cocoa powders gluten-free?

Cocoa powder is naturally gluten-free, but read Is Cocoa Powder Gluten-free? for more info on brands that are tested and labeled as gluten-free! You can also read specifically about Hershey's here → Is Hershey's Gluten-free?

Can I use something instead of coconut oil or butter?

Those are the only two I've tried. One commenter (thanks, Na!) said they used ghee with success. People have also said that they've used olive oil in the original version but I haven't tried it. You would use the same amount.

Do they taste like coconut?

Not if you use refined coconut oil. They taste 100% like regular, super gooey traditional brownies.

Can I use something instead of coconut sugar / granulated sugar?

Subbing in a liquid sweetener won't work. There's no liquid to reduce to make up for the added liquid, so it'd make the brownies cakey or possibly a liquidy mess. Other granulated sweeteners like maple sugar would probably work.

I have tried making these with keto sweeteners and the oil totally separated. And they were inedible. So I don't recommend experimenting! I hope to someday post a keto brownie recipe.

Can I reduce the sugar?

There's been a lot of talk about this on the original recipe. People saying that they reduce the sugar to basically nothing and they're still gooey. But that's not possible. Or we must have differing opinions of what gooey means. The less sugar you add, the cakier and less gooey they are. They might also not hold together as well because sugar is a binder.

You could probably knock off 1/4 cup of sugar but don't be surprised if they don't have the perfect texture you see in the photos.

What can I use instead of the eggs?

I've tried egg replacements so many times and failed. The recipe needed a bit of reworking to make it vegan but here it is → paleo vegan brownies

Do I have to use the chocolate chips?

Nope! They're sweet enough without. I just like them in my brownies. You could also top them off with my favorite paleo chocolate fudge frosting.

Can I double this brownie recipe?

Yes! Use a 9″x13″. I didn't write down the baking time but one reviewer (thanks Melissa!) has done it and said you need 37 minutes. Her daughter also doubled them and confirmed this. :D But all ovens are different so keep an eye on them!
If you try this almond flour brownie recipe, I'd love to hear how they come out!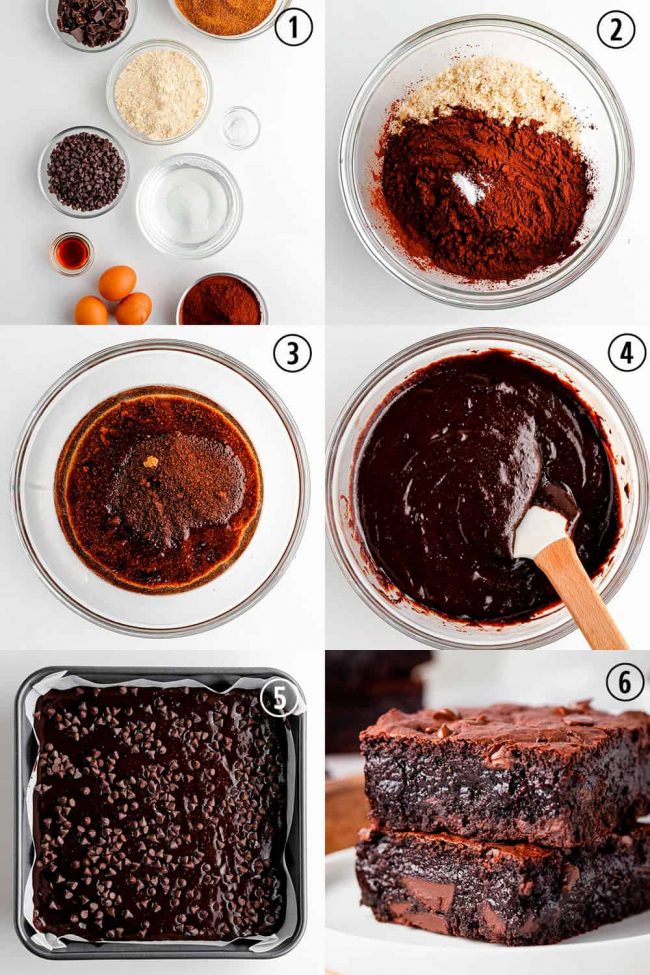 ❀
Almond Flour Brownies (paleo, gluten-free, dairy-free)
Prep Time:
Cook Time:
Ready in:
Yield:

16 brownies
Ingredients
1 1/3 cups (133 grams) finely ground blanched almond flour (this is called ground almonds in many countries)
3/4 cup (86 grams) Dutch-process cocoa powder, sifted if lumpy
1/4 teaspoon salt
3/4 cup + 2 tablespoons (196 grams) refined coconut oil, melted (you can use unrefined if you don't mind the coconut taste) or butter for a non-paleo version if you can have dairy
1 1/2 cups (300 grams) coconut sugar - it's best to weigh this! (granulated sugar for a non-paleo version)
1 tablespoon vanilla extract
3 large (50 grams each, out of shell) eggs, room temperature
3/4 cup (128 grams) chopped semi-sweet chocolate chunks or chocolate chips (make sure to use paleo chocolate, if needed)
1 cup mini chocolate chips on top
Directions
Preheat the oven to 350 °F (175 °C) and line an 8"×8" (20cmx20cm) pan with parchment paper.
In a medium mixing bowl, stir together the flour, cocoa powder, and salt. Set aside.
In a large mixing bowl, stir together the melted butter or coconut oil, sugar, and vanilla extract. Once combined, add the eggs one at a time, and stir just until combined (don't use a hand mixer like in the video!).
Add the dry mixture to the wet and stir just until almost no streaks of flour remain. Do not overmix! Fold in 3/4 cup (128 grams) chocolate chunks.
Pour the batter into the prepared pan and sprinkle the 1 cup mini chocolate chips on top.
Bake for 23 minutes. The brownies will puff up a little bit and may crack a little bit around the edges and the top will appear dry and crisp (not at all wet). When you remove it from the oven and tilt the pan, it may appear to move a little but shouldn't look super jiggly. A toothpick inserted into the center will come out wet. A toothpick inserted into the sides will come out with some moist crumbs on it, but not totally raw batter. The brownies will continue to bake as they sit in the pan and will firm up as they cool.
Let cool completely and cut into squares. Cover and store at room temperature for 3 days or refrigerate for 5 days. They get firmer and have a great texture from the fridge! They can also be frozen for up to 3 months.
Notes
There is no need to use a hand mixer like in the video! The videographer made a mistake with that but it didn't actually have an effect on these brownies - they were still super gooey. Normally with brownies, you don't ever want to use a mixer because overmixing leads to bad brownies. It didn't matter here because these are grain-free brownies and there's no gluten to overmix.
If you're very sensitive to gluten and unsure of what brand of chocolate chips are safe, check out → Are Chocolate Chips Gluten-free?