With so many of us dealing with school closings right now, I thought I'd try to contribute with some ideas to keep the kids busy and happy.
But cooking with kids isn't just a time-killer, it also helps prepare them for the future. There are so many reasons to teach kids to cook.
So here are some easy recipes for kids to make! A few can be made without any help at all but most require a little supervision, like turning on the microwave, standing there while they stir something at the stove, or cutting some fruits and veggies.
They're mostly healthy or healthyish recipes. No processed stuff here!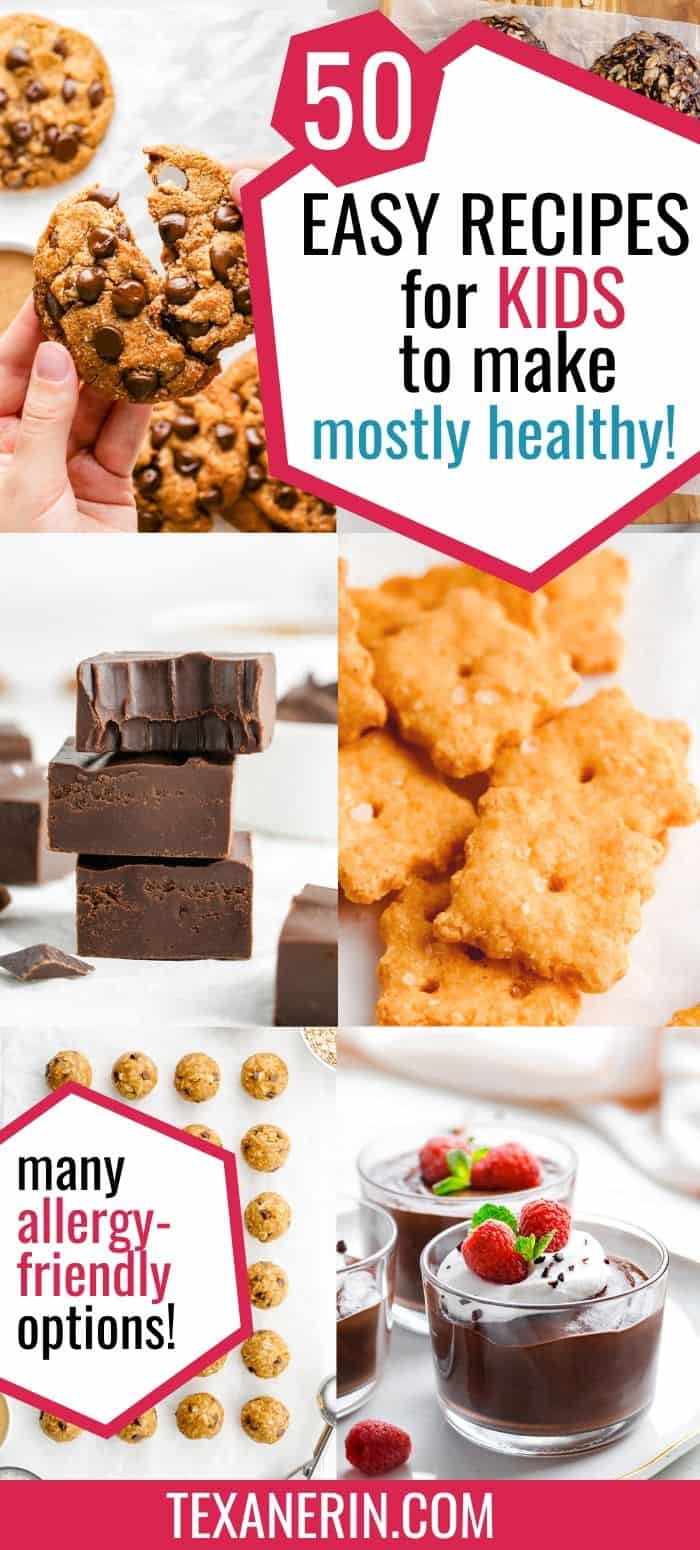 Kids can learn that making healthy recipes isn't just fun but can also be delicious, even without food coloring, junk food, etc. Now is the time to try to eat healthier to support our immune systems.
They're also all naturally gluten-free or really easy to make gluten-free, like by using gluten-free oats.
I've also marked which ones are pantry recipes. If you haven't already, I'd recommend stocking up on coconut milk, coconut oil, oats, almond and coconut flours, chocolate chips, cocoa powder, honey, maple syrup, vanilla and nut butters. There's so much you can do with just those ingredients!
Stay safe and enjoy the recipes! ♥♥♥♥♥
Recipes kids can make all on their own
There's really not many recipes in this section since cooking without a stove, knife or microwave is hard. Thank goodness for no-bake balls and cookies!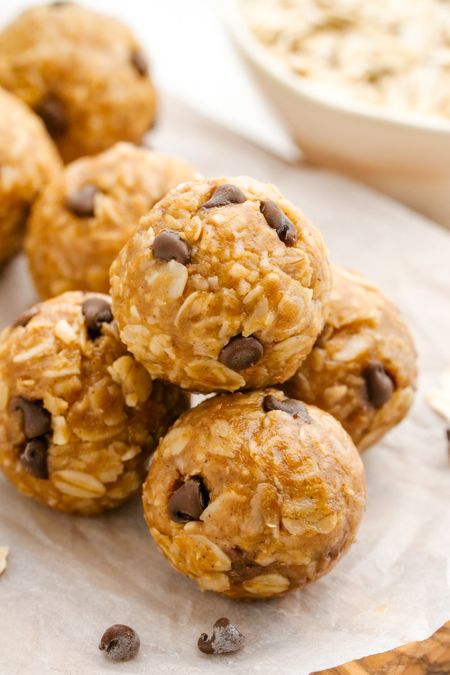 My peanut butter protein balls are a reader favorite and kids don't need any help to make them! Just measure, mix and roll into balls. (vegan / pantry recipe)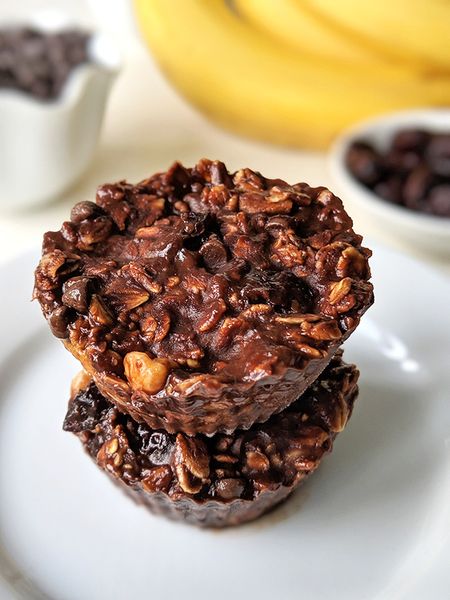 These banana granola bars from Food Doodles aren't regular granola bars, but I wasn't sure what else to call them. You mix everything together, put it in muffin liners, and freeze. No help from the adults needed! (vegan option)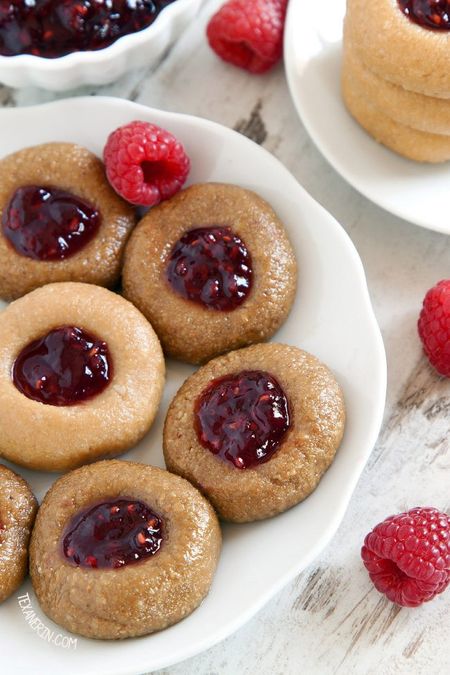 Kids can also make my no-bake PB&J cookies without any help. Just mix together the ingredients, form into cookie shape, and add some jam. (paleo, nut-free, vegan options / pantry recipe)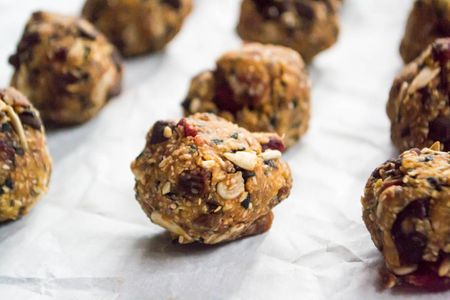 These healthy paleo no-bake granola bites from All The Nourishing Things are going to transform your snack attack! Made with only whole foods, no baking or cooking at all, and totally addicting! (gluten-free, nut-free options / pantry recipe)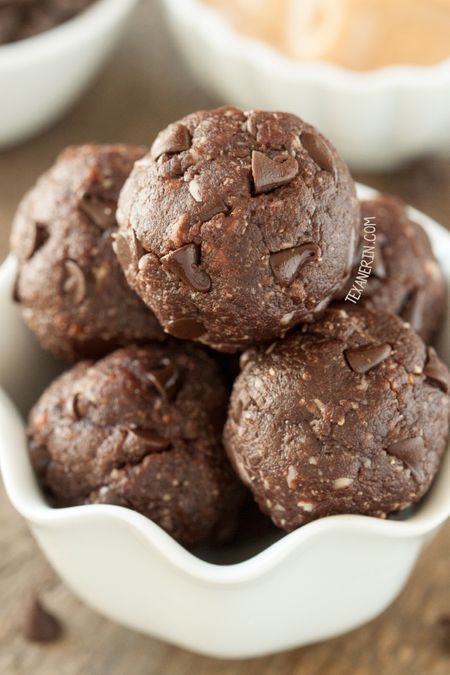 I've also got some protein balls for the paleo / grain-free kiddies! For paleo, use almond butter in these chocolate peanut butter protein balls, which use almond flour instead of the oats normally called for in energy balls. (paleo, vegan options / pantry recipe)
Recipes that require blending stuff together with a blender or food processor
Once you drag out the food processor or a blender, a whole new world opens up! As long as you trust them to not chop their fingers off / not let chocolate pudding explode all over the kitchen, they can make these alone, too.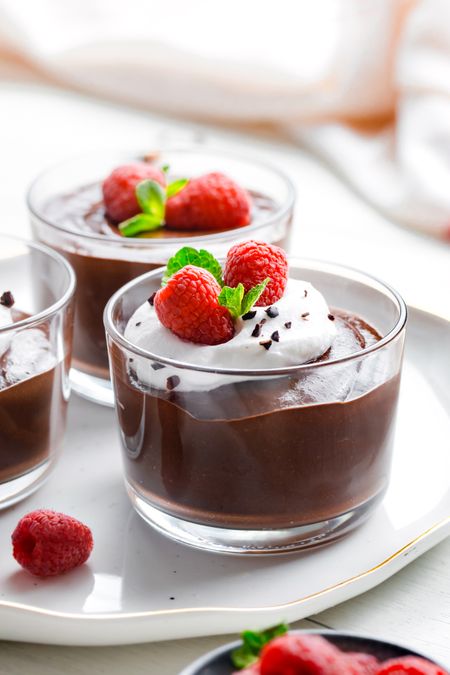 If you've got picky kids that might not like the weird texture of chia pudding, try my chocolate chia pudding, which is made completely in the blender and yields an amazingly creamy pudding. It's SO much better for you than a boxed mix, but it's still really delicious. (paleo, vegan, nut-free options / pantry recipe)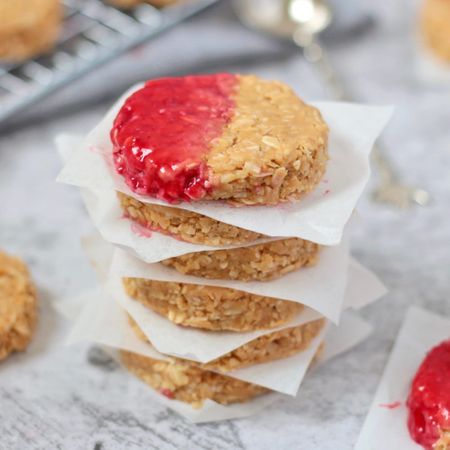 These healthy no-bake peanut butter cookies from A Baking Journey are made without refined sugar and are fun for kids to make! (vegan option / pantry recipe)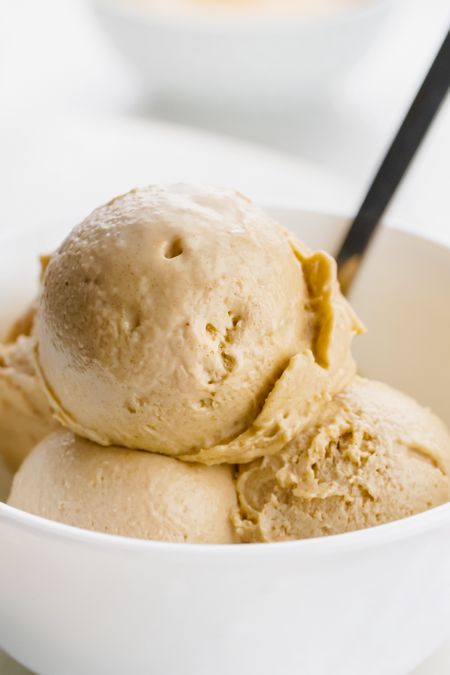 My 4-ingredient healthy peanut butter ice cream is even better than regular ice cream. At least I think so! And it's 100% date-sweetened. (paleo, vegan options / pantry recipe)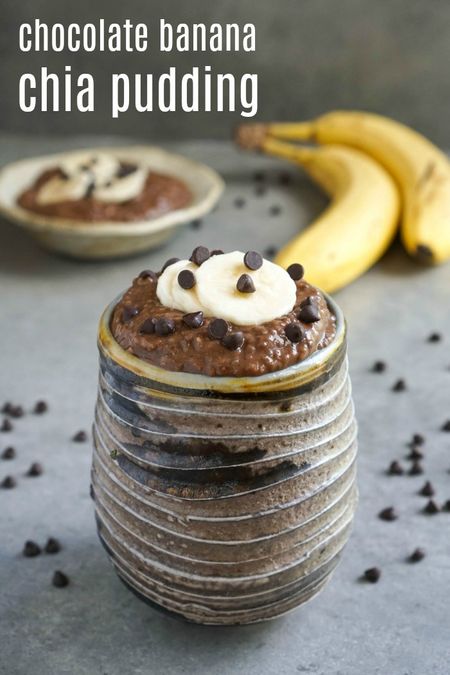 This chocolate banana chia pudding from Real Food Deals is a really easy recipe for kids to make and is mostly banana-sweetened (paleo, vegan, nut-free options)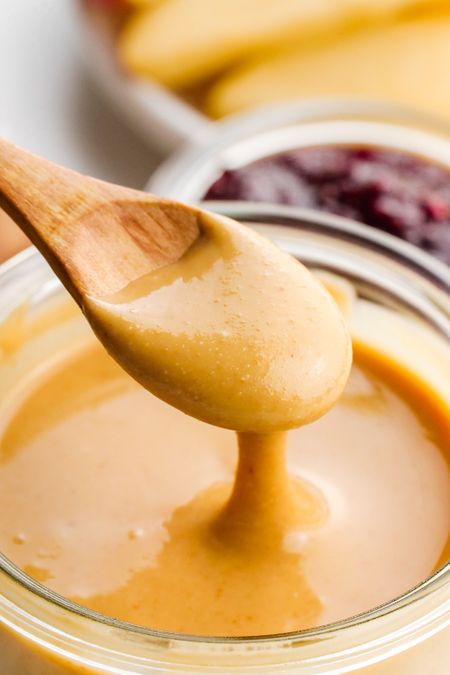 How to make Peanut Butter – this might seem like a strange idea, but I think it'd be fun for kids to watch the progression of the nuts breaking down. There are very clear different stages that the peanuts go through. And all they have to do is dump the peanuts in a food processor and let it go! (pantry recipe)
I've also got a post on how to make almond butter, but that one requires toasting the almonds first, so it's a little more time-consuming.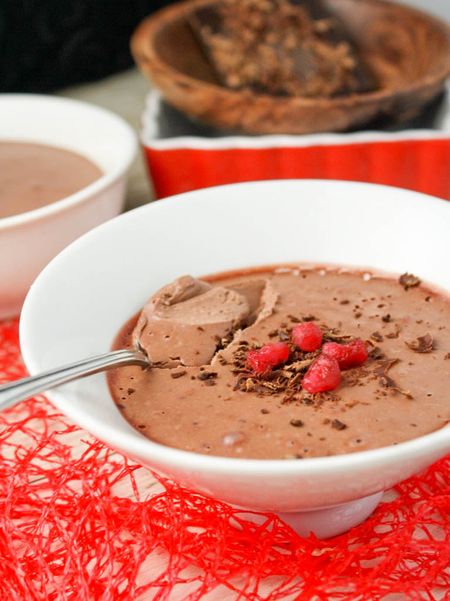 This ultra-creamy chocolate mousse from Tessa the Domestic Diva is made with all nourishing ingredients and is easy to whip together all in your blender! (paleo, for vegan use maple syrup instead of honey)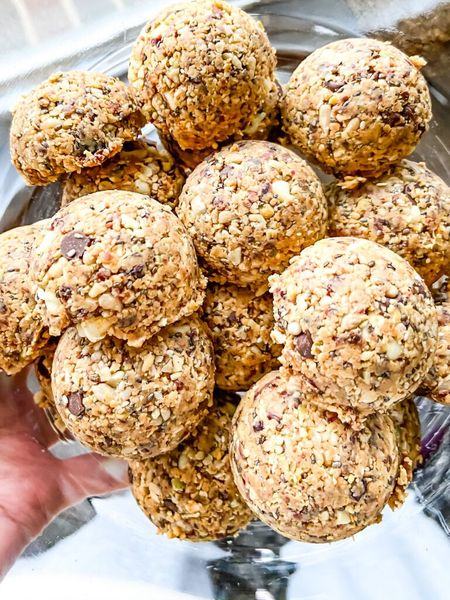 These oat bites from Four Organic Sisters are perfect for weekly meal prep and lunchboxes. You can pack in a ton of extra superfoods (like pumpkin seeds, flax seeds, and chia seeds.) These combine all your favorite trail mix fixins' in one cute little grab-and-go oat package. Easily customizable and a fun activity for kids to help with. (vegan option / pantry recipe)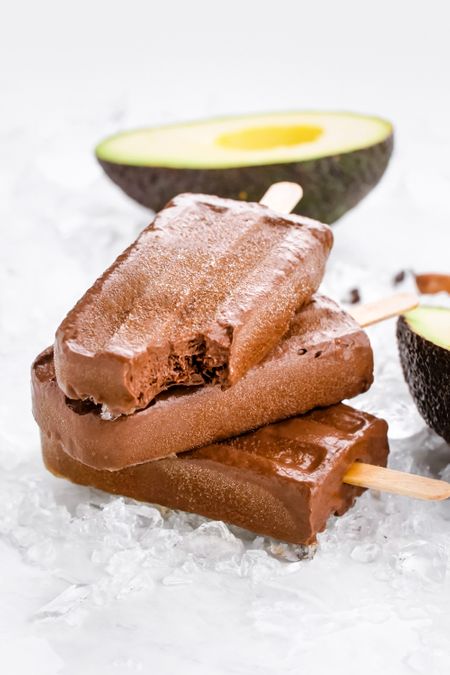 My healthy fudgesicles are so creamy, nutrient-dense and kids can just measure, dump and blend it all together before pouring into molds.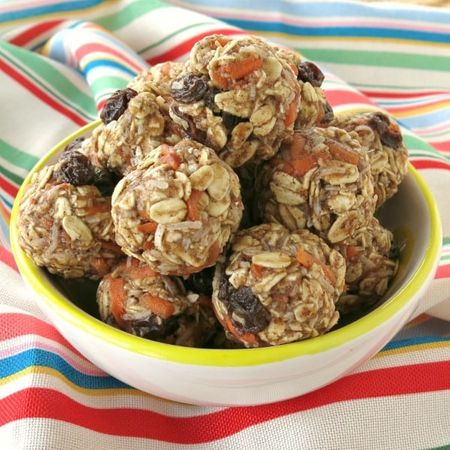 Aren't these carrot cake balls from Dinner Mom a great option for Easter? They're date-sweetened, too!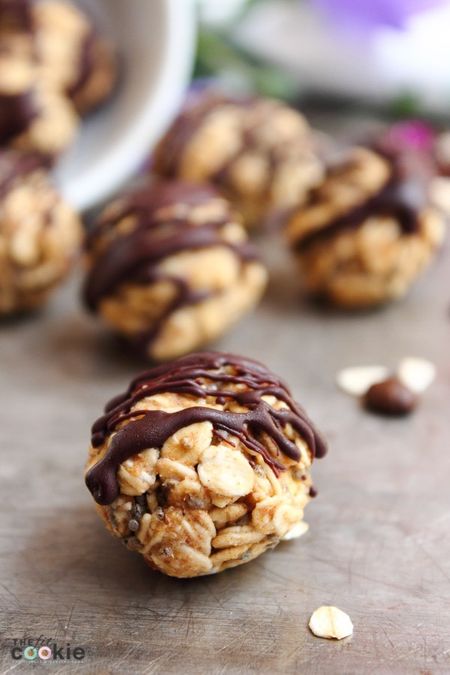 Satisfy your sweet tooth cravings the healthy way with these salted caramel chia energy bites from The Fit Cookie. (vegan option / pantry recipe)
Recipes that require cutting with a knife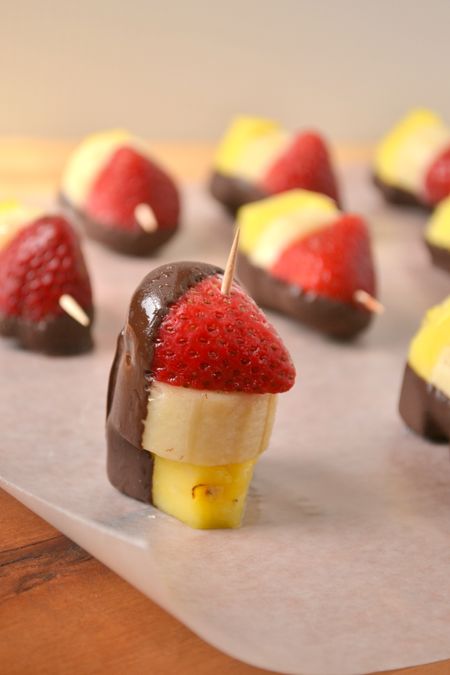 These chocolate-covered banana split bites are delicious and fun to put together. (paleo, vegan, nut-free options)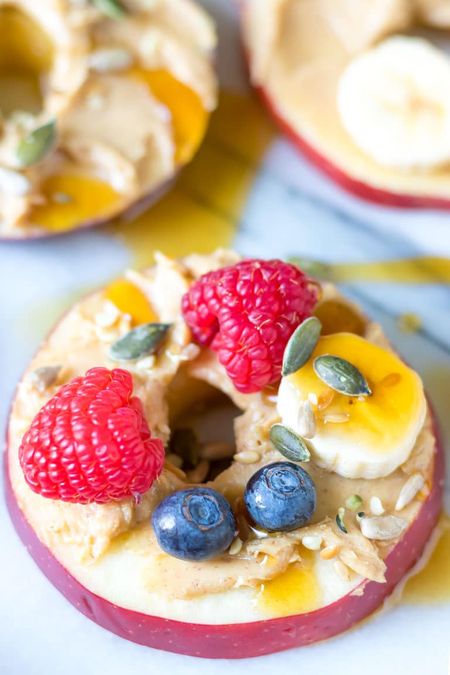 These apple pizzas from Veggie Desserts are a fun and tasty treat. They're a great healthy kids' recipe for breakfast, lunch, dessert or a snack. Endlessly customizable, this healthy snack for kids will definitely delight children.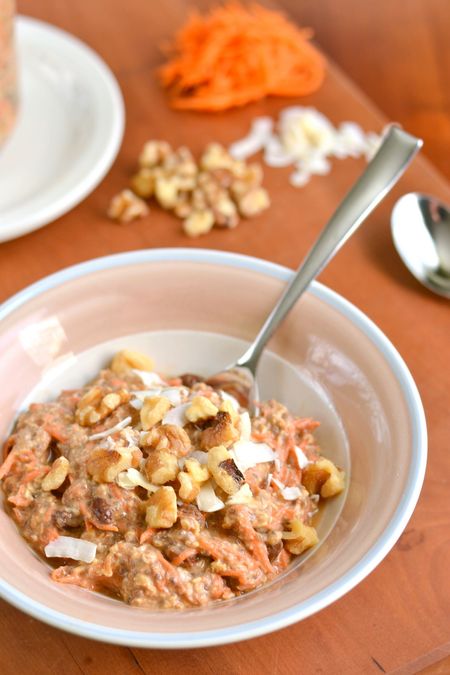 These carrot cake overnight oats from Food Doodles are filled with nutritious ingredients and can be made the night before. This way, you can make sure your kids have their breakfast made (and an actual healthy one!) and you can sleep in. 🤣 (vegan option)
Recipes that require melting stuff on the stovetop, but no real cooking: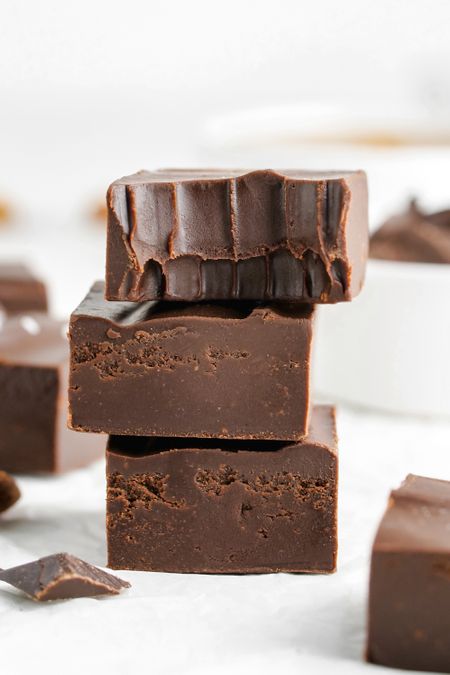 This vegan fudge couldn't be any easier. If you're not vegan, don't let the vegan part put you off. It uses coconut milk in place of sweetened condensed milk but it doesn't taste like coconut at all. It tastes 100% like normal fudge! A reviewer even said she prefers it over normal fudge.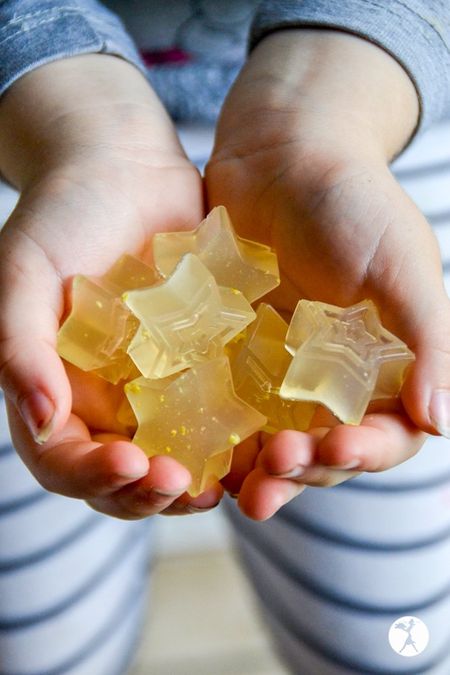 I've actually made these healing ginger lemon gummies from Raia's Recipes and they're really good! (paleo, nut-free options)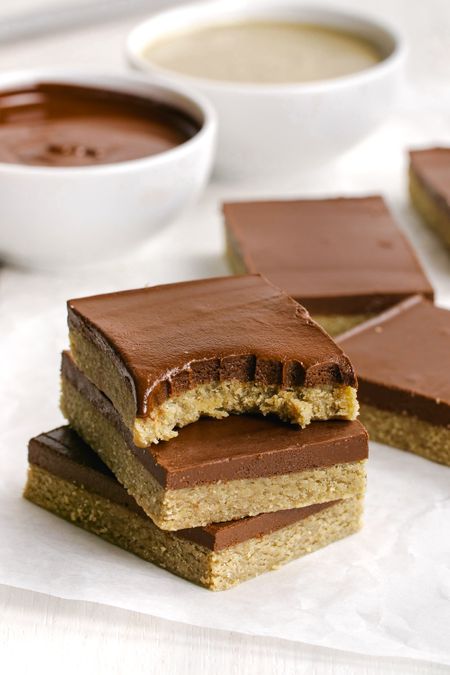 My paleo peanut butter bars are no-bake and kids can make them without any help (if they're able to melt chocolate on the stove / in the microwave). (paleo, nut-free, vegan options / pantry recipe)
I also have these healthy peanut butter balls that are like the above recipe, but a bit more time-consuming because you have to roll them into balls. (vegan / pantry recipe)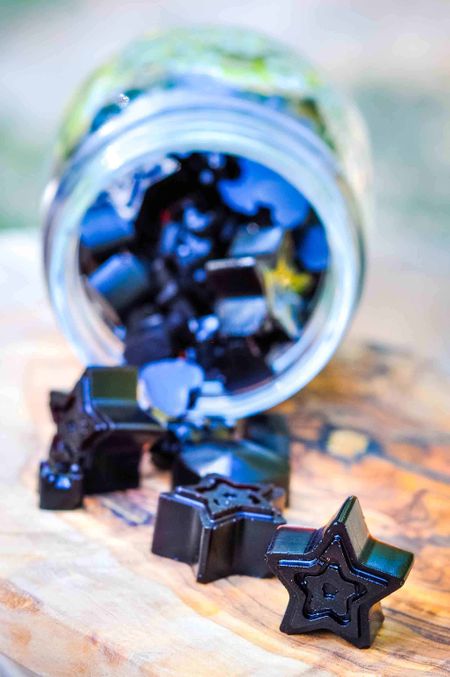 Protect your gut and boost your immune system with these elderberry gummies from Healthy Christian Home! (paleo )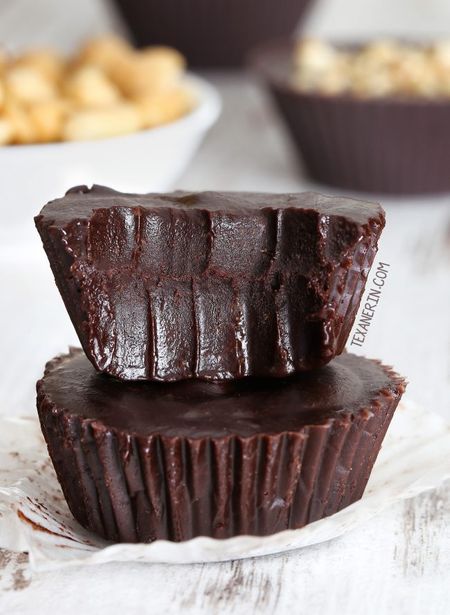 For my chocolate peanut butter fudge, you just mix everything together in a pot until melted. Then you pour it into a little pan, molds, mini muffin liners, whatever. (paleo, vegan, nut-free options / pantry recipe)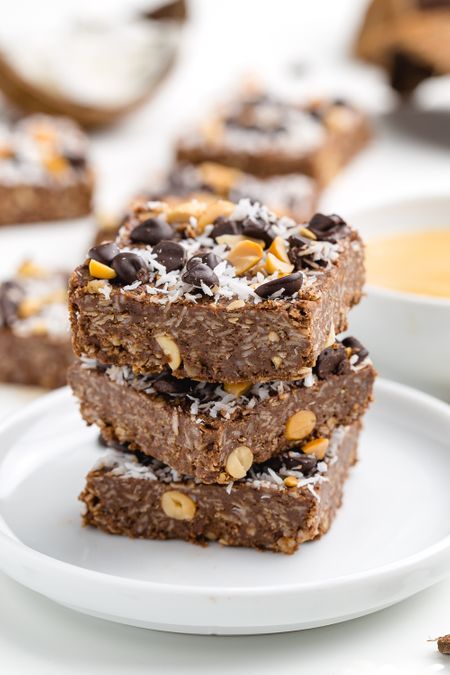 My peanut butter oatmeal bars are like candy bars, stuffed with coconut and oats to make them a little more healthy than just pure chocolate. They're fun to decorate, too! (vegan / pantry recipe)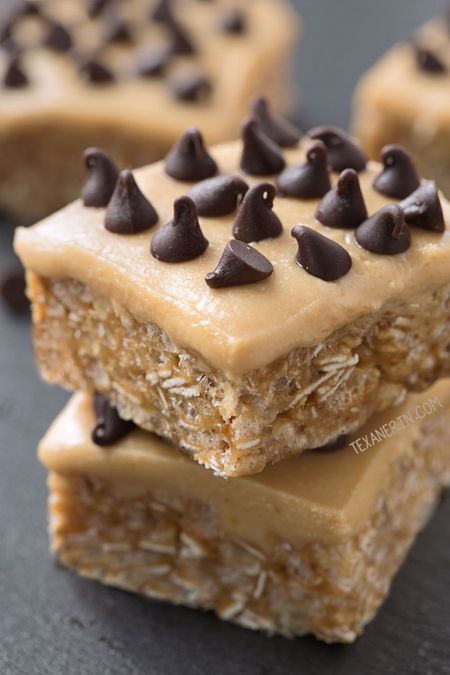 My peanut butter coconut rice krispie treats may not sound all that enticing but peanut butter + coconut butter is an amazing combination! (vegan option / pantry recipe)
The recipe does call for coconut butter, which I know some of you don't have sitting around but I have a solution. Make this homemade coconut butter! You just need shredded coconut for that.
Recipes that require some stovetop action: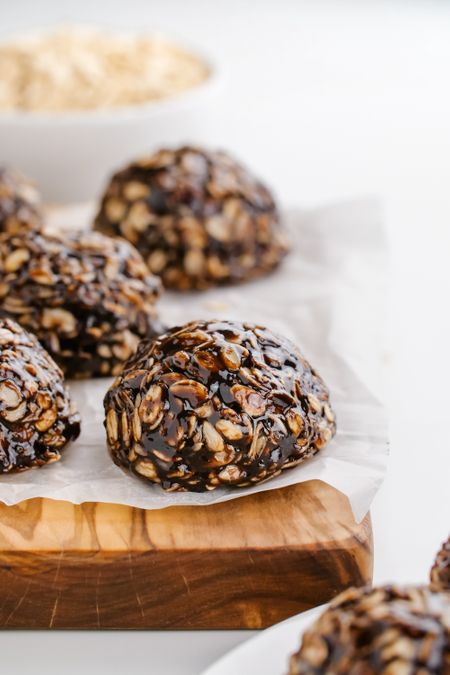 My no-bake chocolate oatmeal cookies are seriously SO delicious, easy and quick. (vegan option / pantry recipe)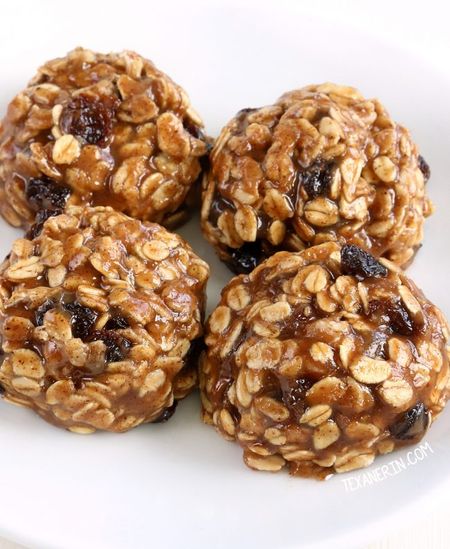 Same is true of my no-bake oatmeal cookies. These are one of our family's favorites! (vegan option / pantry recipe)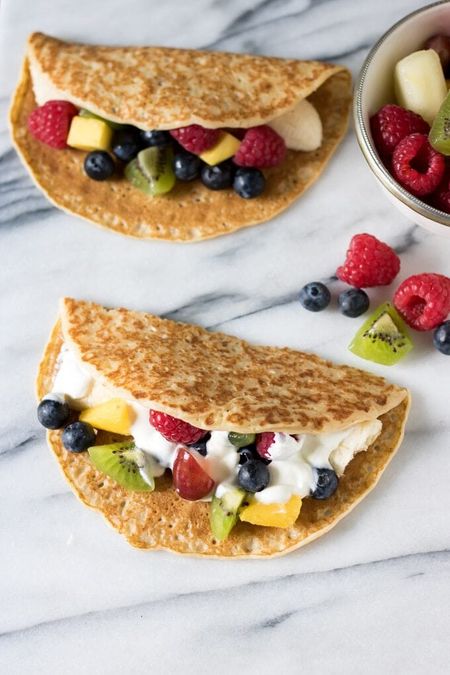 Fruit tacos from Veggie Desserts are a fun and healthy dessert for kids to make. The fruit-filled crepes are quick, easy and endlessly customizable. Just use a gluten-free 1:1 baking mix in place of the flour for a gluten-free option. I'm pretty sure it'd work. Or use any crepe base!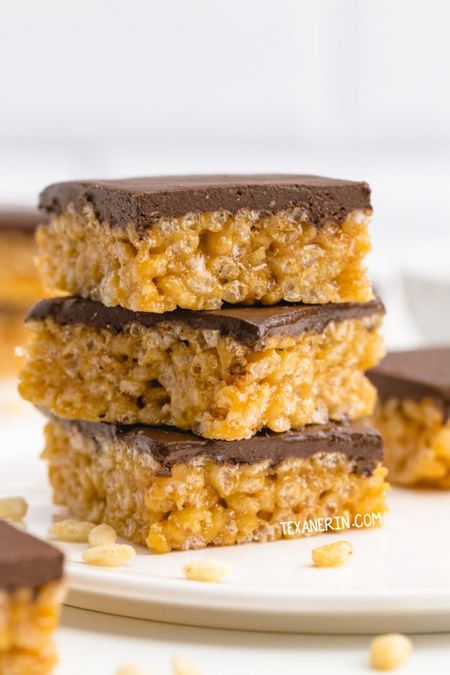 My healthy peanut butter rice krispie treats use only whole ingredients and are super delicious. Sunflower seed butter can also be used! (vegan, nut-free options / pantry recipe)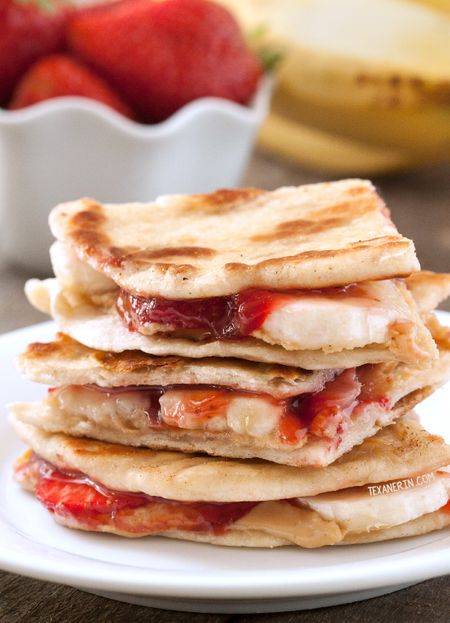 When PBJs get boring, try these strawberry banana quesadillas for a quick and fun little snack!
Baking projects that require more effort but would be fun for little ones to help with!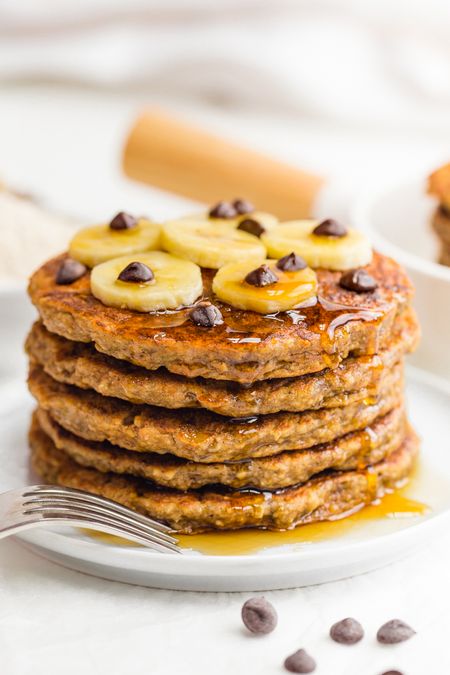 I make these banana pancakes all the time. We have a constant supply in our freezer! They use ground up oats (oat flour) and taste like banana bread in pancake form. (nut-free, vegan option)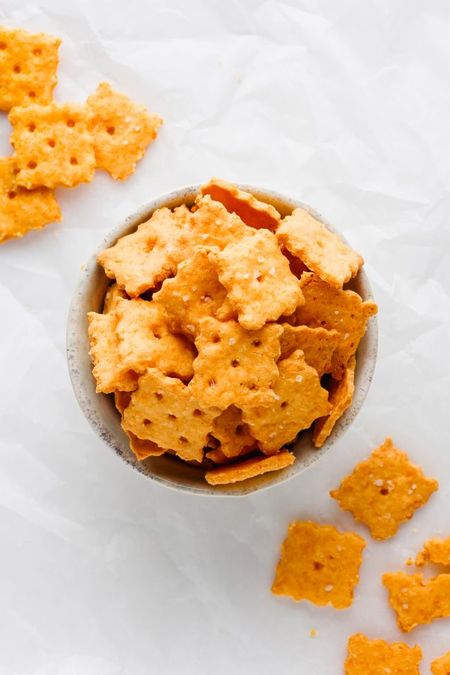 Kids will love making their own homemade Cheez-its! You can make squares, poke holes or even use cookie cutters. My favorite recipe is these keto cheese crackers. I also have these whole wheat cheese crackers if you don't need them to be gluten-free / grain-free.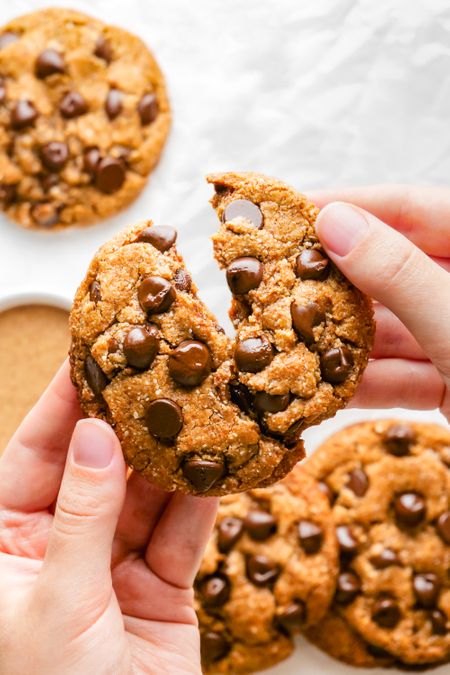 My paleo chocolate chip cookies are my most popular recipe. I've had commenters who aren't even gluten-free say that they're the best chocolate chip cookies ever. (paleo, vegan, keto options / pantry recipe if you use a chia egg)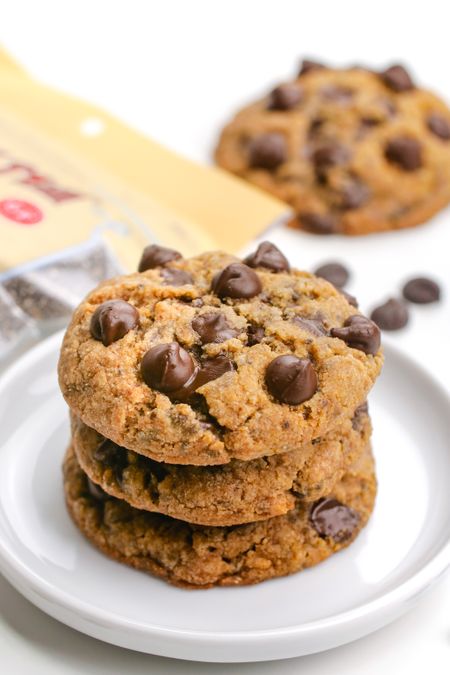 These vegan peanut butter cookies are another kid classic! I've never had a peanut butter cookie that's more peanut buttery. (paleo, vegan, keto options / pantry recipe)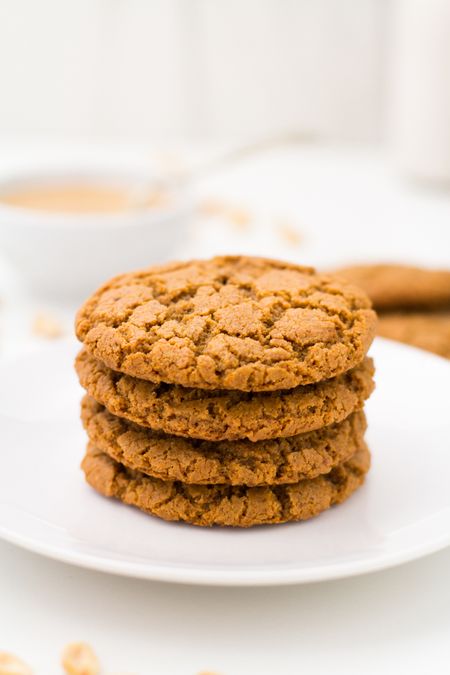 That above recipe isn't hard to make but my gluten-free peanut butter cookies are even easier. They're an improved version of those really popular 3-ingredient peanut butter cookies!
Main dishes / snacks: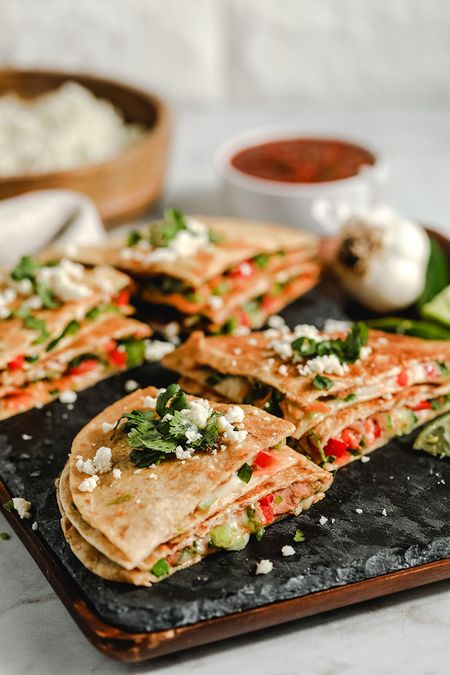 These veggie quesadillas from Food Doodles are another kid favorite. They'd make a great lunch!
Keep kids busy with this easy and delicious easy calzones recipe from Natural Deets! Use dairy-free cheese / gluten-free pizza dough for making it allergy-friendly.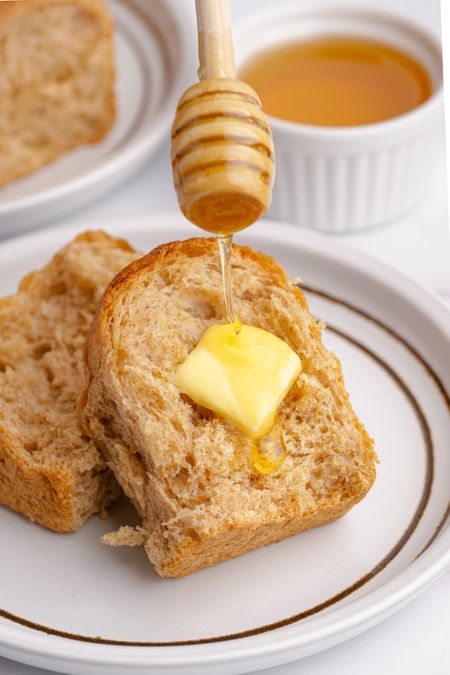 These whole wheat rolls are a fun project and the result is the most amazing whole wheat dinner rolls that stay soft for days. Make a batch of these and you'll have leftovers for sandwiches, hamburgers, etc.
I don't have a gluten-free version of those but I'm working on one!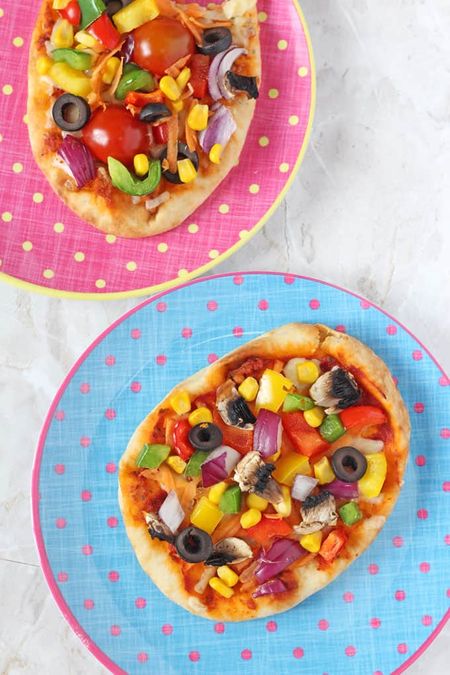 Pizza's always fun! For a shortcut, try these pita bread pizzas from My Fussy Eater. They're easy to make with gluten-free, whole wheat, whatever-kind-of pita bread fits your diet.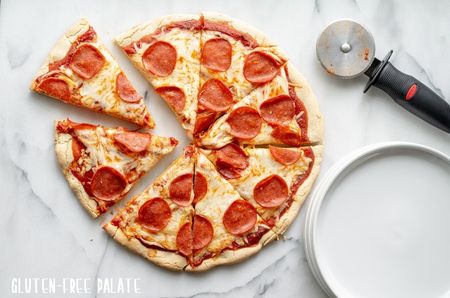 For a homemade version, check out this gluten-free pizza from Gluten-free Palate, paleo pizza crust from My Natural Family, or whole wheat pizza.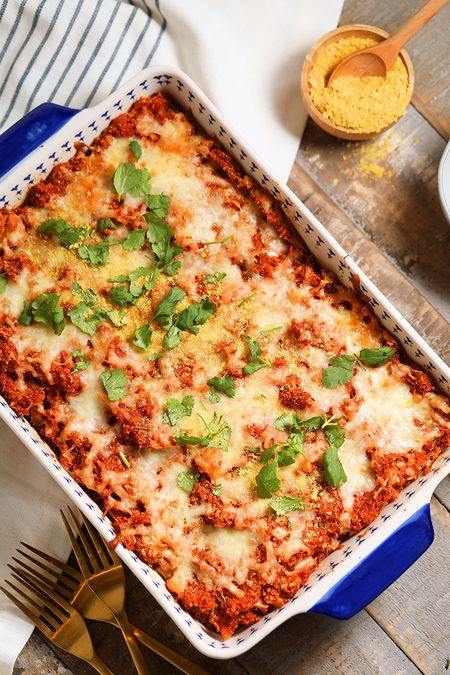 Or for a super healthy take on pizza, try this quinoa pizza casserole. (vegan option)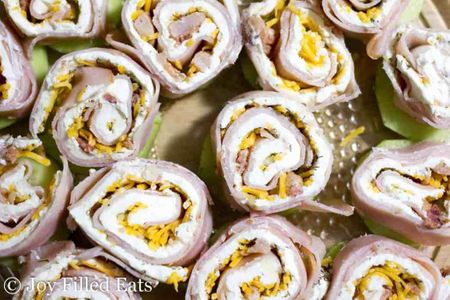 These turkey bacon ranch pinwheels from Joy Filled Eats are a crowd-pleasing, five-minute prep snack or appetizer. They have a lot of flavor with only a little bit of effort. (gluten-free, nut-free)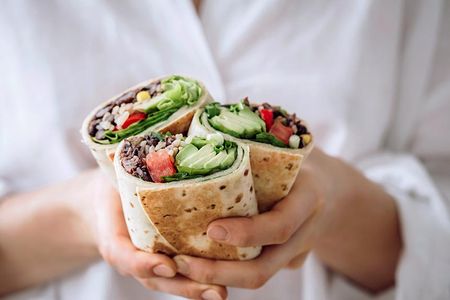 This healthy Mexican veggie burrito from Nutriciously is perfect for meal prep or a to-go lunch. Easily customizable, this kid-friendly, wholesome comfort meal is so filling, rich in fiber and a true family favorite.
Drinks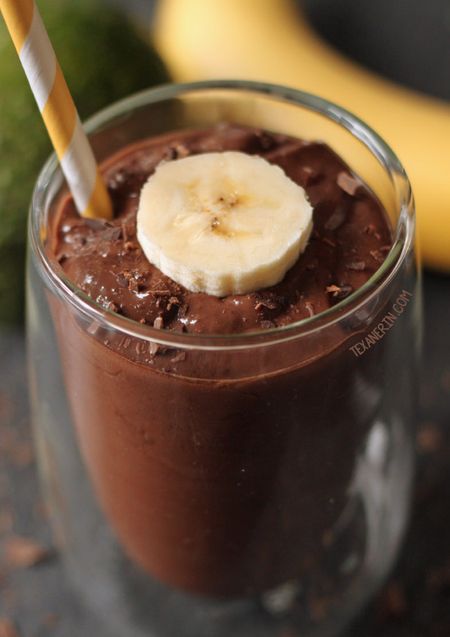 My chocolate avocado smoothie has lots of healthy fats, is super healthy and… it's chocolate! Kids will love it. You can also put it in a bowl and call it pudding because it really is thick. (paleo, vegan options)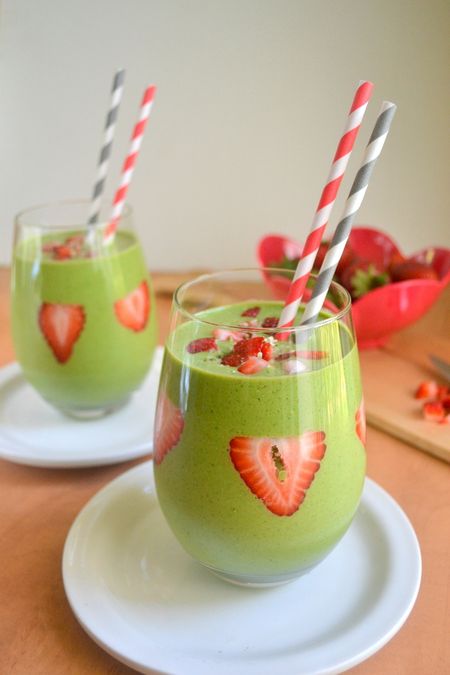 This strawberry green smoothie from Food Doodles is a fun way to get in some veggies. (paleo, vegan options)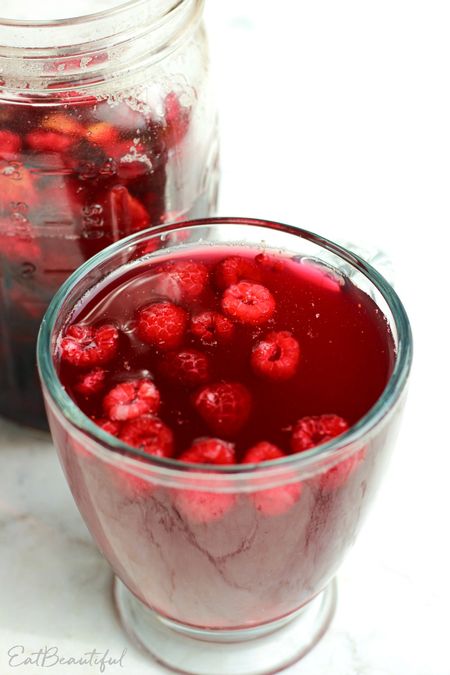 Don't be scared by the beets, because raspberries and maple syrup make this a kid-friendly and super delicious probiotic drink! This raspberry beet kvass from Eat Beautiful is easy-peasy to make, and empowering too. :) (paleo, vegan options)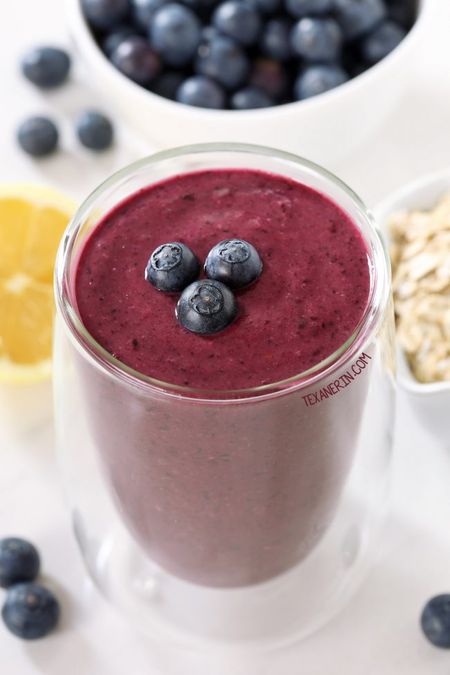 My paleo blueberry smoothie is a quick and easy recipe. For a non-paleo version, you can add some oats to make it a little more filling. Frozen blueberries work great! (paleo, vegan options)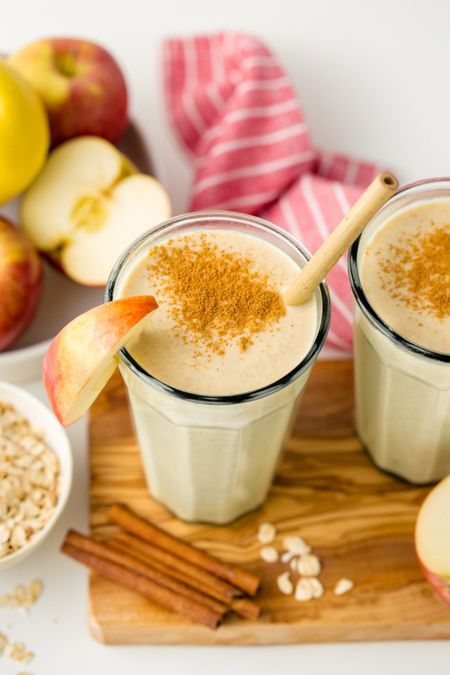 We've stocked up on a lot of apples as we're out of freezer and fridge space. I'm sure we'll be making my apple pie smoothie should we get bored of plain apples! (paleo, vegan options)