These peanut butter no-bake cookies only take a few minutes to put together and are naturally gluten-free, vegan, dairy-free, and 100% whole grain!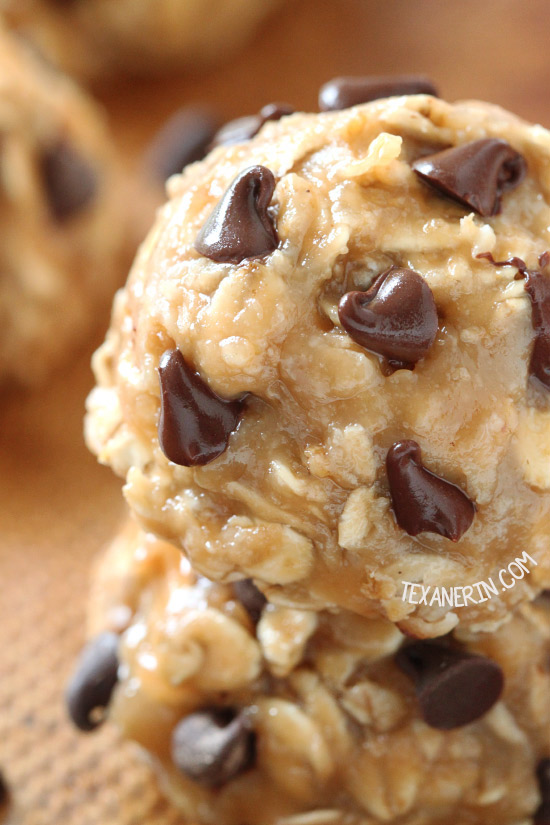 Is it already warm in your neck of the woods? We've had about 2-3 warm days this year and it's typically in the 50s or 60s. It's June and I still have to wear a jacket. I'm guessing that's not the case for most of you so I've prepared lots of no-bake treats for the upcoming few months, starting with these no-bake peanut butter cookies!
I don't know why people call these no-bake creations cookies. They're more like candy or granola bar-ish to me. There's lots of of peanut butter and maple gooiness, though, so they definitely are suitable for dessert!
If you don't want to use peanut butter, check out my other version of these no-bake cookies – no-bake oatmeal cookies. They can be made with raisins or with chocolate chips! These paleo peanut butter cookies are also an awesome option (they actually use sunflower seed butter in place of peanut butter!).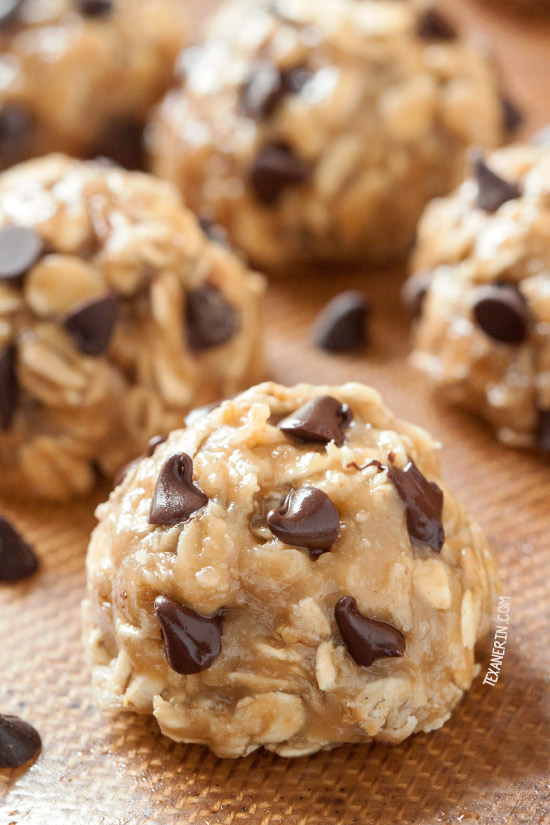 These peanut butter no-bake oatmeal cookies is one of the recipes I wanted to go in the book but after about 15 or 20 attempts, I just gave up. It sounds ridiculous because it's basically just sweetener, fat, and peanut butter mixed together. Simple, right? Nope. Those proportions have to be spot on or they come out weirdly.
So what'd I change? Instead of honey, I thought I'd go with maple syrup to make a vegan version. I originally went with honey because 1/2 cup of maple syrup is expensive and I was trying to be frugal. :)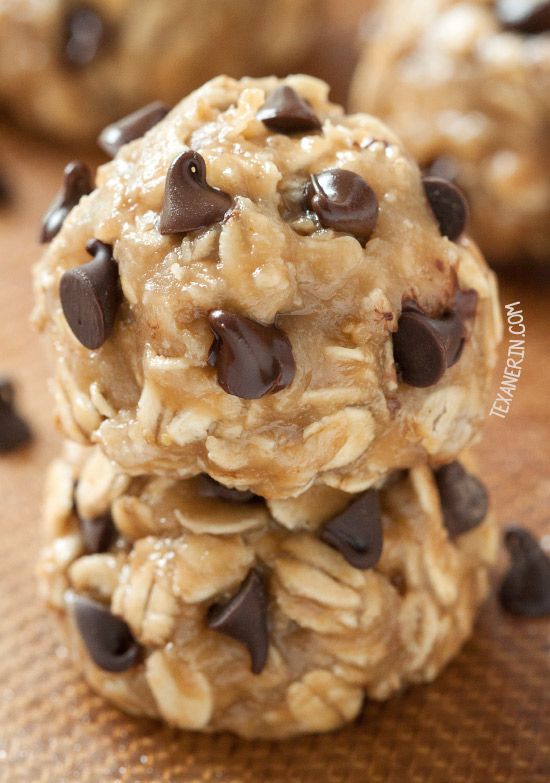 I realize that these cookies may appear greasy but that's just because I took the pictures while they were still warm, before they even had a chance to set. After about an hour or two, or just 30 minutes in the refrigerator, they firm up and are totally not greasy looking!
You can use refined or unrefined coconut oil in these peanut butter no-bake cookies. If you use unrefined, it adds a slight coconut taste, which is actually pretty nice and doesn't take anything away from the peanut butter flavor.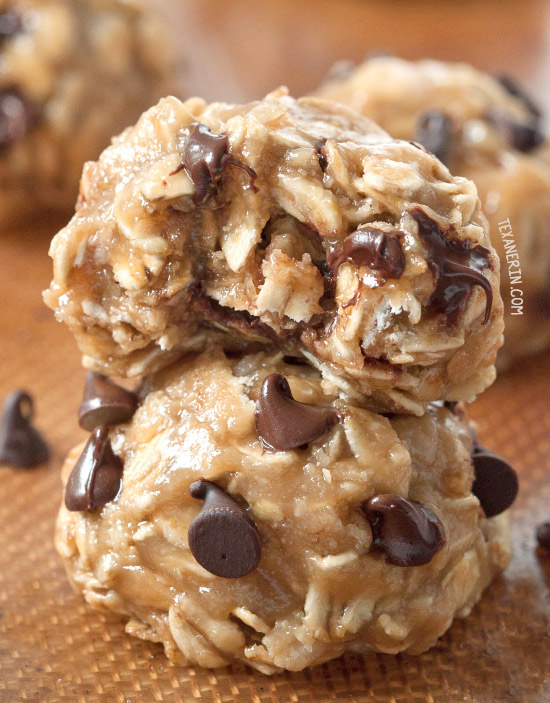 And, uh, about the listed yield. As always with no-bake treats, that's just a guess. As hard as I try, there's no getting around the uncontrollable-shoving-spoonfuls-into-my-mouth-as-I-go-thing. ;)
If peanut butter's not your thing, try one of these gluten-free cookies recipes! And if you want something in bar form, try these monster cookie no-bake bars from Dinners, Dishes and Desserts!
❀
Peanut Butter No-bake Cookies (vegan, gluten-free)
Prep Time:
Cook Time:
Ready in:
Yield:

10 cookies
Ingredients
3 1/2 tablespoons (49 grams) coconut oil1
1/2 cup (128 grams) salted natural peanut butter (the kind with just nuts and salt)
1/2 cup (120 milliliters) maple syrup - I do not recommend honey2
pinch of salt if your peanut butter is unsalted
1 1/2 teaspoons vanilla extract
1 1/2 cups (138 grams) rolled oats (use gluten-free, if necessary)
about 1/4 cup (43 grams) mini chocolate chips (use dairy-free / vegan chocolate chips, if necessary)
Directions
In a medium pot, melt the coconut oil over low heat.
Add the peanut butter, maple syrup, and salt, if using, and stir until well combined.
Turn the heat up to medium, and while stirring constantly. bring the mixture to a boil.
Boil for 2 minutes, stirring constantly. The mixture should become glossy. Don't boil it longer or it may separate.
Remove from the heat and stir in the vanilla and oats until well combined.
Use a medium cookie scoop to scoop out balls of the mixture onto a piece of parchment paper.
Let the cookies cool until almost room temperature. Place the chocolate chips in a small bowl and roll the tops of the cookies in the chocolate chips. You can also stir the chocolate chips into the almost cooled mixture if you don't mind them melting and partially combining with the peanut butter mixture.
Store in an airtight container for up to 3 days. They can also be refrigerated for up to about a week. For firmer cookies, refrigerate them.
Notes
I've made these with refined and unrefined coconut oil and they taste almost the same, with the unrefined version having just a slight coconut taste.
I've tried these several times with honey and the texture comes out totally different, and not in a good way. The cookies also taste overwhelmingly of honey.