This peanut butter fudge calls for just 4 ingredients and only takes a few minutes to make. It's naturally vegan, gluten-free, grain-free, and dairy-free (with a paleo option) but can also be made with butter for a dairy version. It's sweetened with maple syrup, which gives it a slightly caramel-like texture! With a video.
I originally posted this recipe a few years ago but know that some people were hesitant to make it, a little unsure about the "boil for 2 minutes step." So I made a video to show you just how easy it is! No candy thermometer is needed – you really just bring it to a boil and stir for 2 minutes. So easy! You can find the video at the bottom of the post.
If you're still unsure about making it, check out the reviews!
I've also tested a paleo option. Just use cashew butter! The result is super delicious and maple + cashews really go so well together.
I'm calling this vegan peanut butter fudge but it's almost like a cross between caramel and fudge. You've either got to have some self-control or have a buddy around when making this fudge. Safety in numbers!
Prefer a chocolate version? This chocolate peanut butter fudge is even easier than this peanut butter fudge recipe! And if you want something super rich and chocolaty, try my vegan paleo fudge recipe.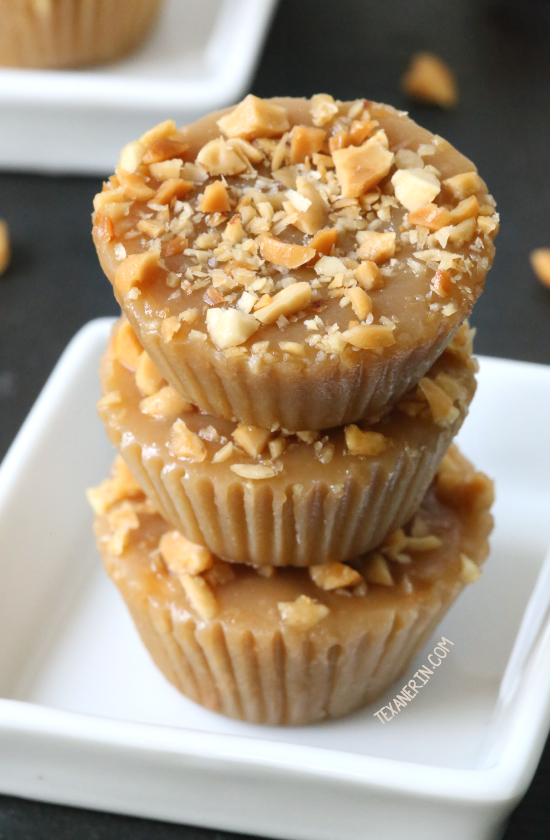 All you do to make this peanut butter fudge is mix everything together, boil for 2 minutes, and then freeze. And as far as fudge goes, I think this is pretty darned healthy. All that's needed is natural peanut butter (the kind with just peanuts and salt), maple syrup, coconut oil (or butter if you can eat dairy) and vanilla.
If you're wondering if honey will work, I don't recommend it. One commenter used honey with success but made some other changes to the recipe. You can read her comment here.
I've tried this recipe with honey instead of maple syrup and don't recommend it. The texture is totally different and tastes way too much of honey! It also took a lot longer to boil to get to the right consistency. I had the same issue with honey in the no-bake oatmeal cookies I posted recently.
If you don't have natural peanut butter on hand, here's how to make peanut butter. You only need roasted peanuts and a food processor or high-speed blender!
I've tried this fudge recipe with unrefined coconut oil, and while it doesn't taste coconut-y, the coconut flavor detract just a bit from the maple peanut butter taste just a bit. When you use refined coconut oil, which doesn't have any coconut flavor, the maple and peanut butter flavors just stand out even more. Both versions are great, though!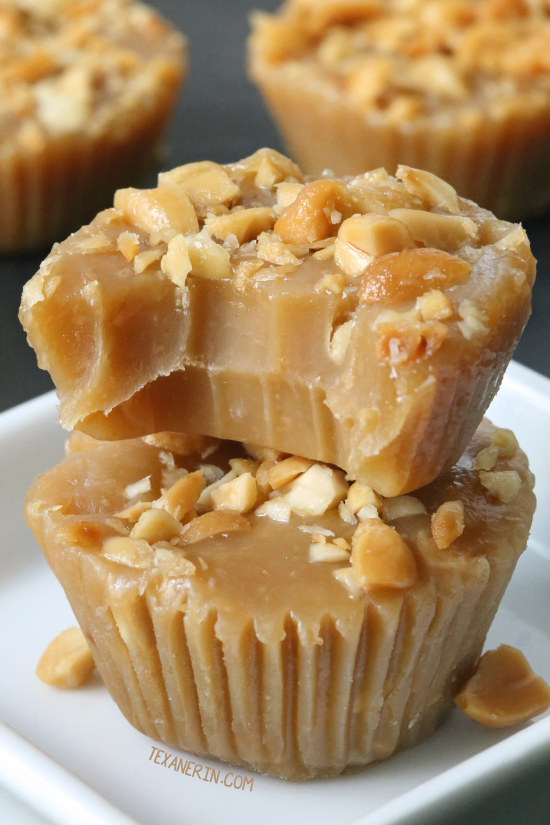 You can pour the warm fudge into a small, parchment paper-lined container and freeze it but I thought it may be difficult to cut and handle it that way so I used a mini muffin pan. To line the muffin pan, you have to use waxed or silicone liners! If you use regular paper ones, they'll likely be difficult to remove. If you use the waxed or silicone kind, you'll get some perfect looking pieces of fudge.
Only after having it sit at room temperature for 45 minutes while you re-position the pieces while taking pictures does it start to look a little melty, messy and greasy like in the pictures. It didn't help that I didn't like the pictures from the first photoshoot and had to retake them.
This peanut butter fudge isn't totally firm when refrigerated, which is why I keep mine in the freezer. I also froze it as a self-preservation tactic. It didn't work. If you find this vegan peanut butter fudge as addictive as I do, it's hopeless. It's easy to halve the recipe or even only make a fourth. A fourth will give you three pieces and you can just go to town on them and then not feel bad. ;)
For more peanut buttery goodies, try my peanut butter balls or chickpea cookies!
And for some more delicious fudge recipes, try this Nutella fudge from Wine and Glue or this dark chocolate bourbon fudge from Garnish with Lemon.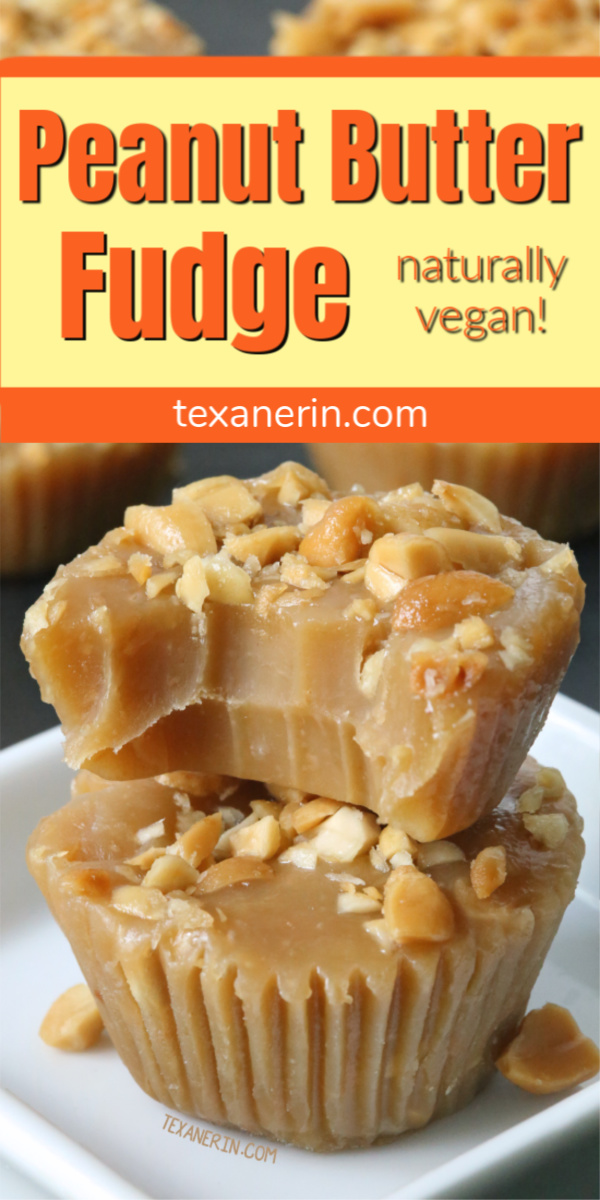 ❀
4-Ingredient Peanut Butter Fudge (naturally vegan with paleo option)
Prep Time:
Cook Time:
Ready in:
Yield:

12 pieces of fudge
Ingredients
1/2 cup (120 milliliters) pure maple syrup (I don't recommend honey - see the post for reasons why!)
1/3 cup (85 grams) salted natural peanut butter (the kind with just salt and peanuts) or cashew butter for a paleo version
1/4 cup (56 grams) coconut oil1 (commenters have used unsalted butter for a dairy version with success!)
2 teaspoons vanilla extract
1/2 cup (55 grams) roasted salted peanuts or cashews, coarsely chopped, optional – divided
Directions
Line a mini muffin pan with 12 waxed or silicone muffin liners. You can alternatively line a small container with parchment paper or waxed paper.
In a small saucepan, mix together the maple syrup, peanut butter and coconut oil over medium heat. If your peanut butter is unsalted, add a pinch of salt. At first it might not appear to come together well. Stirring constantly, bring to a boil and while continuing to stir constantly, boil for about 2 minutes. It should have thickened a bit and become glossy. If you use a heavy bottom pan, you may need to boil it a little longer. Stir in the vanilla until well combined. Stir in 5 tablespoons chopped nuts, if using.
Pour into the waxed or silicone liners, top with remaining 3 tablespoons chopped nuts, if using, and place the pan in the freezer. If you don't have room in your freezer, refrigerate for a few hours until firm and then transfer the fudge pieces to a small container that does fit in your freezer.
Freeze for about 2-3 hours. The liners will be easy to remove once the fudge has thoroughly frozen. They'll stick if you try to remove them too early.
This fudge does not travel well (unless you have a cooler!) It should be kept frozen.
Notes
Please see the post concerning refined vs. unrefined coconut oil.